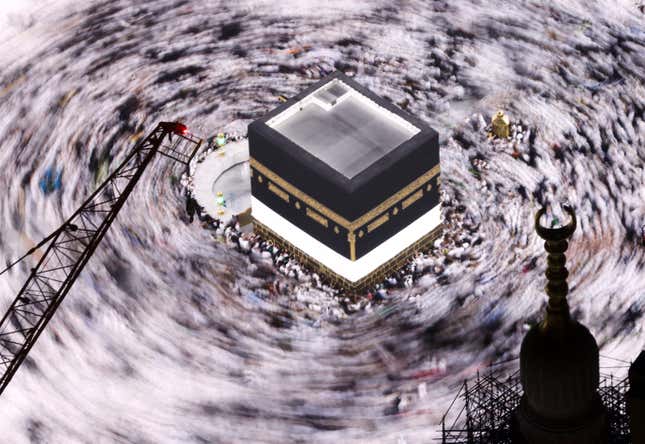 Good morning, Quartz readers!

---
Here's what you need to know
High temps torment Asia. Indian cities have seen temperatures of 116°F (47°C), Islamabad went to 102°F (39°C), and Beijing set a record at 105.8 °F (41°C). Scientists say this is just the beginning of climate change-driven heat waves.
Should you keep investing in Big Tech?
Wagner chief called his weekend mutiny a "protest." Yevgeny Prigozhin, whose well-paid mercenaries briefly challenged Vladimir Putin's control of Russia, remains at large and under investigation.
PwC sells Australian government business for $1 AUD ($0.67). The global consultancy was forced into a fire sale after a partner was caught leaking confidential information.
Blackrock backs off "ESG." Larry Fink, CEO of the $9.2 trillion asset manager, says he's "ashamed" of the term after his concerns about long-term investing became a political football.
---
The first post-pandemic hajj could be the largest ever 

The annual pilgrimage of Muslims to Mecca in Saudi Arabia runs now through July 1. The Saudi government limited the size of the hajj during the peak of the coronavirus pandemic; officials expect this year's observances to break records.
The hajj, by the numbers:
2.5 million: The number of Muslims forecast to visit the holy sites in Saudi Arabia, after the 2022 pilgrimage was capped at 1 million participants, and 2021 held to just 59,000.
112 °F (44°C): The temperature forecast during this year's pilgrimage.
32,000: The number of health workers on standby to treat pilgrims suffering heat-related and other injuries.
$12 billion: A 2018 estimate of the annual revenue earned by Saudi Arabia during the hajj.
30 million: The annual number of pilgrims Saudi Arabia hopes to host by 2030.
---
Where is the cheapest gasoline in the US?
Gas prices were a big part of the inflation story in 2022, and they're a big part of the disinflation story now.
In the US, the current national average for a gallon of regular gasoline is $3.58, according to the American Automobile Association (AAA). That is $1.43 less than this time in 2022. Still, prices are higher than they were in previous years: Gas has averaged $2.95 per gallon since 2018.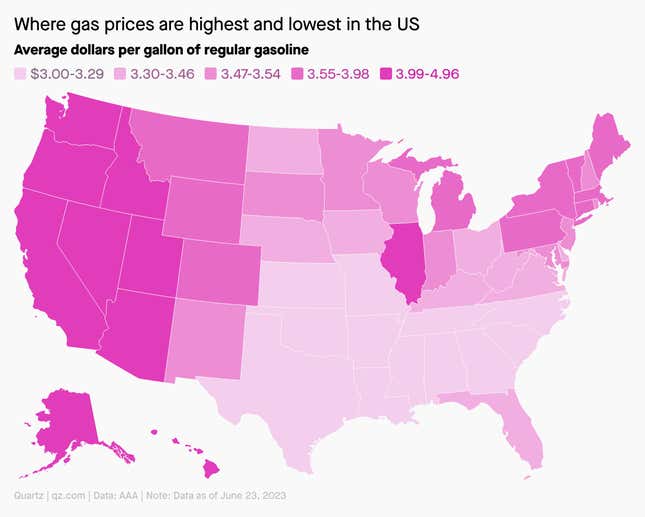 Despite the onset of summer—a traditional time for road trips—demand for gasoline has fallen this year. Read our story to find out the surprising reason why.

---
The scourge of the giant African land snail
The state of Florida now has three different quarantines in effect against the snail, despite having declared the invader eradicated in 1966 and 2011. Capable of laying up to 1,200 eggs in a year and growing as large as a human fist, this mollusk can consume at least 500 plant species and spread infectious diseases. Native to east Africa, it has spread around the world and is considered an invasive species in the US.

Now, the gluttonous gastropod has joined the ranks of noted animal invaders that include the Burmese python, Lionfish, the Asian giant hornet, Snakehead fish, Green iguanas, the Asian lady beetle, "demon shrimp," the kudzu vine, and Pablo Escobar's hippos.
---
Quartz's most popular
🏎️ Hollywood stars are entering the F1 circuit
🔌 Lucid is getting a stake in Aston Martin to share its EV know-how
💊 Ozempic manufacturer has no timeline for an obesity pill launch
🌉 Philadelphia reopens collapsed highway in rare US infrastructure win
🌎 Exxon and Chevron sued by Oregon county for their role in climate change
🐬 Russia is apparently conscripting dolphins in its war against Ukraine
---
Surprising discoveries
This is the most important cassette tape on the planet. For a certain breed of yacht rock fan, that is.
Haruki Murakami, NIMBY? The world-famous author opposes plans to develop the neighborhood around the Tokyo baseball stadium where he decided to become a novelist.
Gen Z is here for cottage cheese. The specifically textured milk product has won over the youth thanks to social media hype.
Philosopher 1, neuroscientist 0. A bet on when humans will understand consciousness has been called—we still don't get it.
Some brides are wearing bikinis. And the New York Times is on it.
---
Our best wishes for a productive day. Send any news, comments, bridal bikinis, and nightmarish snails to talk@qz.com. Reader support makes Quartz available to all—become a member. Today's Daily Brief was brought to you by Tim Fernholz and Heather Landy.