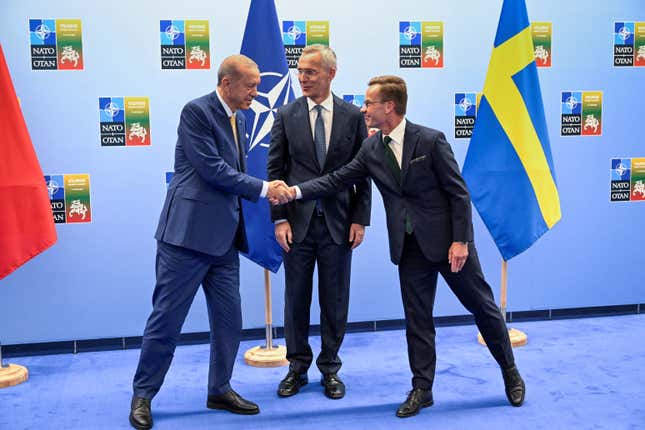 Good morning, Quartz readers!

---
Here's what you need to know
Turkey had a change of heart on Sweden. President Recep Tayyip Erdoğan has agreed to support the Nordic country's bid to join the NATO military alliance.
What inspired Elon Musk's design for Tesla's Cybertruck?
China's deflation alarm bells are ringing. The country's inflation numbers were unchanged in June compared to the year before, and signs point to a weakening economic recovery.

Janet Yellen held 10 hours of trade and economic talks in China. The meetings yielded no new agreements, but a Beijing restaurant where Yellen dined now offers a "God of Money" menu featuring the dishes she ordered.
India is on its way to becoming the world's second-largest economy. It won't be until 2075, but by that time, Goldman Sachs predicts that the country's GDP will outpace the US's.
---
Texas is beating California in renewable electricity
Texan politicians have made hay of San Francisco's problems and lured some companies from the Golden State, including major firms like Tesla and Oracle. Some point to taxes as a reason, but the average tax burden in Texas is higher than in California for most people.

A better answer is the regulatory environment. A lack of bureaucracy, for instance, has made it easier to find land, build wind and solar farms, and plug them into the grid. Texas has become a leader in building out renewable energy, far surpassing California.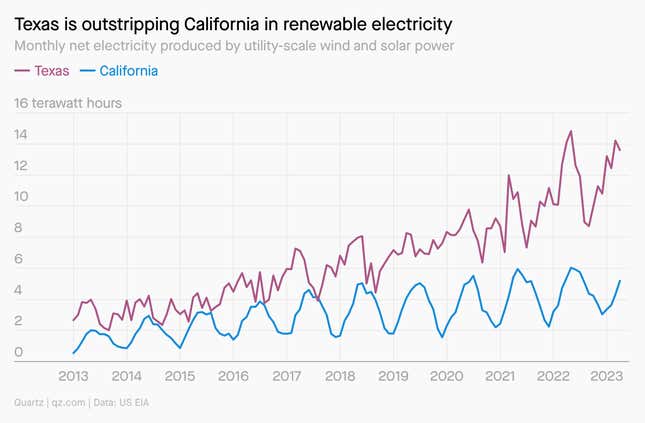 Texas's willingness to let people build is something California could learn from. But Texas itself is changing: Greg Abbott, the Republican governor of the state, wants to thwart all this laissez-faire green activity with new rules for green projects and more subsidies for natural gas, nipping in the bud the very development that is helping Texas run ahead of California.
Love this kind of analysis? It's from our latest Weekend Brief, which Quartz members get in their inbox every Saturday. Sign up today.

---
Pop quiz: Happy centennial, Hollywood sign
The Hollywood sign, an iconic Los Angeles landmark and tourist attraction, turns 100 years old this year. But the hilltop ornament didn't always stand for the city's film and television industry—in fact, it used to be four letters longer.

Question: What did the Hollywood sign first symbolize?

A. Tintype photography
B. A new kind of tree
C. A jab at prohibition
D. Real estate
---
Quotable: What do "land-grab" universities actually owe?
"Not even the world's most sophisticated Ponzi scheme could promise a 25,000 percent return on investment."—The University of Minnesota's Truth Project, which researches the impact of land grabs on tribal communities.
Under the Treaty of 1851, the Dakota Native American tribe was paid a paltry $0.02 per acre for its land in the US. The University of Minnesota eventually sold the land for 251 times that amount. As such, tribes have dubbed the UMN, and many others, "land-grab" schools. But calculating the exact amount they're owed isn't a straightforward methodology.
---
Quartz's most popular
📉 US banks are bracing for losses on bad loans by filling their coffers
🥊 Mark Zuckerberg and Elon Musk promised a "cage match." Instead, they're squabbling online.
🤔 Elon Musk is suing the law firm that helped force him to buy Twitter
🤷🏽‍♂️ To protect your mental health and career, try the "care less" approach
🥑 The US is buying up nearly all of Mexico's avocado exports
📱 Vodafone is preparing for quantum attacks on smartphones
---
Surprising discoveries
See-through mice are being used to test cancer drugs. Scanning the transparent mammals can show tumors at their first stages of forming.
Sriracha bottles are selling for $80 on eBay and Amazon. A chili pepper shortage is behind the pricing wars.

SpaceX's Starlink satellites dodge orbiting objects almost 140 times every day. The close calls will only get more frequent.

A first edition of The Great Gatsby is being put up for auction. It has inscriptions from F. Scott Fitzgerald inside.

There's a mathematically correct way to tie your shoes. You want to go for the reef knot, not the granny tie.

---
Our best wishes for a productive day. Send any news, comments, visible mice, and your last bottle of Sriracha to talk@qz.com. Reader support makes Quartz available to all—become a member. Today's Daily Brief was brought to you by Morgan Haefner.