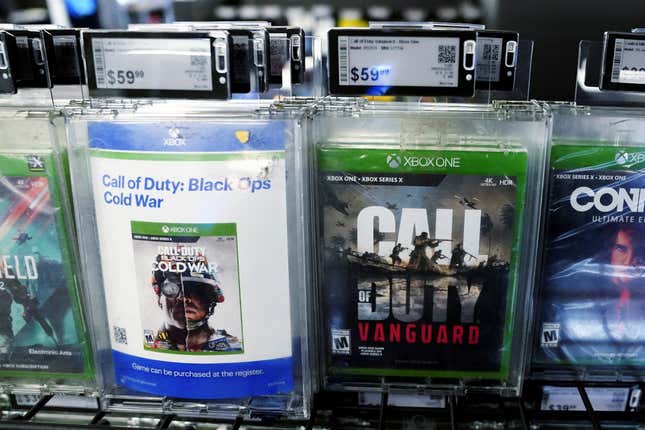 Good morning, Quartz readers!

---
Here's what you need to know
Sony signed a deal with Microsoft. The Japanese company accepted a 10-year binding agreement to keep Call of Duty on PlayStation following Microsoft's Activision Blizzard acquisition, the deadline for which is tomorrow (July 18).
Earnings expectations for Microsoft and other tech giants
Elon Musk said Twitter's ad revenue has halved. The startling figure indicates the extent of the damage inflicted under the new ownership.
The US dollar is dipping. The greenback's decline is a boon for tech companies, which generate a large share of their revenues internationally.
PGA Tour and LIV Golf made a change to their framework agreement. Might as well, since there isn't really a deal yet.
---
Charted: The singleton explosion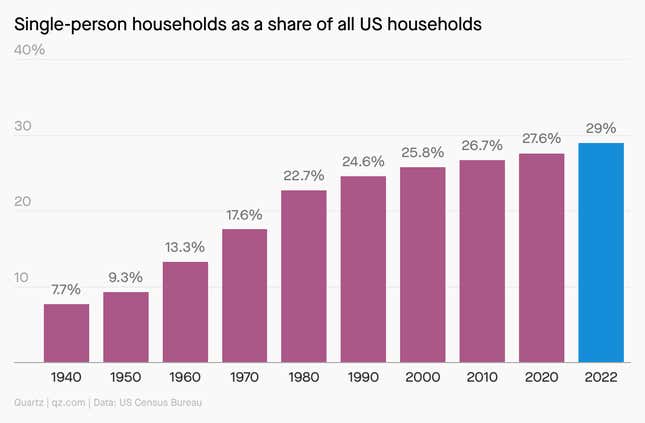 Never in the history of the US have so many Americans returned from work to an empty home, cooked dinners for one, watched Netflix by themselves, and slept in the very middle of their queen-sized beds.
Quartz's global news editor Samanth Subramanian singled out in the latest Weekend Brief why the surge in solo households is not a wholly worrying development—in fact, some of the factors driving it are reasons to celebrate.

Quartz members get the brief, and an accompanying Sunday Reads email, every weekend. Sign up today!

---
Commercial real estate's $800 billion hit
Remote and hybrid work are changing real estate in the world's biggest urban centers. In nine global cities, remote work is poised to wipe out up to $800 billion of office value by 2030. And that's just the moderate projection.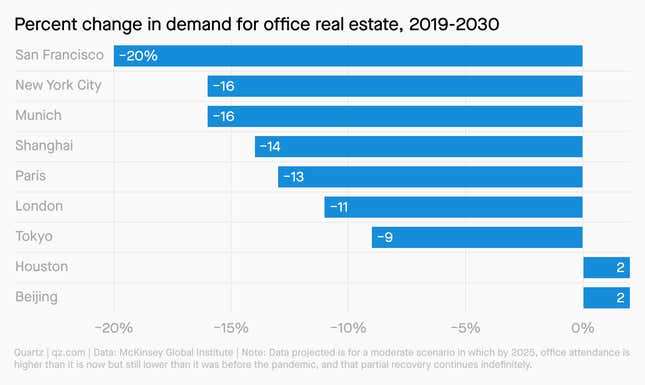 ---
Quotable: Psychedelics made it into a US defense bill
"These are powerful substances, I don't want to give that short shrift. But they also have powerful potential as well." —US lawmaker Alexandria Ocasio-Cortez during a Capitol Hill press conference last week 

Lawmakers want to study how psychedelic drugs like psilocybin—the active component in magic mushrooms—and MDMA, also known as ecstasy, can treat post-traumatic stress disorder, depression, anxiety, chronic pain, and other ailments. A proposed defense bill seeks funding for that—but some hardline conservative amendments might make it hard to pass the Senate.
---
Quartz's most popular
🚀 India has unfinished business on the Moon
🥤 Soda companies have nothing to fear from the WHO's warnings about aspartame
📈 Threads isn't just growing fast—its users are also more engaged than on Twitter
🇨🇳 China is already softening its strict stance on AI
🤑 Who is eligible for Biden's automatic student debt cancellation?
🐌 The economic case for slowing down AI
---
Surprising discoveries
Cashews make a great pizza topping. Just ask diners from California's Inland Empire.

A censored first account of Elizabeth I's reign is now readable. A new technology is allowing historians to view the passages for the first time in 400 years.

A rave in an IKEA isn't just a dream anymore. An old store in London will become a super club.

A 19-foot (5.8-meter) Burmese python was caught in Florida. The record-setting snake weighed 125 pounds (56.7 kg).

Tony Soprano and Lorelai Gilmore knew of each other. The shows reference one another and everyone's mind is blown.
---
Our best wishes for a productive day. Send any news, comments, cashew pizza, and the dress code for the IKEA rave to talk@qz.com. Reader support makes Quartz available to all—become a member. Today's Daily Brief was brought to you by Sofia Lotto Persio and Morgan Haefner.