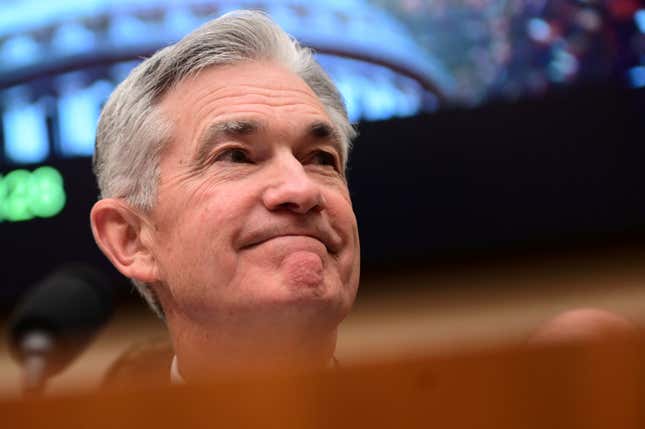 Good morning, Quartz readers!
---
Here's what you need to know
The Federal Reserve is no longer predicting a US recession. The inflation-fighting central bank hiked its key interest rate a further 25 basis points, but chair Jerome Powell said his staff doesn't expect an economic downturn.
TikTok launched an e-commerce business. The controversial social media platform said it will join the fight for American consumers alongside rivals Shein and Temu.
Japan's population fell in all of its 47 prefectures for the first time. The country's numbers fell by 0.65%, or 800,000 people, in 2022—and the number of foreigners living in the country hit a record 3 million.
UK billionaire Joe Lewis pleaded not guilty to insider trading. The owner of the Tottenham Hotspur football team has been charged by US authorities of giving out nonpublic financial tips to people close to him over the course of several years. 
---
Who fears AI?
Well, one could argue, the makers of Mission: Impossible—Dead Reckoning, Part 1 and Oppenheimer. But what about the people whose jobs could feasibly be replaced by artificial intelligence?
A new study shows that the more exposed an industry is to AI, the lower the percentage of workers who think the technology will hurt their jobs. In fact, many of those workers see AI as becoming more of a help. Quartz's Michelle Cheng looks at the data.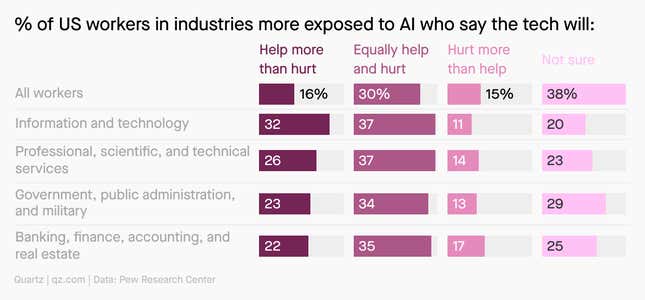 ---
Should AI fear AI?
Concerns that ChatGPT could be used to cheat and plagiarize have hounded OpenAI since it released the tool last year. Its tentative solution: another AI tool that acts as an AI detector.
Now, that AI classifier tool has been quietly removed due to AI's other problem—lack of accuracy.
26%: Share of AI-written texts that OpenAI's classifier tool correctly identified, a number OpenAI reported upon launch of the tool in January
97.6% ↘️ 2.4%: Decline of ChatGPT's accuracy levels when solving math problems, since the release of ChatGPT-3.5 and ChatGPT-4, according to one study
9.7%: Drop in traffic on the ChatGPT site between May and June of this year, its first decline since launch
---
How to identify your managing influencers
📕 A new book by Bill Schaninger, Bryan Hancock, and Emily Field called Power to the Middle: Why Managers Hold the Keys to the Future of Work—excerpted here in Quartz at Work—lauds an organizational role that often goes underlooked. The authors argue that companies should heavily invest in influential, high-value middle managers, what they call the "critical few."
But how do you determine who fits that description? An AI classifier tool won't help. You need to ask your employees a simple question.

---
Quartz's most popular
🔥 Sam Bankman-Fried wanted to buy the nation of Nauru to wait out the world's end
🙄 US labor law has come a long way from the "menopause defense"—but now it needs to catch up
❌ Twitter's rebranding is a meaningless publicity stunt
🤑 These are the world's most expensive cities in 2023
💅 Barbie made almost twice as much as Oppenheimer during opening weekend
💘 Every successful relationship is successful for the same exact reasons
---
Surprising discoveries
Germany's getting its Google Street View pics updated. It'll be the first time in 10 years.
 Massachusetts soil is teeming with giant viruses. To be fair, probably everything is, but we're just now able to find them.
Writers feared Xerox would bring down the entire industry. The quotes about copying technology are reminiscent of today's AI concerns (see above).
Strength training lowers blood pressure better than cardio. If only the Xeroxphobic publishing industry had known!
Name the city that was the most visited globally in 2022 but also rated the world's unfriendliest. Hint: Japanese travelers who go there are at risk of being (literally) painfully disappointed.
---
Our best wishes for a productive day. Send any news, comments, Xerox terrors, and baguettes to talk@qz.com. Reader support makes Quartz available to all—become a member. Today's Daily Brief was brought to you by Susan Howson and Tim Fernholz.