Good morning, Quartz readers!

---
Here's what you need to know
The world won't get meat from one of the world's largest beef producers for the rest of August. Where's the Argentinian beef? Chilling at home, while the government negotiates pricing levels with the meat industry.
Should you keep investing in Big Tech?
China halted the release of youth unemployment data after it hit a record 21.3% in June. Beijing is reconsidering the methodology behind the number, which is just one statistic reflecting China's difficulty in recovering from the pandemic shutdowns.
Sam Bankman-Fried used customer deposits to play both sides of US midterm elections. The founder of fallen crypto exchange FTX was accused of funneling $100 million into political donations in 2022 in hopes of gaining influence for favorable regulation.

Shoppers pulled back at Home Depot. Declining sales at the world's largest home improvement retailer suggest the housing market is stalling, but Warren Buffett may beg to differ.
---
Pop quiz: Which Japanese industry in China is doing just fine on a weak yen?
Here are three Japanese manufacturers doing business in China, all of whom have converted a weak home currency into strong profits. That's one of the positive effects of a declining currency after all: boosting price competitiveness of exporters.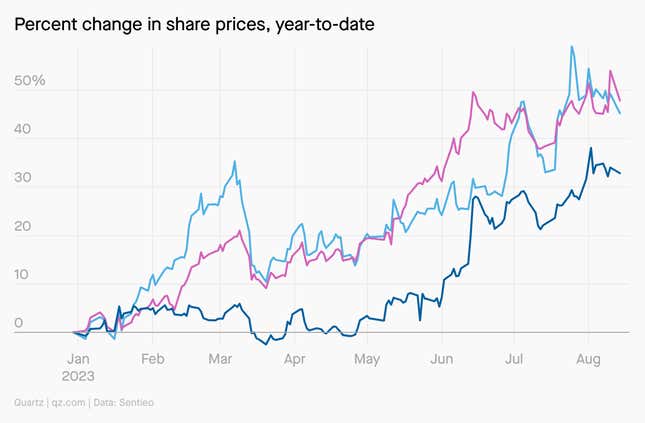 Name these three companies. Too difficult? Name the industry. Still too difficult? Find out the answer, and more, courtesy of Mary Hui.
---
From one dirty job to another
Sure, the number of Americans leaving dirty jobs for green ones is rising rapidly (increasing tenfold between 2005 and 2021). And sure, electric vehicles are driving that transition. But the number is still alarmingly small.
Fewer than 1% of all workers who leave a job in a carbon-intensive industry—think coal, mining, oil, and natural gas—appear to transition to a low-carbon industry job—solar, wind, or EV production. Meanwhile, the climate continues, rapidly, to warm.
A couple of factors, including the Inflation Reduction Act and its new clean energy products, will make these numbers change in the future, though, Michelle Cheng reports.
---
And now, to get those workers to take some time off…
Nearly half of US workers who receive paid time off—that includes vacation time, but also time off for appointments, sick days, or even mental health breaks—don't use it all. And the more money they earn, the more of that PTO they're likely to leave on the table.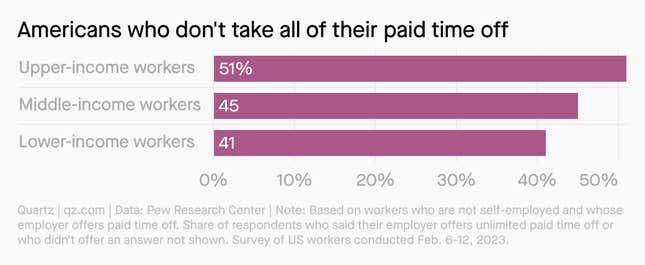 That's not the only thing affecting all that lovely time off going to waste. Managers, college graduates, and salaried employees tend to be most likely to not use it all. It's a uniquely American situation, too, and simply granting "unlimited" PTO doesn't always do the trick. Gabriela Riccardi explains why.
---
Quartz's most popular
🫖 A judge dismissed a conservative lawsuit targeting Starbucks' diversity efforts
🐋 Japan's taste for whale meat is threatening to derail a new US trade deal
😬 America's wholesome square dancing tradition is a tool of white supremacy
💻 It's no surprise Zoom wants workers back in the office
💣 Biden called China's economy a "ticking time bomb." Which countries will suffer?
📦 Everyone wants to be a UPS driver now
---
Surprising discoveries
Holiday decor is here. Inflation and excessive heat are among the reasons for the wildly unseasonable Christmas creep on store shelves.
Paris booksellers are unimpressed by the upcoming Olympics. Preparation plans range from "scornfully stowing a couple sport-themed books in a corner" to "completely disinterested non-action."
Everybody wants pink pineapples. Del Monte can't produce its premium extra-sweet Pinkglow fruits fast enough.
Hollywood's ninth largest distributor is a bit of an oddball. When you're the only one bringing live opera, theater, faith-based originals, and anime to movie theaters, being niche really pays.
A new book describes precisely what it's like to work the info desk at the Metropolitan Museum of Art. It was best written in verse.
---
Our best wishes for a productive day. Send any news, comments, AI Parisian bookseller quote generators, and exclusive fruits to talk@qz.com. Reader support makes Quartz available to all—become a member. Today's Daily Brief was brought to you by Morgan Haefner and Susan Howson.