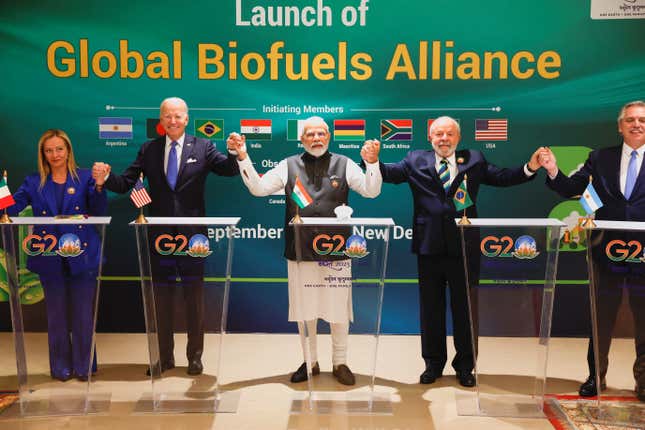 Good morning, Quartz readers!
---
Here's what you need to know
The G20 summit was a diplomatic win for Narendra Modi. The Indian prime minister announced a unanimous final agreement a day before the meeting ended that included language on the war in Ukraine.

The US and Vietnam shook on new semiconductor and mineral deals. The countries also upgraded their diplomatic ties to the highest level, which is the same that Vietnam has with China and Russia.
A 6.8-magnitude earthquake struck Morocco, the strongest in a century. The death toll stands at 2,100 in and around Marrakech, and is expected to climb as recovery efforts unfold.

Egypt's inflation hit a record high. The rate rose to 39.7% in August as price hikes raged on—with food being the most volatile—and its currency depreciated further.

A proposal to outfit the Alpine mountainside with massive solar panels was rejected. Voters in a southern Swiss region opposed the federal government's plan to create the renewable energy source.
---
Was your political ad made by AI?
If so, Google is requiring you to disclose that.

Campaigning for the 2024 US presidential election is heating up, and computer-generated images have already been used by the Republican National Committee and candidates in attack ads against the current administration and in-party competitors.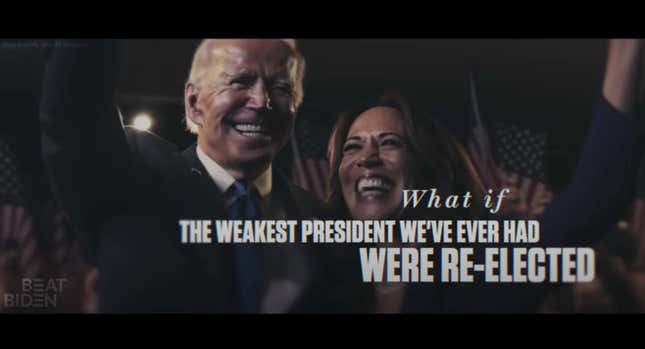 Voters need to know when a political ad is using AI, but there's currently no US laws on the books mandating this disclosure. Some lawmakers are trying to fix this, but so far, Google is beating them on regulation, requiring that any political ad on its platforms have a written disclosure if it uses AI-generated images, video, or audio. Quartz's Scott Nover compares the tech giant's moves to the happenings (and really, lack thereof) on Capitol Hill.

---
Quotable: The comeback quit
"Everybody asks, 'If you could go back, would you?' No. I wouldn't change anything because everything happens for a reason. And I learned a lot about myself—courage, resilience, how to say no and speak up for yourself."

This was gymnast Simone Biles talking to The Cut seven weeks after she returned home from Japan after withdrawing from the Tokyo Olympics in the summer of 2021.

Now, Biles and tennis star Naomi Osaka, who both quit their respective sports in 2021 at the top of their careers, are making comebacks. As Quartz's Gabriela Riccardi writes, Osaka and Biles have already shown that quitting can be a courageous act. But as they stage their comebacks, they prove, too, that taking time off isn't necessarily bad for our careers. In fact, honoring the breaks we need can be the lead-up to a new peak.
---
One big sports number: $6 billion
What major streamers are spending on the rights to exclusively broadcast major sporting events in the US this year
Viewers are paying for that big splurge, too: being a devoted sports fan is becoming an expensive hobby. Quartz's Diego Lasarte has more on just how unsustainable the live sports market has become if you were to, say, watch Thursday night football while following Lionel Messi's much-heralded debut in the American soccer league. (We did the math: You'll need an Amazon Prime and Apple TV+ account, which cost a monthly fee of $15 and $7 respectively. So, including cable, that's $105 per month).
---
Quartz's most popular
🔥 Burning Man's wealthy Burners got the wakeup call they needed
☁️ American Airlines demonstrated what could be the world's cheapest way to fight global warming…
🤔 …while Microsoft is paying $20 million to carbon-capture 0.25% of its annual CO2 emissions.
🤳 A new Huawei phone has defeated US chip sanctions against China
🇲🇽 Mexico will soon have a woman leading every branch of government
🥴 Nearly every modern car shares or sells your data, according to Mozilla
---
Surprising discoveries
Larry David doesn't think feet should determine American football games. His suggestion: Get rid of the goalposts.
Nearly 11,000 runners were disqualified from the Mexico City Marathon. Tracking data revealed the competitors had not traversed the required 26.2 miles (42.2 km).
The White House's Situation Room got a $50 million makeover. Security was upgraded, big fancy monitors were installed, and it got some new lighting, among other things.
Brits are the least likely to say work trumps leisure. The French, Spanish, and Italians all place more importance on their jobs than those in the UK.
Florida may be turning around its record manatee loss. Conservation efforts appear to be slowing the death rate among the marine mammals.
---
Our best wishes for a productive day. Send any news, comments, a $50 million office, and a British mindset to never use it to talk@qz.com. Reader support makes Quartz available to all—become a member. Today's Daily Brief was brought to you by Morgan Haefner.