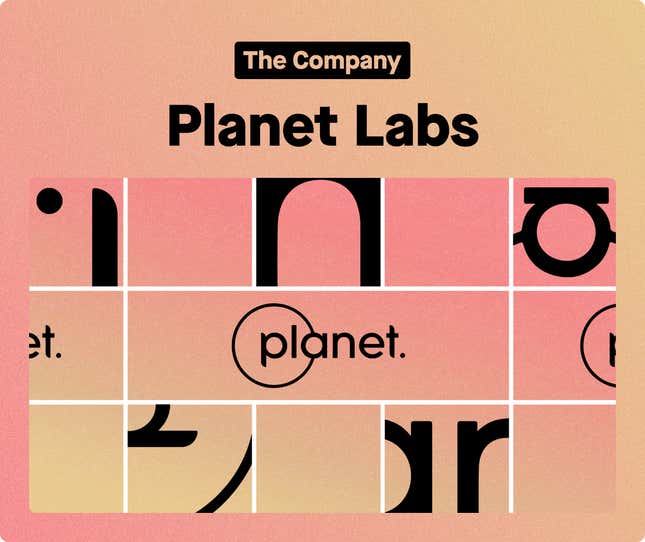 Hi Quartz members,
The recent story of space business is dominated by billionaire entrepreneurs. But the most important news of late is the decision by Planet, a satellite data company, to go public. The firm is being bought in a $2.8 billion transaction by a special-purpose acquisition company (SPAC), DMY Technology group, which trades as DMYQ on the New York Stock Exchange.
Founded in 2010, Planet operates hundreds of low-cost PlanetScope satellites that capture images of Earth's entire landmass every day, as well as larger satellites for higher-resolution imagery. But "that's the back-end," says co-founder and CEO Will Marshall. "People don't buy [our] satellites…we are providing information. Our financials and business really looks like a data and software business." Indeed, in 2019 Planet reframed itself as a "data" company.
The rebrand was indicative of Planet's sensitivity to customers outside the aerospace sector, but also of space travel's real promise: not taking tourists to orbit, but using robots in space to solve problems back home. Marshall sees his company as something like a Bloomberg terminal, but for data about the Earth, not the financial markets—and with the same attractive subscription-based business model. Currently, the biggest buyers of Planet's data are agricultural firms.
Planet is the most mature space company to come to market: It had over $114 million in revenue last year, which is more than other space businesses that went public through SPACs. But Planet remains a risky technology company by normal standards: It's currently investing in growth and doesn't forecast profitability until 2025.
Marshall says the goal is to scale Planet up, like a "normal" digital start-up. It's not a test of a novel new luxury good or infrastructure to boost space activity; it's a test of whether data gathered in space is as valuable as information gathered by your mobile phone or searches on Google. In other words, whether space business is really just regular business.
---
🚀  I write a whole newsletter about this. If you're interested in the economic possibilities of the extraterrestrial sphere, sign up for Space Business, which hits inboxes every Thursday. You can check out today's edition, on the ill-fated US 2024 moon mission, right here.
---
By the digits
200: Satellites currently operated by Planet
350 million sq km: Area imaged each day by Planet's spacecraft
50: Highest resolution imagery, measured in centimeters per pixel, that Planet collects; any sharper is forbidden from sale by US law
575 km: Distance above the Earth where most of Planet's satellites orbit
$114 million: Planet's revenue in 2020
62%: Gross margins for the PlanetScope business in 2020
3: Companies Planet has acquired—Terra Bella, BlackBridge and Boundless Spatial
---
Change is gonna come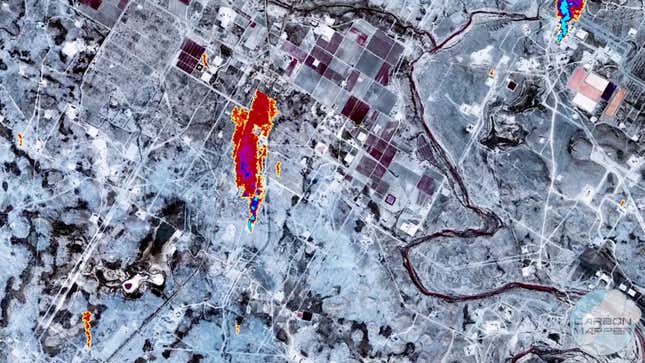 Planet CEO Will Marshall is obsessed with sustainability. So is his company, which provides data to environmental groups and government agencies attempting to measure and mitigate climate change.
One of the most unique capabilities of Planet's satellite constellation is how often it passes over the same place, allowing for daily or more frequent monitoring. The company is now building a satellite that will spot methane emissions from space (that's the visualization you're seeing above). It will allow companies to stop leaks at drill sites and pipelines—and regulators to punish them if they do not.
This also jibes with another theme behind the business: As sustainability metrics become more important to investment decisions, platforms like Planet's will be key for firms of all stripes to demonstrate that they are environmentally responsible.
---
A brief history of satellite imagery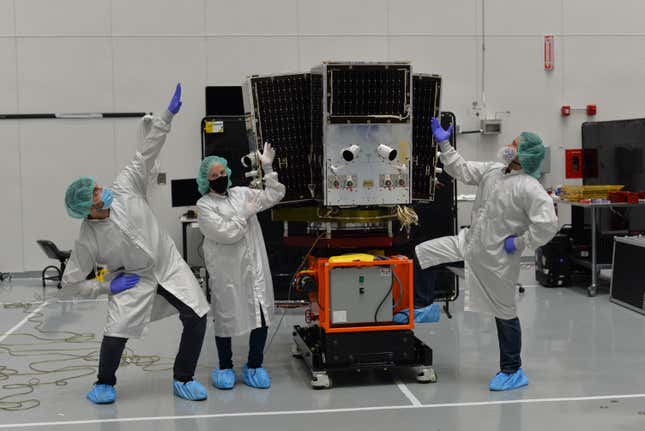 1959:  Explorer 6 is the first orbiting satellite to snap a picture, just two years after Sputnik, the first satellite ever.
1960s: The US and USSR develop "spy" satellites to watch each other's nuclear arsenals.
1972: US scientists launch the first Landsat, which collects images of the Earth. Weather forecasting, climate science, geology, and geography are never the same.
1999: The company DigitalGlobe, now known as Maxar, launches the first successful commercial imaging satellite.
2003: The first cubesats, measuring 10 sq cm, are launched to orbit, kicking off the era of low-cost space access.
2010: Planet is co-founded by three NASA scientists passionate about small sats: Marshall; Robbie Schingler, the company's chief strategy officer; and Chris Boshuizen, now a partner at venture firm DCVC.
2013: Planet launches its first two small satellites, called Doves, from the International Space Station.
2017: Planet is photographing every inch of the Earth's landmass, every single day.
---
The people's panopticon
Planet sells a lot of its data to government agencies, including to spies and intelligence analysts who appreciate its timeliness. But the company also maintains a commitment to making all of its data commercially available, including to independent analysts of "open source" data who work to second-guess government claims about global security issues, from refugees and genocide to nuclear weapons and missile forces.
That matters because it will allow the public to know whether governments are hiding threats to peaceful relations—or exaggerating them. This image from July 2020, for example, helped shed light on mysterious explosions at an Iranian nuclear facility: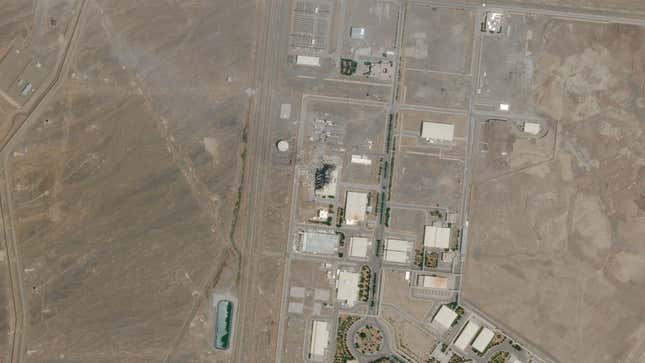 ---
Playa spirit
Finally, Planet wouldn't be a Silicon Valley satellite company if it didn't peer at Burning Man from space.
---
Keep learning
---
Thanks for reading! And don't hesitate to reach out with comments, questions, or companies you want to know more about.
Best wishes keeping your week in perspective,
Tim Fernholz, senior reporter (and Planet/planet enthusiast)