Hi [%first_name | Quartz member%],
Most investors wish they had bet on Amazon at least a decade ago; Jumia wants to give them a chance to make it right. The nine-year-old e-commerce company has had an eventful 18 months since its billion-dollar listing on the New York Stock Exchange, featuring fraud allegations and seemingly never-ending losses. But Jumia is still hustling to live up to its nickname as the Amazon of Africa.
First, a recap: China's coronavirus vaccine diplomacy has already begun, and its digital yuan is just getting started. India's farmers are protesting new agriculture laws, and trading is underway in the first futures market for water. Pope Francis is backing a new movement to redefine capitalism as a force for good, and Steve Wozniak is backing a cryptocurrency energy efficiency startup. Is this the hottest IPO market of all time? Yup; even Europe's home-grown startups are invited.
Your most-read story this week: Seriously, it's time to get a ring light. And most relatable member goes to everyone reading Seriously, it's time to get a ring light—it's okay to want to look good at work.
Okay, now stop staring into your ring light. We're here to talk about Jumia.
---
Lessons in logistics
Nine years ago, Jumia existed only as a website for customers looking to order electronics or fashion items. Its mission was to become the leading e-commerce retailer on the continent, and the company started building out e-commerce operations accordingly.
Those ambitions have since evolved, and now Jumia's sights are set on enabling e-commerce for third-party players. Six years ago, the company's online retail platform introduced a marketplace for merchants; Jumia started leasing digital real estate to small businesses and established brands looking to develop online sales channels. Its revenue model now relies on commissions on vendor sales and order fulfillment instead of profit from selling in-house inventory.
Jumia's early days did help it place some smart bets. Online payments—the bedrock of e-commerce—proved unreliable in several African markets when it first launched, so Jumia doubled down on building an in-house solution: JumiaPay. The payments service has since been trialed in seven African countries through Jumia's marketplace, and is set to be spun off as the company chases a share of the continent's burgeoning electronics payments market.
After struggling with efficiency when it launched, Jumia also created its own fulfillment and logistics network: 300 contracted courier services; proprietary technology for tracking inventory, optimal routes, and payments; and more than 110,000 square meters (1.1 million square feet) of warehouse space. The company has added hundreds of pick-up and drop-off points to deepen its offline presence and ease the complexities of last-mile delivery. That logistics network is now open to third-party e-commerce players across 11 African countries.
The Jumia of today is facilitating higher levels of participation in the digital economy by allowing African entrepreneurs to sell items on its marketplace, have their customers' orders fulfilled by its logistics network, and receive payment. Jumia may have set out to become the Amazon of Africa, but it's increasingly becoming Africa's Shopify.
---
By the digits:
6.7 million: Jumia's annual active consumers as of Q3 2020 (pdf)
11: The number of African countries in which Jumia operates
€1.1 billion ($1.3 billion): Jumia's gross merchandise value in 2019
€48 million ($58 million): Total payment value processed on JumiaPay in Q3 2020 (pdf)
0: Number of Africa-focused tech startups that had ever listed on the NYSE before Jumia
$14.50: Jumia's IPO launch share price
$196 million: Amount raised during Jumia's IPO
$2.15: All-time low of Jumia's stock price
$5 million: Amount Jumia paid to settle class-action fraud lawsuits in April
---
Limiting losses
Jumia's pivot to peddling e-commerce infrastructure is mainly born of a need to maximize its business assets and, in turn, its revenue streams. Having racked up over $1 billion in losses, the company is attempting to navigate a path to profitability in time to meet a target set out by its leadership: Be in the black by 2022.
So far this year, despite the pandemic's myriad challenges, Jumia has narrowed its losses. While Covid-19 accelerated the adoption of digital services, including e-commerce, across Africa, supply chain disruptions meant that Jumia and its vendors faced difficulties in fulfilling orders and restocking inventory.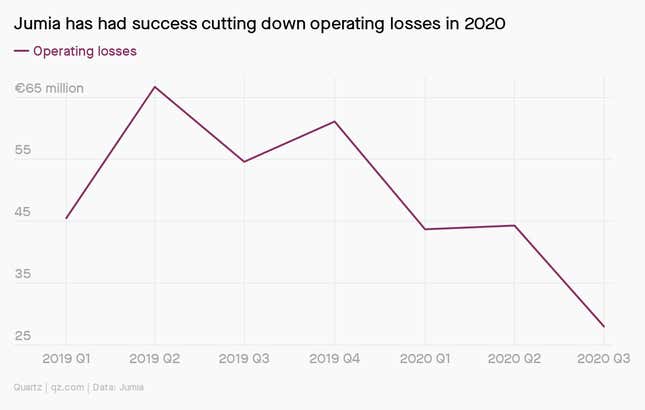 Another shift in Jumia's business model—focusing on groceries and everyday items rather than phones and electronics—is also starting to pay off. Jumia's latest earnings show that while average order value dropped 24% year-over-year, "smaller-sized" orders are resulting in higher profit margins.

---
Self-identifying
Although Jumia exclusively focuses on operating in Africa, it's incorporated in Germany, has its headquarters in Dubai and its central tech team in Portugal, and is publicly listed in New York.
Despite the obvious social utility of its business and the thousands of jobs it has created, Jumia often contends with negative public sentiment in Africa. Its description of itself as an "African company" in an S-1 filing ahead of its IPO kicked off a PR nightmare. Many on social media criticized Jumia for presenting itself as an African company while not truly being African.
Chief executive Sacha Poignonnec hasn't helped. Only days after Jumia's IPO, he defended the company's choice to have its core engineering team in Portugal by claiming that "there are not enough developers" in Africa.
---
Keep reading:
---
Thanks for reading! And don't hesitate to reach out with comments, questions, or companies you want to know more about.
Best wishes for an ambitious end to your week,
Yomi Kazeem
Quartz Africa reporter