Happy Friday!
I have always loved a linen bag-dress. But since I moved to Los Angeles from New York in 2016, I have more than once noticed myself sliding into the realm of Ugg- and Croc-adjacent footwear, backyard gardening, and ambitious crafting. After a year here, I purchased a pair of shearling-lined Birkenstock clogs. In February, I bought a second pair, sans shearling. During a pre-pandemic personal leave, I both adopted a dog and got into baking bread.
Today, as I close out my 11th week of staying home due to the coronavirus, it seems like this particular blend of lifestyle and consumer behavior is only exacerbated by a period of intense nesting.  Over the past three months, I've started knitting a batty sweater, sprayed a newly planted lettuce bed with homemade caterpillar combatant, traded vegetable and herb seeds for popcorn kernels and tomato starters, and, obviously, baked sourdough. At present, I have at least three tabs open with cotton caftans I am considering for purchase (Quartz member exclusive ✦).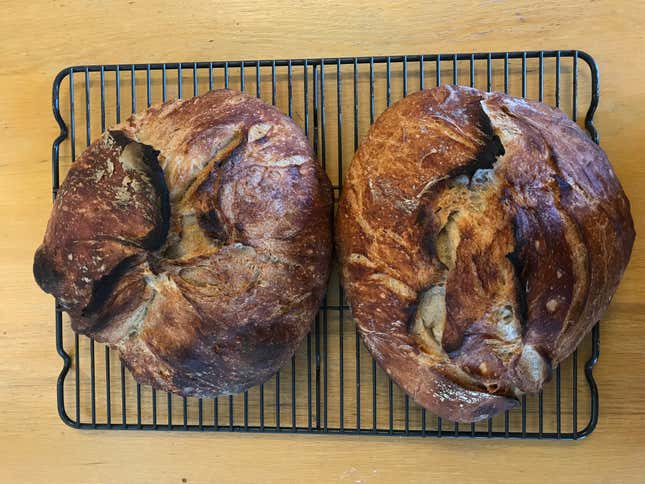 Does all of this make me a coronavirus-era cliché? Probably. Research for Quartz these past few weeks suggests that while I may be isolated, I'm definitely not alone. The Silver Lake Shaman has entered the next phase.
I'm a hipsteader.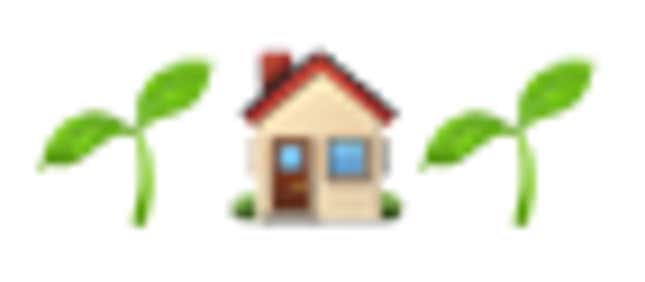 Shoe of the summer. I have co-existed on the planet for many years with patently ugly waterproof clogs and never before "needed" a pair. But a few weeks ago, I was constructing my raised garden bed (a thing I do now) and thought to myself: You know what would be great for this? Crocs.
Even among the fashionable, it's not an uncommon brainwave. Textile designer and model hipsteader Heather Taylor is just one of many influencers now rocking strawberry-emblazoned Crocs, a trend The Strategist traced back to fashion editor Laurel Pantin, who bought some (and posted several pictures) when the pandemic stranded her in Austin.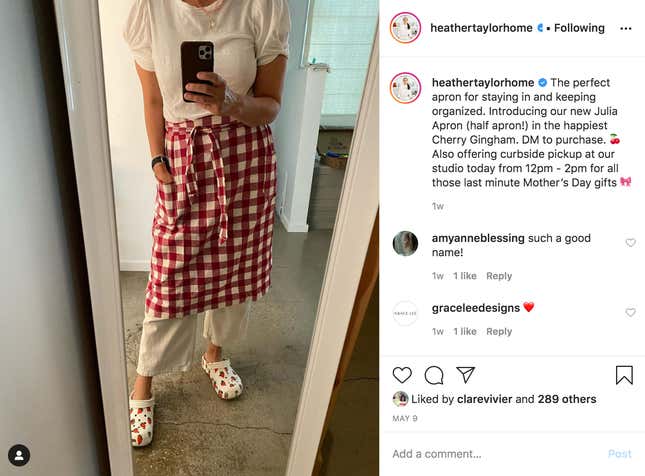 Crocs' corona moment is pretty unique within footwear. Research firm NPD reported last month that while shoe sales overall are down, Crocs are driving growth (✦) in categories "relevant to life-at-home." Someday we may even leave the house in these.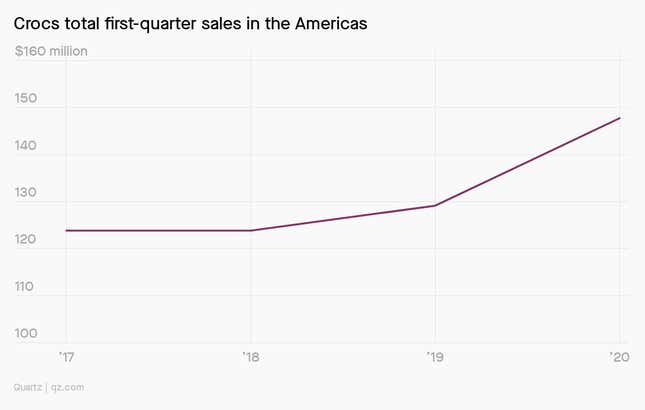 ---
Gardening is growing … weed included. What might we do in our Crocs? Garden, of course! If you have a little outdoor space or even a windowsill, gardening is a not-terrible way to pass your non-working hours at home. Our salad greens have already been attacked by a ravenous species of green caterpillar and reborn as a tomato bed, which I'm optimistic about.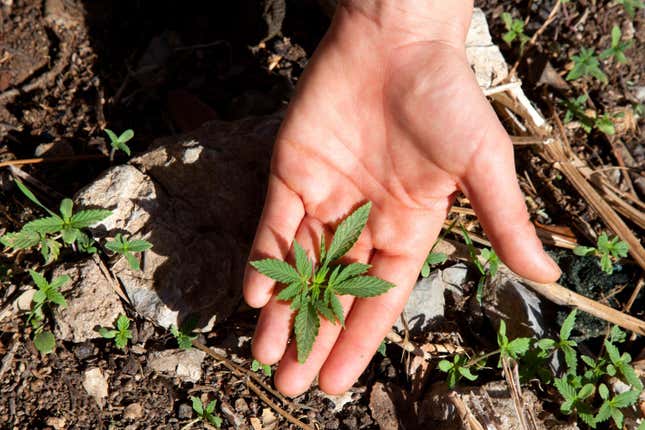 But not nearly as optimistic as the newbie cannabis gardeners I interviewed this week, who had spent a collective $2,500 to get their home-grows up and running. One is a cameraman, and set his up with the gearhead energy he usually brings to film shoots. The other is a professional dog trainer, who was otherwise spending $600 per month on herb. It's easy to see how the hydroponics division is driving growth at one of the biggest businesses in home gardening, Miracle-Gro.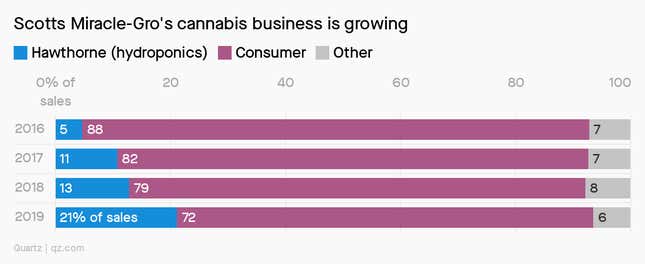 But I am here to tell you that in the right climate, growing cannabis outdoors can be easy, fun, and cost-effective for even the casual enthusiast. Here's a quick starter guide, and former Sunset Magazine editor Johanna Silver's new book Growing Weed in the Garden will take you even further. Just picture it: your own little hand-labeled jars of buds to trade for sourdough starter or hand-sewn masks. Now that's hipsteading!
(And if you need something faster-acting than a nascent flowering plant, consider edibles. When cannabis sales jumped with stay-at-home orders in March, edibles, a category dominated by marijuana gummies, drove the trend. They're basically the Crocs of cannabis.)
---
📣 If you're looking for more insights on how Covid-19 is affecting consumer behavior and businesses' bottom lines, check out our new coronavirus living briefing, which is updated every business day and custom-highlighted to show you what's new. The full briefing is exclusive for Quartz members, and if you've paid any attention to how coronavirus is hitting the media business lately—Quartz included—you know that paying for journalism matters now more than ever. Join with a 40% discount! 📣
---
Have we tried this on edibles? Amid the economic dumpster fire caused by coronavirus, Peloton's stock is surging. The company can't make bikes as fast as people are ordering them. But if a $2,245 exercise bike doesn't feel within reach, you might just join the gazillions of people doing non-bike workouts on Peloton's app, which is free for 90 days.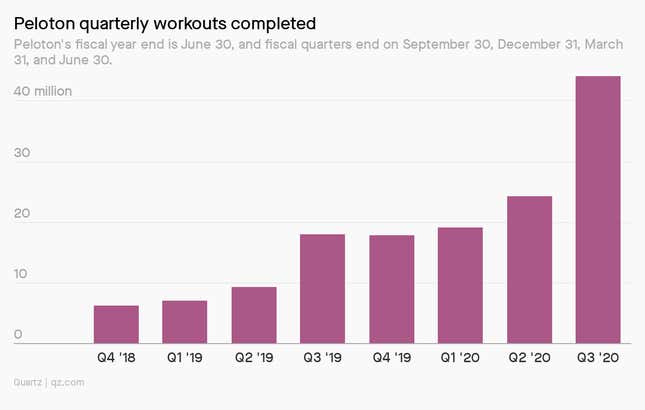 Virtual-fitness promotions are ubiquitous right now. For Quartz members, I selected a handful of the most interesting ones I found while reporting our field guide to the home fitness boom (✦).
---
So judge-y. The Kaiser Family Foundation recently asked more than 1,000 adults living in the US to grade themselves and their neighbors when it came to social-distancing guidelines. More than half of those surveyed awarded themselves an "A, excellent," while only 35% bestowed such a high mark on their neighbors.

Most people also think they're a little better at social-distancing than the people they live with. Some 90% of respondents said they are either "excellent" or "good," but only 83% said the same of others in their household. As we start to tiptoe back into the world, the temptation to judge and shame will be rampant, especially after months without people-watching. Keep your cool—and some distance—remember your mask, and try not to side-eye anyone's Crocs.
Have a great weekend!
[quartzy-signature]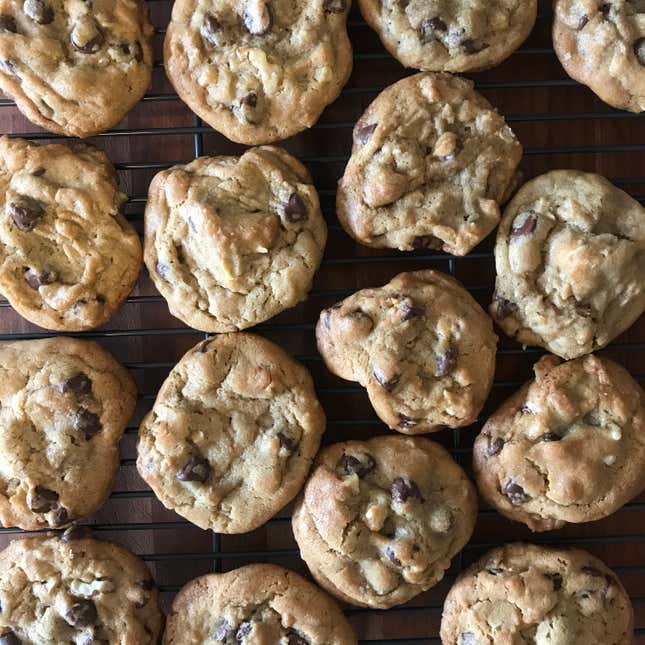 Simply the best. Speaking of being deeply unoriginal, while many hipsteader bakers are opting for experimental recipes with multiple stages and seasonal fruits, I have lost count of how many batches of Joy the Baker's brown butter chocolate-chip cookies I've made since March. The recipe is distinguished by the presence of browned butter and molasses, and a brief dough-chilling period (though my last batch chilled for two days and was the best yet). And if you don't feel like baking cookies, but do desire a cookie-like sense of comfort, please enjoy Hot Priest Andrew Scott reading Derek Mahon's poem "Everything is Going to be Alright" in golden sunlight.