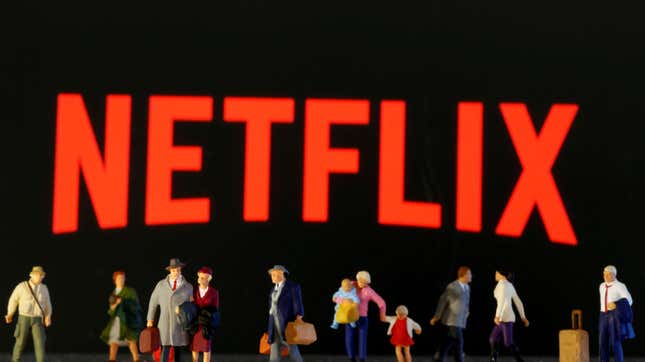 Netflix's password sharing crackdown is swiftly making its way around the world.

Starting yesterday (May 23), Netflix began sending out an email to millions of members who are sharing their Netflix account outside their household, announcing the expansion of their password-sharing crackdown to the US and a host of other countries. The email details how you can transfer a profile to a new account, as well as the option of paying to add an extra member outside your household.
"A Netflix account is for use by one household," the company said in its press release, adding that "everyone living in that household can use Netflix…at home, on the go, on holiday."
The perks of transferring a profile to a new one, instead of building one from scratch, is that the freeloader-turned-customer can retain their history and recommendations.
Meanwhile, the extra member option comes with more out-of-pocket expenses for the original member, and added restrictions: The additional member has to be activated in the same country, they can only use one device to view or download content at a time, and they can't create extra profiles or log in as a Kids profile.
A brief explanation of a Netflix household
Netflix describes a household as "a collection of the devices connected to the internet at the main place you watch Netflix." Once the household is set using a TV device, all other devices that use the Netflix account on the same internet connection as the TV will automatically be part of it. The company uses IP addresses, device IDs, and account activity to determine whether a device is part of the same Netflix Household or not.
Quotable: Netflix didn't mind password sharing before
"We love people sharing Netflix whether they're two people on a couch or 10 people on a couch. That's a positive thing, not a negative thing."—January 2016 comment by Netflix's former CEO Reed Hastings, who resigned this January but remains ​​executive chairman of the board
Netflix's U-turn on password sharing
A few years, Netflix didn't mind password sharing, even tweeting in March 2017 that "love is sharing a password." But that was back when it wasn't really facing stiff competition from the likes of Disney+, HBO Max, Apple TV+, and more. Netflix's competitors are bulking up, with HBO Max becoming Max, Paramount+ adding Showtime to its service, and Disney combining Disney+ and Hulu into one app.
April 2022 represented a wake up call of sorts for Netflix as it lost subscribers for the first time ever. Now the Los Gatos, California-based streaming giant wants all households to get separate accounts to boost subscriber numbers, and therefore revenue.
But it could do more harm than good. College students, who often use their parents' accounts, have been irked by the impending change. A larger concern for streaming freeloaders is that other platforms will follow Netflix's example, compelling people to expand their streaming budgets.
Password sharing crackdown, by the digits
103: Countries and territories, including the United States, Britain, France, Germany, Australia, Singapore, Mexico, and Brazil, where Netflix is expanding its password sharing crackdown
$7.99: Additional fee a subscriber in the US can pay per month to add an extra member to its standard or premier plans. It's more than the cost of the $6.99 per month Netflix's ad-supported tier, which launched six months ago and has so far amassed 5 million subscribers
£4.99 ($6.21): The cost of the basic with ads plan in the UK is the same as the cost of adding an extra member
More than 100 million: Households that had supplied their log-in credentials to friends and family outside their homes, according to Netflix's estimates. That's a big chunk of its 233 million user base globally
More than 1 million: Number of subscribers Netflix lost in Spain, when it started charging €5.99 (£5.27) for an additional account, according to Kantar. However, Netflix execs argue the dwindling numbers are just a product of knee-jerk reactions—similar to when price increases happen—but users will eventually return to the platform
90%: TV series and movies in Netflix's catalog that are available on the ad-supported tier. A limited number aren't initially available due to licensing restrictions but co-CEO Sarandos said there will be negotiations to include the rest
Person of interest: Arnold Schwarzenegger
On May 22, Netflix appointed Arnold Schwarzenegger as chief action officer. The 75-year-old's job role wasn't accompanied by any sort of description, but it was posted along with a list of action movies and series releasing on Netflix soon. Featured in the lineup was Fubar—a series starring Schwarzenegger slated to premiere on Netflix on May 25—suggesting it's a marketing gimmick more than a real role. But besides appealing to Arnie's fans, there are other concrete steps the streaming behemoth is taking to woo customers, from pumping in billions of dollars into Korean content and making a push into gaming.
Related stories
📝 Netflix accidentally revealed its blueprint to stop password sharing
📺 Netflix revealed how many subscribers are paying for its ad-supported plan
💿 Netflix is hitting the stop button on the DVD rental business that started it all