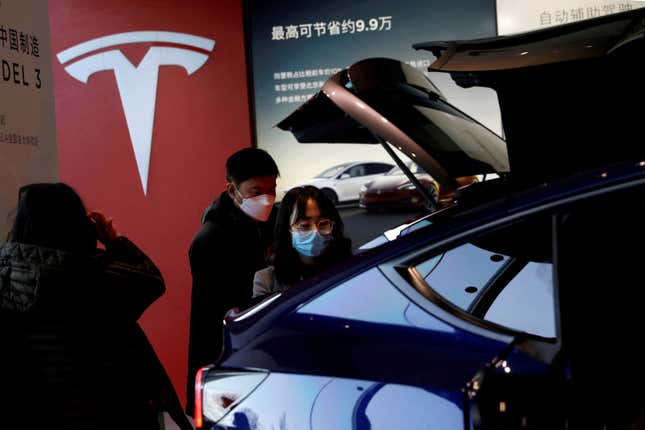 Tesla slashed prices for its Model Y electric vehicle (EV) in mainland China on Monday (Aug. 14), the latest move in the country's discount war among manufacturers.

What inspired Elon Musk's design for Tesla's Cybertruck?
Two versions of the Model Y sport utility vehicle (SUV) were reduced by 14,000 yuan ($1,900), bringing the prices of the Long Range and Performance versions to 299,900 yuan ($41,309) and 349,000 yuan ($48,196), respectively.
Tesla unveiled the changes on an official account with Weibo, the largest social media service in China.
The US carmaker—which sells China's most popular EV—also announced it was extending an 8,000 yuan ($1,102) insurance subsidy for the basic Model Y version until the end of the month.
For consumers located near its manufacturing centers, Tesla routinely lowers prices of its luxury EVs to increase the number of cars delivered (a benchmark for investors) and clear out inventory.
Those discounts aren't impressing shareholders, though. The company's stock fell 1.75% at 3:30 pm in New York City, amid concerns that further price cuts could squeeze its profit margin.
Race to the bottom: EV price wars in China
The latest discounts come after roughly a year of cuts by Tesla in China, prompting a range of rival domestic EV manufacturers to lower their own prices in retaliation. Tesla has slashed prices so many times that at one point—after the company announced a major 14% reduction for its locally produced cars in January—its EVs were as much as 50% cheaper in China than in the US.
Then in July, after months of warnings from the China Association of Automobile Manufacturers that Tesla's cuts were artificially affecting the EV market, the company agreed to sign a pledge with other major automakers to avoid "abnormal pricing."
However, just a week after that agreement, CEO Elon Musk told investors that Tesla could reduce prices again, citing uncertain market conditions.
"One day it seems like the world economy is falling apart, next day it's fine," Musk said during the company's Q2 earnings call. "I don't know what the hell is going on. We're in, I would call it, turbulent times."
Related stories:
🚗 Tesla slashed prices for a sixth time this year to alleviate the loss of Biden's EV tax credits
📈 Tesla's $37,000 Model Y is outselling EVs that are seven times cheaper in China
🎉 Chinese media are celebrating Elon Musk's Beijing visit as a much-needed vote of confidence