No item sums up modern fashion as neatly as a sneaker.
The major forces shaping so much of current dressing—the influence of sports and music, the retreat of formality and demand for comfort, the rise of synthetic materials, the blending of high and low—converge in their plush, grippy soles. These dynamics drive the sneaker business today. People keep dressing more casually, making sneakers appropriate for ever more situations. Comfort remains one of the key elements people want in their clothes and shoes. And sneakers have become bigger status symbols than ever.
Hip-hop, which has been obsessed with sneakers from its early days, now dominates music in the US and continues to expand globally, helping to spread sneakers as fashion. Streetwear, a sneaker-driven style with roots in California skate-and-surf culture and New York hip-hop, has become one of fashion's most influential forces.
Sneakers are so integral to the fashion industry today that brands with histories making high-end leather goods or haute couture now offer athletically inspired footwear costing hundreds of dollars alongside their other pricey wares. The right pair can carry the sort of status once reserved for expensive handbags, and designer fashion labels routinely work with major sports brands.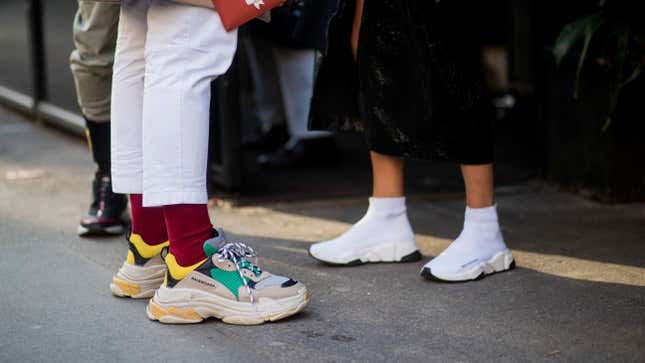 The shoes that began as athletic footwear are now often just footwear, worn for the weekend, for the office, even for weddings. According to data from market research provider Euromonitor, sports footwear has been eating a growing share of all footwear sales for years.
Sneaker sellers, in fact, have grown into the biggest shoe companies in the world by putting their casual, comfy shoes on the feet of people all over the planet. The brand that owns the greatest share of the global footwear market—not the sneaker market, mind you, but footwear, in all its varieties—is Nike, and that's by a long shot. In the highly fragmented and competitive market, it holds as much share as the next three companies—Adidas, Skechers, and VF Corp., owner of Vans and Timberland. In 2018, Nike reported sales of $22.3 billion in shoes alone.
Most of the global top 10, as measured by Euromonitor, are sneaker companies:
The dominance of sneakers is perhaps all the more impressive given that, as types of footwear go, they're a relative newcomer. They only appeared in the 19th century; even forms of high heels are older. Their evolution relied on advances in materials and technology, and they're more closely tied to the rise of modern consumer culture than any other variety of footwear.

A BRIEF HISTORY
The footwear of the industrialized world
"The eminently modern sneaker is an innovation of the industrial age," writes Elizabeth Semmelhack, senior curator of the Bata Shoe Museum, in her book Shoes: The Meaning of Style. "From their origins in the nineteenth century, the history of sneakers has been intertwined with the pursuit of technological innovation as well as the politics of consumption."
What made them possible was Hevea brasilensis, the rubber tree, which for centuries indigenous peoples in South and Central America had been tapping for its sap. By the 1800s Western scientists were experimenting with the elastic, waterproof sap, known as latex, leading to the debut of rubber overshoes that kept feet dry. This early rubber had weaknesses though: it melted easily in the heat, and became brittle and cracked in the cold. Inventor Charles Goodyear figured out how to make it stable and durable, creating the foundation for "vulcanized" rubber that others, such as Thomas Hancock, would continue advancing on, ushering in a revolution in consumer products, including shoes.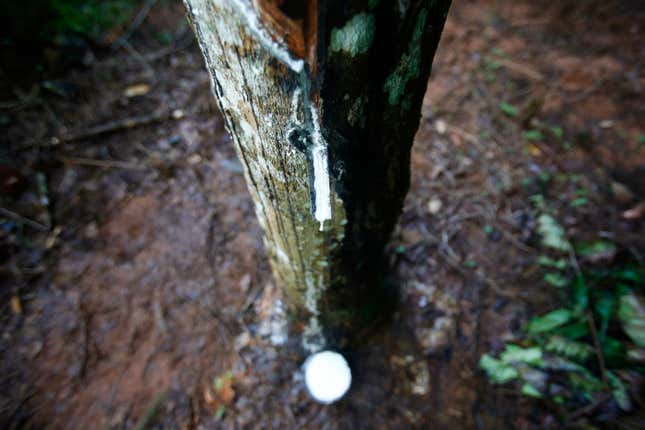 It's unclear who actually made the first pair of rubber-soled shoes that we'd recognize today as sneakers. But it is certain that by the middle of the 19th century companies were selling shoes with rubber soles to play tennis in.
If scientific innovation led to the creation of sneakers, it has also shaped the way they've evolved. Sneaker makers have proved adept at using new materials to keep making their shoes lighter, stronger, and bouncier. In that regard, sneakers are a good example of the way clothing in general has changed in the last century: Ever since Dupont invented nylon in the 1930s, synthetics have been working their way into our wardrobes. Few items rival sneakers, though, in their use of the latest high-performance materials.
Paul Gaudio, global creative director for Adidas, explained at a recent event in New York that the typical running shoe now is made of 12 to 15 different materials. Nike, in its 2018 annual filing with the US Securities and Exchange Commission, described the materials it uses like this:
The principal materials used in our footwear products are natural and synthetic rubber, plastic compounds, foam cushioning materials, natural and synthetic leather, nylon, polyester and canvas, as well as polyurethane films used to make NIKE Air-Sole cushioning components.
Chemical firms have been instrumental in creating some of these materials, particularly when it comes to midsoles for running sneakers. The midsole is the cushioning part of the shoe, sandwiched between the shoe's upper and often an outsole, a durable layer to withstand the wear and tear of contact with the ground. Adidas's signature midsole cushioning of the moment is Boost, a composite of plastic foam pellets developed with German chemical giant BASF. Under Armour worked with Dow Chemical to produce its Hovr cushioning. Nike created its React cushioning, made of a synthetic rubber, in-house with its own team of chemical engineers and developers.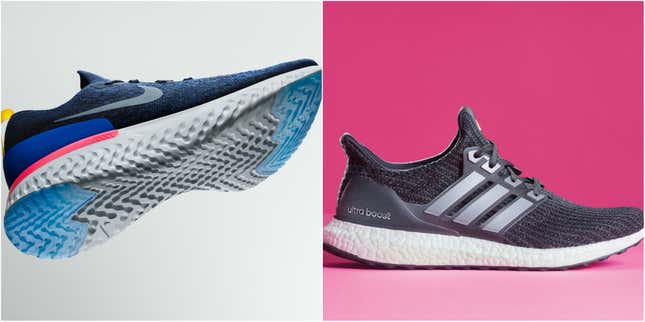 LET'S TALK CHINA
China = a whole lot of sneakers
Materials aren't the only way sneakers reflect modern culture. As Semmelhack explains, the market for the shoes emerged as a result of broader societal changes taking place. "The nineteenth century was a period of booming industrialization, which gave rise to an upwardly mobile middle class, and leisure time, long a privilege of the rich, was eagerly pursued as a means of proclaiming one's newfound status," she wrote. "This in turn led to a demand for specialized equipment and clothing designed specifically for these amusements."
The process is recurring in a sense today—in China. In 2015 it overtook the US with the world's largest middle class. This growing population comes with newfound disposable income and leisure time, leading to higher participation in sports, while going to the gym is becoming as much a lifestyle as an activity. According to the China Business Research Academy, gym memberships in the country doubled between 2008 and 2016, reaching 6.6 million. The Chinese government is spurring the process, creating a national fitness plan and funding projects such as the building of soccer fields to encourage people playing sports.
Sneaker brands have taken note, recognizing the extraordinary opportunity they have to put shoes on all those feet. They're expanding their retail networks, building distribution facilities, and doing all they can to connect with local shoppers. In 2016, Nike announced a partnership with China's ministry of education to train up to 7,000 teachers and promote physical activity in Chinese schools.
China is repaying the investments. In its most recent reported quarter, Nike's sales (pdf) in greater China grew 19%, more than any other geography. Adidas's sales (pdf) in greater China were up 13%, again higher than all other regions. Puma's Asia-Pacific sales jumped 35%, driven mostly by China. High growth in the country is a common theme in sports companies' earnings reports these days. In Euromonitor's estimation, China is already the world's second largest market for sports footwear, and quickly getting bigger. It even has its own emerging culture of the obsessive sneaker fans known as sneakerheads.

THE CULTURAL PARADIGM
From athletic shoes to status symbols
Sneakers have their roots in sports. Rubber-soled athletic shoes were so synonymous with tennis in their early days that most of the US continues to call them "tennis shoes." (The term "sneaker" appears to have evolved out of another term occasionally used for the shoes: "sneaks," referring to the way the rubber soles muffled the wearer's footfall. By the 1870s, it was slang for the shoes along America's east coast.)
Basketball, invented in 1891 by James Naismith, further helped to propagate rubber-soled footwear. As the sport caught on, the need for basketball shoes grew. Spalding and Keds were among those that released basketball sneakers, and in 1917, the Converse Rubber Shoe Company introduced its own, the All Star.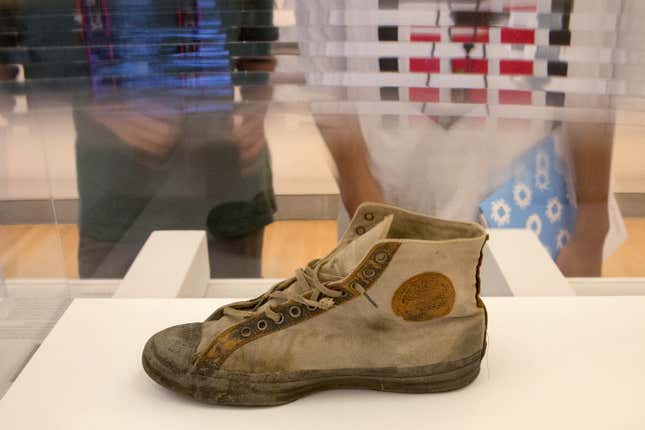 But even early on, sneakers found uses outside of sports. Their association with lawn tennis, a sport for the rich, elevated tennis shoes into status symbols, and people flaunted their wealth by wearing pristine white pairs as summer or resort shoes. Semmelhack cites a news story from as early as 1887 noting that, despite the name, most tennis shoes were on feet that "never tread a tennis court."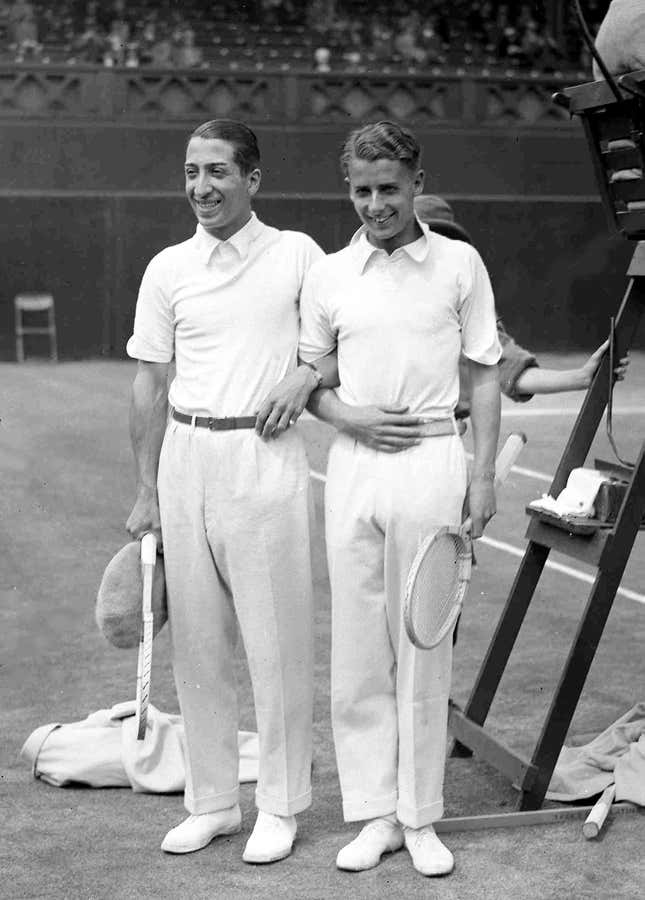 This gap between their intended use and actual use only grew, and today is wider than ever. In one recent survey, 75% of respondents said they weren't using athletic shoes for any athletic purpose.
A large category of sports-inspired shoes that aren't meant for actually playing sports has thrived as a result. They're sold by the big sports brands, but also general fashion retailers such as H&M and Zara and by specialty sneaker labels such as Silicon Valley-favorite Allbirds, minimalist premium brand Common Projects, and sustainability-minded Veja.
For the past several years, Euromonitor data shows sales of this type of footwear have been growing faster than those of performance footwear, meaning shoes specifically designed for sports. The performance category is still larger, racking up about $60.5 billion in global sales in 2018, but sports-inspired isn't far off, hitting $56.1 billion in global sales. (Though as that survey indicated, many of the performance sneakers people buy for activities such as running are still just for casual use.)
In the US in particular, performance shoes, especially for basketball, are in a slump. The trend hasn't yet reversed.
The reasons so many people wear sneakers for uses other than sports ties into a major shift in Western fashion that started around the beginning of the 20th century. Before then, clothing's main purpose was to demonstrate social status and decorum. But in the US in particular (paywall), the paradigm began to change "with the arrival of sportswear as part of the everyday wardrobe," Deirde Clemente, a historian and expert on the dressing down of American society, previously told Quartz. Designed for easy movement to play sports such as tennis and golf, sportswear took off in the new leisure-minded US, spurring a decline in clothing's formality, and making comfort a priority. Sneakers fit the trend perfectly.
Though they had started as status symbols because of their ties to tennis, sneakers lost that symbolism as they spread and became common footwear, especially for kids. Over the years, as people in Western countries dressed down and picked up sports, new companies appeared to sell them athletic shoes, such as Adidas, Puma, and Nike. Initially at least, these brands were focused on how their shoes performed on the track, court, or field.

A history of sneakers through the companies they've given birth to:
1898: Saucony Shoe Manufacturing Company opens in Pennsylvania
1906: New Balance Arch Support Company is founded in Massachusetts
1908: Converse is established, also in Massachusetts
1916: United Rubber Company debuts the Keds brand
1923: German brothers Rudolf and Adolf "Adi" Dassler register the Dassler Brothers Sport Shoe Factory
1938: New Balance releases its first shoe
1948: The Dassler brothers go their separate ways, and Rudolf Dassler starts Puma
1949: Adi Dassler founds Adidas. In Japan, Kihachiro Onitsuka starts Onitsuka Tiger.
1958: British brothers Joe and Jeff Foster rename the footwear company their grandfather founded in 1895, calling it Reebok
1964: Blue Ribbon Sports is founded by Phil Knight in Oregon as a distributor of Onitsuka Tiger sneakers
1966: The Van Doren Rubber Company, later known as Vans, opens its doors in California
1971: Knight renames his company Nike after splitting from Onitsuka Tiger to start selling his own shoes
1977: Onitsuka Tiger renames itself Asics
1983: Fila, originally established as a textile manufacturer in Biella, Italy, in 1911, releases its first tennis shoes
1992: Skechers is founded
1997: Nike launches Jordan as a subsidiary brand
2003: Nike acquires Converse for $305 million
2004: VF Corp buys Vans for $396 million
2005: Adidas buys Reebok for $3.8 billion
2007: Luxury conglomerate Kering buys Puma for $6.4 billion
2012: Wolverine Worldwide acquires a group of brands that includes Saucony and Keds
2018: Kering sells most of its majority stake in Puma to shareholders

It wasn't until the 1970s that sneakers started to recapture some of their cachet. By then, they were becoming a part of fashion. When hip-hop and b-boy culture emerged in New York, for example, sneakers such as the Puma Suede were integral to its look.
Then, in 1985, sneakers reached a new cultural level. That was the year Nike released the first signature model for an emerging basketball star named Michael Jordan.
Sneaker makers had realized decades earlier that they could use athlete endorsements to make their shoes more desirable. In the 1920s, Keds got the endorsement of the Original Celtics basketball team, for instance, and in 1934 Converse took the idea another step, releasing the first signature sneaker. Its Chuck Taylor All Star, made with basketball player Chuck Taylor, inaugurated the model that Nike and others have continued since.
But the Air Jordan 1 created demand never seen before for an athletic shoe. The black-and-red design looked nothing like the typical plain white basketball shoes of the time. Jordan himself was young, brash, and explosively athletic. The Jordan 1 was a different kind of shoe for a different kind of athlete, and Nike's marketing shrewdly linked it to youth, rebellion, and individuality. When it went on sale, it instantly became a status symbol like no athletic shoe before.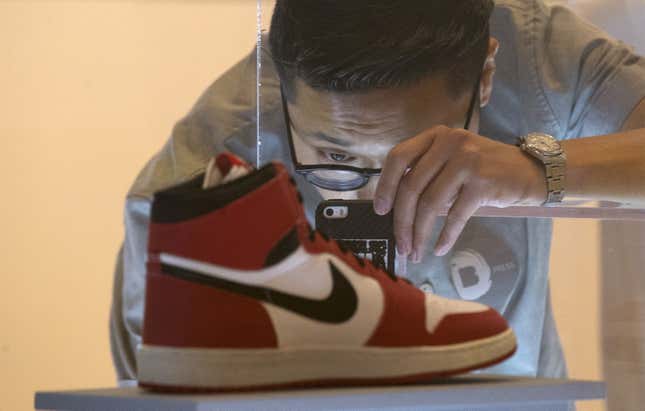 As Nike kept releasing new Jordan models, and then re-releasing old ones, the company worked out a distribution strategy more commonly seen in the luxury sector, limiting the supply of shoes available to keep demand and prices high. It fueled the growth of a secondary market for sneakers and helped give rise to the subculture of sneakerheads.
Sneakers kept gaining cachet, helped along by music, pop culture, and the spread of the internet. Meanwhile, dress codes have broken down, fitness has become a fixation, and showing off on Instagram has grown into a popular pastime. All these factors have influenced how people dress.
Sneakers aren't just a part of fashion today. They're a microcosm of all fashion.