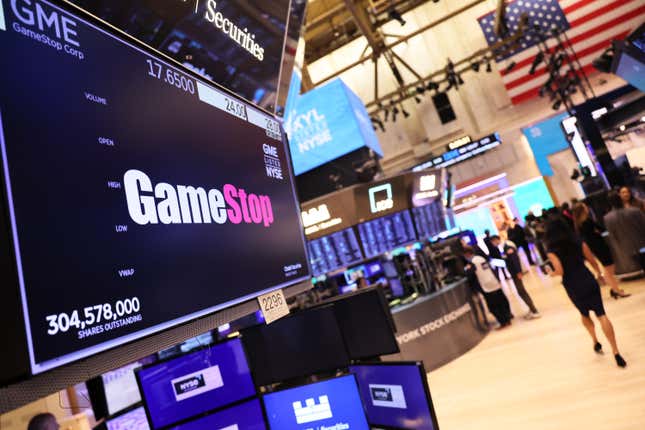 Federal securities regulators charged 23-year-old Deyonte Jahtori Anthony with executing a "free-riding scheme," in which he used $1 million in pending deposits to buy $200,000 of meme stocks—without ever having the money.

Eric Beiley Part II: Where rates are heading
Anthony, who works at a North Carolina Auntie Anne's pretzel shop, opened up a brokerage account by claiming an annual income between $25,000 and $50,000, though he really made about $400 a month from Auntie Anne's and other part-time jobs.
In its complaint (pdf), the US Securities and Exchange Commission (SEC) said that Anthony then took advantage of his brokerage's $200,000 "immediate access" credit by initiating $1 million in bank transfers—transfers that could have never been completed because Anthony's account only had $0.09 in it. According to the complaint a broker discovered that Anthony had misrepresented his income and froze the account, but only after the trades had been made.
A scheme to buy meme stocks
Anthony used the funds to buy stock in the iPhone manufacturer Apple, the automaker Tesla, as well as the video game retailer GameStop and the movie theater chain AMC Entertainment, both of which are popular meme stocks. He also bought a cybersecurity-focused exchange-traded fund (ETF) with the ticker symbol HACK.
Fortunately for Anthony's broker, which goes unnamed in the government complaint, it didn't lose any money on the bogus trades. Using fake funds to buy meme stocks, Anthony actually made more than $7,000. Unfortunately for Anthony, he won't be legally allowed to test his stock-picking skills again.
While he did not admit wrongdoing, Anthony agreed to a government order prohibiting him from trading securities in the future and also agreed to pay an unspecified civil fine. That penalty is pending approval by a federal judge in North Carolina.
Anthony told authorities that his maneuver was simply "a joke" and he "never really thought of it as fraud."
In recent years, brokers have catered to retail investors with no-fee trading and gamified apps, making it both easier and more appealing to trade stocks and other securities. Retail investors have glommed onto a series of popular stocks, like the ones Anthony traded, with hopes of making a buck. But unlike Anthony, the successful investors, or at least those who have not been charged with fraud, had the money to actually fund their trades.