Good morning, Quartz readers!

---
Here's what you need to know
UK inflation cooled for the third month in a row. It fell to 10.1% in January, though food prices still remain at a 45-year-high. Meanwhile, Ghana's inflation dropped for the first time since May 2021 to 53.6%.
Is it still a good time to be in tech stocks
Foxconn is expanding into Vietnam. The world's biggest electronics manufacturer has signed a $62.5 million lease with Saigon-Bac Giang Industrial Park as it diversifies production outside of China.
Deutsche Bank is penalizing staff who misused WhatsApp. The German bank, which has already paid $2 billion in SEC fines due employees' improper use of messaging, is cutting bonuses.
Elon Musk said he expects to find a new Twitter CEO by year's end. The Chief Twit, who has upended the platform for more likes, remarked: "I think I need to stabilize the organization."
Billionaire Jahm Najafi is making a bid for the Tottenham Hotspurs. The Iranian-American chair of MSP Sports Capital is offering $3.75 billion to buy the football club, Reuters reports.
---
What to watch for
Love them or loathe them, Crocs are more popular than ever. When the Colorado-based maker of colorful foam resin clogs posts earnings tomorrow (Feb. 16), it's expected to report another stellar quarter in a record-breaking year.
A reputation for comfort and ease, an affordable price point, and various celebrity fans have made the ugly-cool shoe a permanent fixture on Amazon's best sellers list. The brand has also resisted the curse of the pandemic darling: After recording a sales increase in the second half of 2020, as stuck-at-home consumers prioritized their feet's happiness over appearance, revenue just kept growing.
Last month, Crocs boosted its annual revenue estimate to $3.55 billion, which would make 2022 the best year ever for the brand that first hit the shelves 20 years ago. Fashion changes, but an instantly recognizable and memorable product will never get old—it just becomes timeless.
---
ChatGPT has something to say about the economy
AI chatbots may be playing a bit of PR catchup (it's hard to just dust off a $100 billion mistake), but there's new evidence that large language models like ChatGPT can help economists do better research. That is, if they know how to use them correctly.
A perk of these systems is that they can generate content and consume large amounts of text faster than humans. This is especially true for "microstasks," those that researchers do every day but are too minor to assign to other human assistants, such as:

😜 Generating catchy titles and headlines
🐞 Debugging code
❤️ Extracting sentiment
🤖 Predicting human reactions

The examples above are just a sampling. There are at least 18 other ways AI can be applied to economic research… with some disclaimers.
---
The world leadership lineup is skewing even more male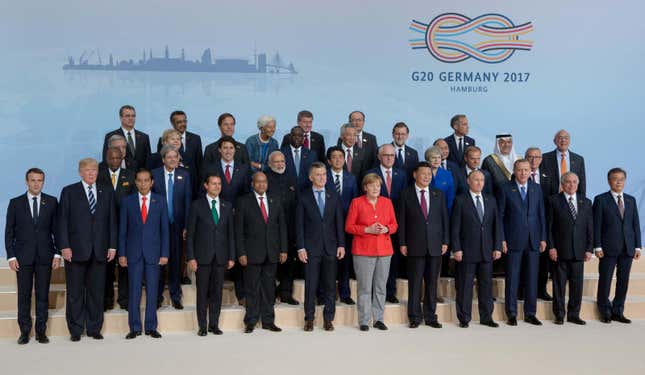 Scottish first minister Nicola Sturgeon shocked the world when she announced her resignation yesterday (Feb. 15). As the latest woman to walk off the political stage in the past few weeks, world leadership is starting to look even less gender balanced.
Sturgeon and New Zealand's former prime minister Jacinda Ardern blamed exhaustion and pressure as reasons for their departures, and as Quartz's Cassie Werber explains, now it's hard to imagine world leader "family portraits" getting more equal any time soon. (Though there could be a notable exception.)
✦ Want to keep up with global leadership trends? Help keep our content free and accessible by picking up an annual membership. Daily Brief readers get 50% off.
---
Quartz's most popular
✈️ What Air India's historic aircraft deal means for the company—and for India 
🤑 A tech founder who didn't pay employees for months has been arrested
📵 What caused the T-Mobile outage? 
😎 Louis Vuitton has chosen Pharrell Williams to fill Virgil Abloh's shoes
💰 Warren Buffett's "buy and hold" rule doesn't seem to apply to tech stocks
💉 The cholera vaccine shortage could increase the earthquakes' toll in Syria and Turkey
---
Surprising discoveries
The AI photo app trend is so last year. No one is downloading them, it's cringe, get with the times!
A medieval warship sank with a side of seasoning. Its 500-year-old pantry is still chock full of spices, fruits, and cereals literally fit for a king.
Kids are compassionate—to a point. When it comes to sacrificing rewards, they aren't as keen on helping others.
The Milky Way may have a younger twin. Nicknamed "The Sparkler," from where we're looking it's around 9 billion light years our junior.  
A US fighter jet fired $400,000 worth of taxpayer dollars into a lake. It shot at and missed a UFO. 
---
Our best wishes for a productive day. Send any news, comments, ocean salt, and twin Milky Way bars to hi@qz.com. Reader support makes Quartz available to all—become a member. Today's Daily Brief was brought to you by Ananya Bhattacharya, Sofia Lotto Persio, Julia Malleck, and Morgan Haefner.