Good morning, Quartz readers!

---
Here's what you need to know
Starbucks' union-busting tactics were condemned in and out of court. On the day a judge ruled the company violated labor laws, corporate employees also complained about management's decisions.
Eli Lilly announced a series of price cuts for insulin and the copay. The company's plan goes further than a recently announced White House initiative, but it cannot make up for the need to regulate insulin prices.
Tesla's investor day fell short of expectations. The electric carmaker's stock price tumbled after executives gave few details about new offerings, but confirmed plans for a new Mexico plant.
Global greenhouse gas emissions reached a new record in 2022. The International Energy Agency noted, though, that improvements in renewables and energy efficiency made the rise less stark than feared.

---
What to watch for
Costco is expected to report its weakest sales growth in three years today (Mar. 2). The US big-box store chain would be joining a growing list of retailers with lackluster sales, as customers remind merchants that everything's really expensive right now and something has to give.
Costco's membership growth, however, may be its saving grace. The company is expected to add another 480,000 paid subscribers to its 67 million households. Increasing membership fees could be a way to compensate for slower sales, and would probably spark less outrage than raising hot dog prices.
Chief financial officer Richard Galanti has said that an increase in the membership fee was "a question of when, not if," but that the company is in no rush to do so, opting for a wait-and-see approach.
---
India leads the world in internet instability
It doesn't seem to matter that internet access is a fundamental right in India. For the fifth year in a row, the country saw its access to the World Wide Web go dark more than any other in 2022, accounting for nearly half of the world's total shutdowns.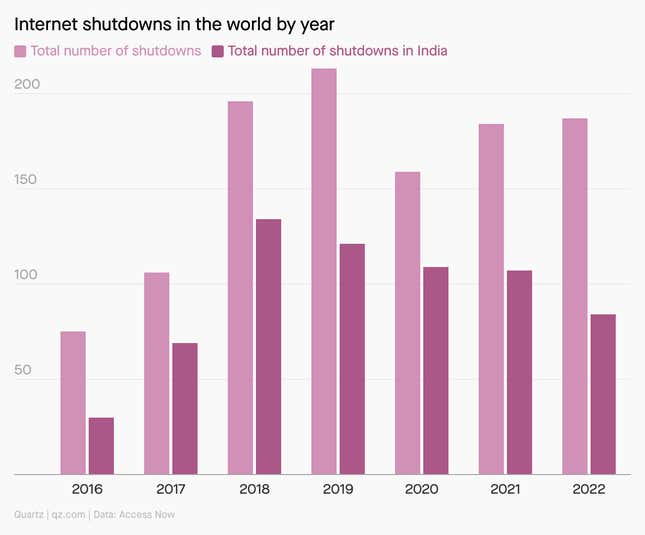 For India, shutdowns have largely centered in regions of political instability and violence, like Jammu and Kashmir. But a sudden shift to war explains why one country that didn't even make the list in 2021 is now coming in second.
---
Identifying global virus strains is getting much easier
On Feb. 23, avian flu—or H5N1—killed a young girl in Cambodia. The World Health Organization (WHO) described the viral outbreak as "worrying."
When the global health community rushed to sequence the new strain, it did so in less than a day. There's one big reason why.
✦ Love stories that contextualize global innovation? Help keep our content accessible to all by picking up an annual membership. Daily Brief readers get 50% off.
---
Quartz's most popular
🍙 YouTube's algorithms are stumping the US Supreme Court
🤖 Should ChatGPT write your resume?
🪧 Why Amazon UK workers are striking 
🏠 London's most expensive home is going on sale for $300 million 
🤨 How much exposure do global banks have to crypto?
💊 The FDA's latest approval is a game changer for rare diseases
---
Surprising discoveries
A mummy was found in a delivery guy's cooler bag. Nothing says order's up like the 600 to 800-year-old remains of a 45-year-old man.
An ancient insect was spotted at a Walmart. One giant lacewing was just hanging out on the side of the building in Arkansas.
Nobody really knows what time it is on the Moon. Which is why it may soon get its own time zone. 
Unsightly signatures might just need some surgery. Calligraphers are helping people redesign their autographs.
Planting trees could do more harm than good. A new episode of the Quartz Obsession podcast explains why it may not be the best way to offset carbon emissions.
🎧 Listen right now on your browser or download: Apple | Spotify | Google | Stitcher | Megaphone
---
Our best wishes for a productive day. Send any news, comments, moon watches, and your best John Hancocks to hi@qz.com. Reader support makes Quartz available to all—become a member. Today's Daily Brief was brought to you by Sofia Lotto Persio, Julia Malleck, and Morgan Haefner.