Good morning, Quartz readers!

---
Here's what you need to know
Economists aren't sure what the US Federal Reserve will do about interest rates. For their part, traders are pricing in a chance that a quarter-point hike is coming at today's meeting.
The US saw its largest monthly increase in existing-home sales since July 2020. The recent rise is a sign that the housing market may be on the mend.
A second US lab-grown chicken producer cleared a regulatory hurdle. California-based GOOD Meat got a step closer to the supermarket shelves.
The IMF is giving a loan to a war-stricken country for the first time. A $15.6 billion package is expected to be disbursed to Ukraine subject to approval by the IMF's executive board.

Chinese censors are still not over Winnie the Pooh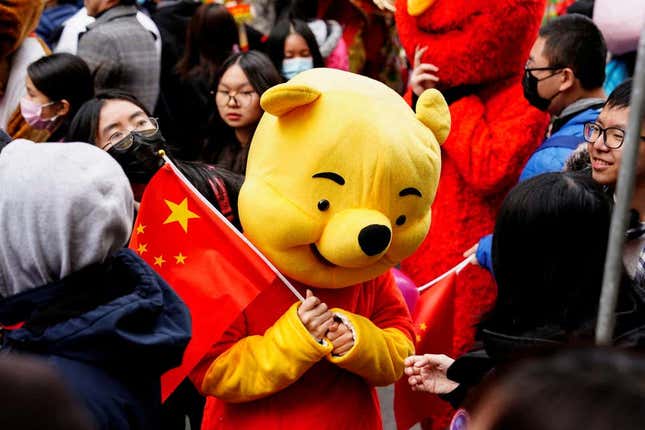 Hong Kongers won't get the chance to watch Winnie the Pooh go feral on the big screen. The British slasher film Winnie the Pooh: Blood and Honey has been canceled in Hong Kong, and while no specific reason was given, it probably had something to do with Xi Jinping memes.
---
TikTok's new monthly user record
150 million: Active TikTok users per month in the US

Having nearly half of all US residents on the app is a huge milestone for the Chinese-owned social media company. But a few things overshadow that: potential bans in the US, as well as in the UK and New Zealand, and its CEO Shou Zi Chew testifying in front of US lawmakers on Thursday.
---
The world's water crisis hasn't improved all that much
Just one in four people around the world have access to safe drinking water, leaving billions without a basic necessity, especially in places with the fastest-growing populations.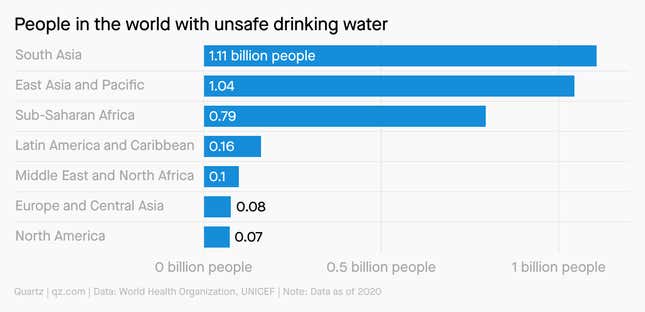 Quartz's visual journalist Clarisa Diaz looked at what makes the countries above particularly vulnerable to water shortages and why they're an economic threat.
✦ Love our charts? Help keep our content free and accessible by becoming a member. Daily Brief readers get 50% off.
---
Quartz's most popular
💱 Putin is strengthening the yuan's role as Russia's foreign currency of choice
🔊 The problem with "quiet quitting" and other buzzy management terms

🛟 The IMF gave Sri Lanka a $3 billion lifeline
😞 India is among the least happy countries in the world
👋 Venezuela's oil chief unexpectedly resigned amid a corruption probe
📦 Amazon's layoffs are the latest correction to years of over-hiring
Surprising discoveries
JPMorgan fell pray to nickel fraud. Bags meant to contain metal worth $1.3 million were filled with nothing but stones.
That new job listing you're eyeing may be fake. Just because a posting is up doesn't mean it's being filled.

A stunt philanthropist got 20 million followers by filming wild charity acts. But some are questioning if Harsha Sai might be after funds with benefits.

An extinct saber-toothed marsupial had some crazy cow eyes. The positioning of its orbs made the carnivore something of an evolutionary Mad Lib.

"The invisible hand" doesn't mean what you think it does. Contemporary understandings of the phrase are very different from what the economist Adam Smith was talking about in the 18th century. We hand you the visible facts in the latest episode of the Quartz Obsession podcast.
🎧 Listen on: Apple Podcasts | Spotify | Google | Stitcher
👀 Or, read the transcript!
---
Our best wishes for a productive day. Send any news, comments, the real Nickelback, and evolutionary Mad Libs to hi@qz.com. Reader support makes Quartz available to all—become a member. Today's Daily Brief was brought to you by Sofia Lotto Persio and Morgan Haefner.