Good morning, Quartz readers!

---
Here's what you need to know
South Korea will give families $770 a month to have a baby. The yearlong assistance is the country's latest attempt in a $200 billion-and-growing quest to increase its alarmingly low birth rate.
BYD's profits got supercharged. China's largest electric vehicle maker sold a record number of cars in 2022, boosting its bottom line four times higher than it was in 2021.
US officials are on a charm offensive in Africa. Vice president Kamala Harris is just the latest US leader to visit the continent as competition increases with Russia and China for its resources.
French authorities raided five major banks. BNP Paribas and Société Générale are among the targets in connection with so-called "cum-cum" trades used to evade taxes.
Alibaba took a page out of Alphabet's corporate playbook
"At 24 years of age, Alibaba is welcoming a new opportunity for growth. The market is the best litmus test, and each business group and company can pursue independent fundraising and IPOs when they are ready."
— Alibaba CEO Daniel Zhang on why the Chinese internet giant is splitting its empire into six business divisions and getting a holding company, much like Alphabet did in 2015.
---
Nothing kills more American children than guns
More than a decade ago, a mass shooting killed 26 people at Sandy Hook elementary in Newtown, Connecticut, including 20 children.
As evidenced by Monday's mass shooting at an elementary school in Nashville, Tennessee—the 13th US school shooting in 2023 alone—things have gotten much, much worse. Gun deaths of children have surged 62% since Sandy Hook, and are now the top cause of mortality among American kids.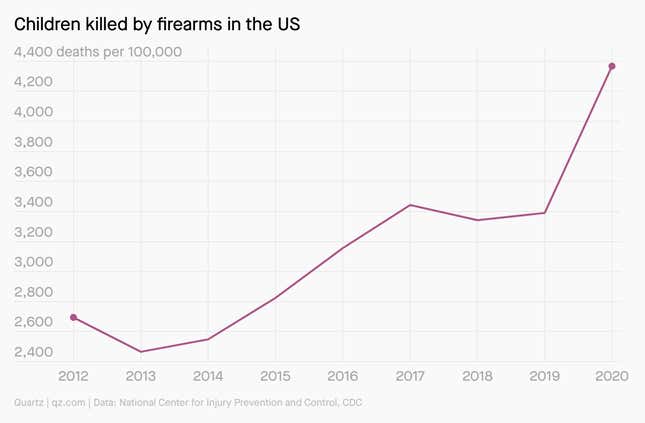 ---
Early cherry blossoms are becoming the norm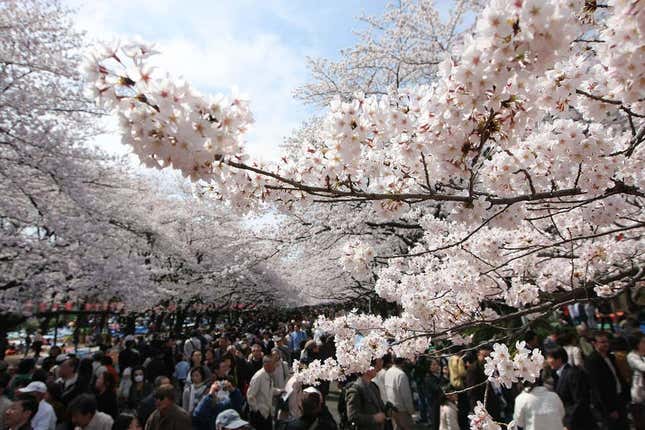 For the fourth year in a row, DCers have witnessed the green buds of cherry trees burst into light pink foliage in March, even though it had long been an April affair. Tokyo, too, is feeling the blossom shift.

Quartz's Clarisa Diaz explains in one chart how shorter winters and more frequent extreme weather events are affecting the trees in Washington.

✦ Love stories that help you visualize the effects of climate change? Help keep our content free and accessible to all by becoming a member. Daily Brief readers get 50% off.
---
Quartz's most popular
👟 Another major celebrity collab is coming to an end at Adidas
💥 The world "population bomb" might not go off after all
👉 The US accused Sam Bankman-Fried of bribing Chinese officials with crypto
🤔 Not a single Adani company is among India's top corporate taxpayers
🚿 How Germany watered down a planned ban on combustion-engine cars
🥽 Remember the metaverse? Disney doesn't want to 
Surprising discoveries
Substack is fundraising directly from its writers. A US Securities and Exchange Commission change made the meta crowdfunding plea possible.

Balenciaga Pope wasn't real. What's surprising is how real he looked.

Four of the five most popular apps in the US are Chinese. The country's rise to tech dominance looks a lot like its path to manufacturing superiority.
An Australian man found a $160,000 golden nugget with a cheap metal detector. Victoria goldfield diggers missed a big one in the 1800s rush.
Credit scores are a recent invention, but laws around credit are thousands of years old. We can't blame the 1750 BCE Code of Hammurabi for all of credit scores' wackiness. Scott Nover joins host Annalisa Merelli to talk about why in the last episode of the Quartz Obsession podcast, season four!
🎧 Listen on: Apple Podcasts | Spotify | Google | Stitcher

👀 Or: read the transcript!
---
Our best wishes for a productive day. Send any news, comments, Burberry bishops, and golden nuggets to talk@qz.com. Reader support makes Quartz available to all—become a member. Today's Daily Brief was brought to you by Morgan Haefner.