Good morning, Quartz readers!

---
Here's what you need to know
China surprised on its exports for March. Officials touted rising demand for electric vehicles as one reason, but analysts said many companies are just playing catchup from covid restrictions.
Softbank shrank its Alibaba stake down to single digits. The Japanese investing giant has sold more than $7 billion worth of Alibaba shares this year.
Ghana became the world's first country to approve Oxford's new malaria vaccine. The shot can be used in children between five months to three years old, to help control malaria-related child mortality.
India's Meteorological Department isn't fretting about the monsoon season. But its predictions haven't always been the most trustworthy, and IMD's only competitor is taking note.
---
Netflix shrugs off a quarter-life crisis
Netflix turns 25 years old this week, and the streaming giant is ready to celebrate. It's pulling in around $11 billion more in revenue than it was in 2019, when it made $20.1 billion, and its homegrown shows since than have been some of its most-watched (though we're still waiting to actually play Squid Game).
To be sure, the Great Rebundling and the newly combined catalogs of Discovery+ and HBOMax into Max might throw a little water on the party, but it's a far cry from a quarter-life crisis.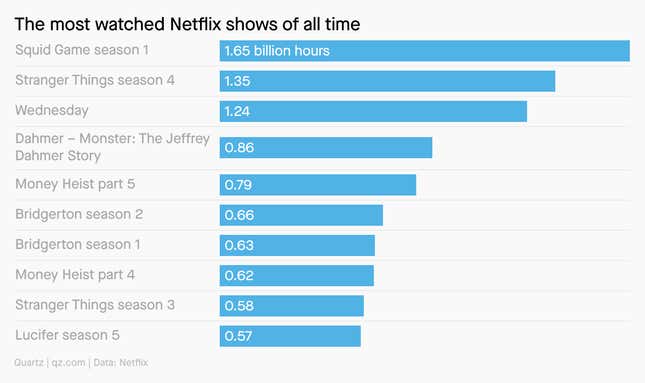 ---
Jamie Dimon really, really hates remote work
"They have to be visible on the floor, they must meet with clients, they need to teach and advise, and they should always be accessible for immediate feedback and impromptu meetings. We need them to lead by example, which is why we're asking all managing directors to be in the office five days a week."

–JPMorgan Chase's operating committee in an employee memo that requires managing directors to come back into the office five times a week. Jamie Dimon, the bank's CEO who may or may not ever retire, is a staunch critic of remote work, and it appears even a hybrid setup isn't going to cut it.

---
The largest financier of fossil fuels is no longer American
$673 billion: Fossil fuel financing—lending and underwriting for bonds and equities—from the world's 60 largest banks last year

JPMorgan used to hold the title of world's largest financier of the fossil fuel industry, but now Canada's biggest bank has clinched it with a whopping $42.1 billion in financing.
---
Quartz's most popular
💔 EY is shredding its plan to split its consulting and auditing businesses
🐟 Why is a Namibian fishing scandal raising a stink in Europe?
🙄 A once high-flying health startup's co-founders were convicted of fraud 
🥬 Whole Foods has shut down a store in downtown San Francisco on safety concerns
🫡 The best way to get teams to embrace change, according to science
😛 Elon Musk is personally ruining Twitter's ad business
---
Surprising discoveries
Meet Martin, the AI bot that couldn't. While ChatGPT and its competitors are built to impress, the chess robot is supposed to suck.
The company that makes Purell hand sanitizer is going up for auction. Demand for the cleaner has bottomed out from its pandemic highs.
A huge logjam in Canada has tons of carbon in it. Roughly 3.4 million tons, or the equivalent of 2.5 million car emissions for a year, to be exact.
A fifth grader caught an error in a science book. The publishing house thanked him for knowing the difference between igneous and sedimentary rocks.
Square-wheeled bicycles work. It's just like pedaling a tank, if that's the sort of thing you're into.
---
Our best wishes for a productive day. Send any news, comments, fifth-grader smarts, and tricycles to talk@qz.com. Reader support makes Quartz available to all—become a member. Today's Daily Brief was brought to you by Morgan Haefner.