Good morning, Quartz readers!

---
Here's what you need to know
SpaceX postponed the launch of its most powerful rocket. Starship's pressurant valve issue will set back the schedule, but an ultimately successful flight will be one giant leap for, well, you know.
The US is now India's largest trading partner. Bilateral trade rose in 2022-2023 by almost 8% to $128.55 billion, as India-China trade fell by 1.5% to $113.83 billion in the same year.
Angry Birds are landing in Japan. Tokyo-based Sega is buying Rovio, the Finnish maker of one of the most popular mobile games of all time.
A historic strike could be coming to Hollywood. Members of the Writers Guild of America voted by a record margin—98% to 2%—to authorize a walk out. In other strike news, workers at one of Coca-Cola's biggest US bottling plants voted to go on the picket line after 18 rounds of bargaining.
What to watch for
Wall Street will get an update on how Netflix's password sharing crackdown is going when the streaming giant reports earnings today after the bell. There's one metric investors will be honing in on: signups for Netflix's $6.99 ad-supported tier. The tier is a litmus test for the company's password-sharing clampdown, and it already seems to be growing in popularity.

---
Apple is planting roots in Mumbai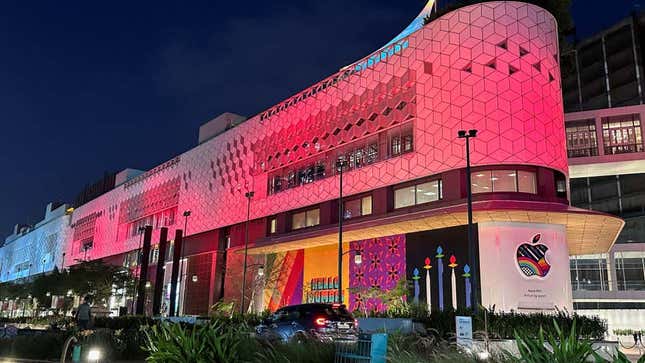 It's been seven years since Apple first said that it'd open a retail store in India, and today it's actually finally really happening.

The storefront, located in a Mukesh Ambani-owned upscale commercial hub, represents more than just an expanded retail footprint for the tech giant. It's part of a larger strategy to lessen its business reliance on China.
We put together a reading list to catch you up on Apple's blossoming courtship with India.
🤨 Will India ever make new iPhone models before China does?
😍 Even Tim Cook's fawning 2016 visit could not get India an Apple store
🍎 Apple wants to move its manufacturing out of China
---
The pound's wild ride
Unlike the wilted head of lettuce that outlasted former UK prime minister Liz Truss, the pound is turning a new leaf. Truss's disastrous "mini-budget" triggered the currency's slide last September, but with the economy in different hands, it's at a cheerier 10-month high against the US dollar. But as Quartz's Cassie Werber explains, that's not the only thing fueling the rise.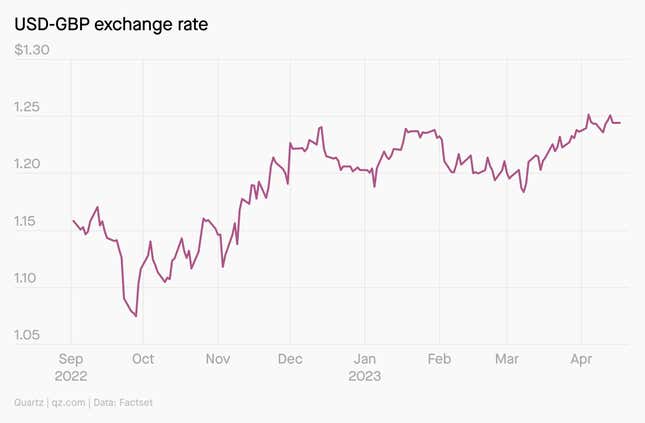 ---
Quartz's most popular
🤑 The world's largest financier of fossil fuels isn't a US bank
⚡️ Germany ditched nuclear power while other countries are embracing it
🕳️ The share of VC deals that are done in Silicon Valley is at an all-time low
💨 Why Biden isn't interested in banning internal combustion engine cars
🇸🇩 Millions of Sudanese are facing an acute shortage of food and medicines
🙃 There's a biological reason you feel down after having the time of your life
Surprising discoveries
An AI-generated photo won a prize at the Sony World Photography Awards. The German photographer who submitted the piece refused the honor.

Coastal species are climbing aboard the Great Pacific Garbage Patch. They've created entire communities that are thriving.
A stranded Russian cargo plane is racking up a mega parking bill. A year in Toronto has cost it a penny a second, or $330,000 and counting.

An elaborately lavish Roman winery was found. It had fountains that gushed with the juice of young grapes, as we gush with the realization that we were born a couple of millennia too late.

IKEA's replacement is taking hold in Russia. It's safe to call Swed House a doppelgänger.

---
Our best wishes for a productive day. Send any news, comments, a giant ocean home, and doppelgänger photos talk@qz.com. Reader support makes Quartz available to all—become a member. Today's Daily Brief was brought to you by Morgan Haefner and Susan Howson.