Good morning, Quartz readers!

---
Here's what you need to know
India became the world's most populous country. With 1.4286 billion people, India now surpasses China's 1.4257 billion; the US remains a distant third.

Tesla slashed prices for the sixth time this year. The markdowns, made because the electric vehicle maker didn't get as many US subsidies as expected, comes as its first quarter profits will likely dip.

The UN is expected to cut its aid to Afghanistan by 30% this year. The move would rapidly shrink the country's economy as Taliban restrictions intensify.

Chinese battery giant CATL has new tech it says can power airplanes. That could be a game-changer, but so far there's precious few technical details about the battery.
You can (legally) get high in these states today
It's April 20th, the day stoner culture claims as its own (even if the date's origins are a bit hazy).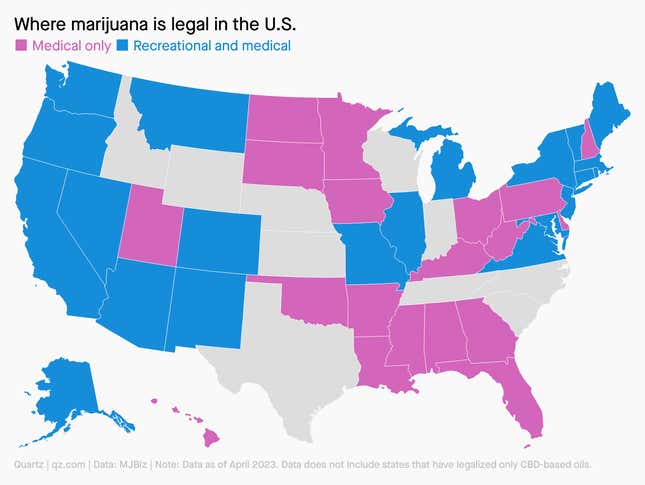 There may be more celebrating than usual this year. Medical use of cannabis is now legal in 40 states and in Washington, DC, and recreationally in 21 of those states. Oh, and buzz around legalization is blazing across several holdout states.

---
Taylor Swift knew FTX was trouble
"Can you tell me that these are not unregistered securities?"

— This simple question helped save Taylor Swift from jumping on the doomed FTX bandwagon.

---
South Korean regulators raided a K-pop agency
120,000 won ($90): Music label Hybe's failed per-share offer for K-pop agency SM Entertainment
On the last day of the offer period, SM's stock value was higher than that bid. Hybe alleges a large trade of SM shares was made to artificially raise the company's stock value, ultimately causing its tender offer to fail. Now regulators are taking a look.
---
Quartz's most popular
🧠 A Google AI model developed a skill it wasn't expected to have
🏖️ The countries where people retire the youngest
👿 DeSantis is threatening to build a state prison next to Walt Disney World
🚘 These foreign cars no longer qualify for Biden's EV tax credits
🥚 An Indian influencer has got under 200-year-old Cadbury's skin
📚 Lydia Davis is boycotting Amazon with her new collection of short stories
Surprising discoveries
If Germany's cloud storage was put on floppy disks that were stacked on top of one other, its height would be out of this world. Way past the Moon, even.

Hershey is buttering up its popcorn business. The US chocolatier bought two plants to expand its SkinnyPop brand and help more toddlers cause controversial messes on planes.
The Crunchwrap Supreme was born out of countless hexagonal taco sketches. Creator Lois Carson's creative process was a lot like Thomas Edison's.
Carnivorous plants may use odor to attract prey. Specialized scents might explain why some mostly eat ants and others munch on bees.

Indians are getting biryani flown to them. Zomato is banking on nostalgia for hometown dishes to drive its food flight service.
---
Our best wishes for a productive day. Send any news, comments, chocolate-covered popcorn, and hexagonal tacos to talk@qz.com. Reader support makes Quartz available to all—become a member. Today's Daily Brief was brought to you by Morgan Haefner.