Good morning, Quartz readers!

---
Here's what you need to know
UK regulators blocked Microsoft's Activision Blizzard deal... The $69 billion acquisition would give Microsoft an unfair advantage in cloud gaming, said regulators (more below).
…but thanks to AI, Microsoft is drinking Google's search milkshake... Alphabet's first-quarter earnings showed a 2% rise in search revenues, far below the corresponding quarters from the last two years. Meanwhile, installations of Microsoft's Bing app have quadrupled after it was augmented by AI.

…and speaking of AI, OpenAI will let users turn off history in ChatGPT… The new privacy feature, when activated, won't let any chat history be used to train and improve AI models.
…and, entirely unrelated, two British cigarette companies helped fund North Korea's nuclear program. British American Tobacco and a subsidiary agreed to pay $629 million for violating sanctions on North Korea, the highest such penalty ever levied in the history of the US Justice Department.
---
Microsoft can't fly under the radar anymore
A focus on enterprise software has largely kept Microsoft out of regulators' crosshairs, at least compared to other Big Tech players. While Microsoft plans to appeal the Competition and Markets Authority's decision, the block casts serious doubt on whether the landmark Activision deal will go through, and whether its antitrust luck can hold up.
$78: Price to which Activision's stock fell yesterday after the ruling, well below Microsoft's $95 per-share asking price
$2.5 billion: Price Microsoft paid for the gaming company that built Minecraft in 2014
$26 billion: Price Microsoft paid for speech recognition software Nuance in 2021
---
The EU approved the world's first carbon tax on imports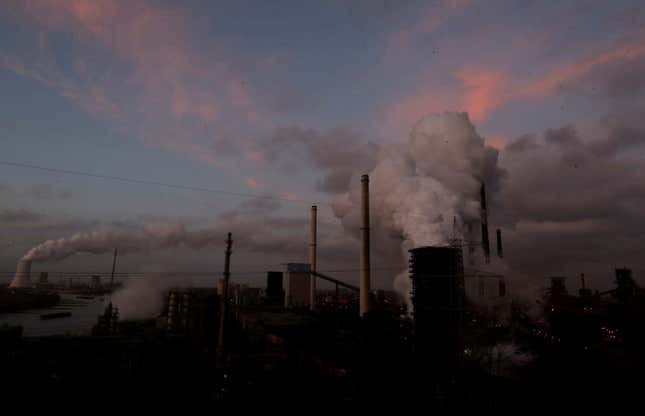 It only took two years of negotiations, but yesterday, the EU's 27 members voted to finalize a new law. Presenting… the world's first carbon border tax!

Levied on imports, this tax has the potential to transform the most polluting industries within the EU and beyond. Quartz's Aurora Almendral explains what products the tax targets, how much it's expected to raise in a year, and its one big problem.
---
Big Oil is afraid of state courts in the US
20: The number of US states and cities that, in recent years, have sued oil companies over their roles in misleading the public about the impact of burning fossil fuels on climate change.
Oil companies have attempted to fend off climate change-related lawsuits by filing appeals to move the cases from state courts to the federal system. But the US Supreme Court just dealt a major blow to their efforts, making state courts scarier than Big Oil would like.
---
Quartz's most popular
😬 The FAA let SpaceX launch Starship without the usual pad protections
🧐 Another US Supreme Court justice obscured a real estate deal
🫥 Circle drawing says a lot about how culture shapes our instincts… 
🍿 …and moviegoing might tell us a lot about recessions
🖱️ Xerox is giving away the lab that birthed the PC, mouse, and laser printer
🎤 South Korea passed a bill to protect underage K-pop idols from exploitation
---
Surprising discoveries
Parrots are FaceTiming each other. The calls are helping the birds deal with loneliness.

Manga may be losing its punch in the US. While sales for the graphic novels are cooling in that country, they're rising like prime soufflé in France.

TikTok is saving candy stores. One seller found a viral video could bring as many as 10,000 orders.

The first photo of a jet being blasted from the edge of a black hole was taken. No, not that kind of jet, though we'd be impressed by those aliens.
Apple chose the best possible name for its new health app. We still think we wear it better.

---
Our best wishes for a productive day. Send any news, comments, internet candy, and parrot chats to talk@qz.com. Reader support makes Quartz available to all—become a member. Today's Daily Brief was brought to you by Morgan Haefner.