Good morning, Quartz readers!

---
Here's what you need to know
Go First's bankruptcy triggered chaos in India's aviation sector. The 18-year-old airline has canceled flights until May 12, and now mass resignations and airfare hikes are taxiing in.

In more aviation news, the founder and former CEO of a sustainable aviation fuel company was charged with embezzlement. The US Department of Justice accused Bryan Sherbacow of using Alder Fuels' profits to buy sports cars and beach club memberships.

The US is investigating Shein over alleged ties to forced labor in China. The fast fashion powerhouse is also being scrutinized for copyright infringement.

Nearly half of US banks are tightening their lending standards. The less lending that banks do, the more likely that firms of all stripes are to cut back on investment, which in turn slows the growth of employment and the economy overall.
---
Cash and gold reserves won't cut it for some countries
It's no surprise that some of the richest countries in the world also have the biggest cash and gold reserves. But when crises strike, even the best prepared countries can end up draining their safety nets. Read more about which countries are most at risk of running their coffers dry.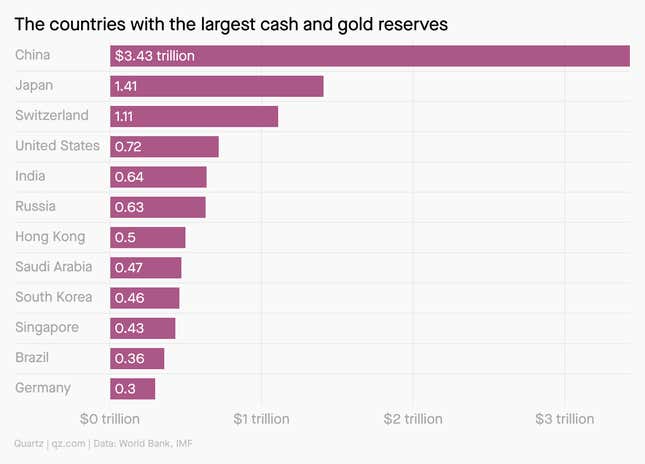 ---
A match made in steelmaking heaven
A burgeoning Sino-Saudi relationship is expanding to encompass another major undertaking: decarbonizing steel production.

Last week, China's Baosteel—the world's largest steelmaker—signed a deal with state-owned oil giant Saudi Aramco and Riyadh's sovereign wealth fund to jointly set up a steelmaking manufacturing base in Saudi Arabia. It's a partnership that feeds right into Baosteel's internationalization plans, and may even give Saudi Arabia a leg up in sustainable steel manufacturing. Read more.
---
The Great Recession did a number on stock ownership
In the wake of the turn-of-the-millennium dot-com bust, stock ownership in the US was more common from 2001 until 2008, when an average of 62% of US adults reported owning stocks. But getting past that 60% threshold has proven difficult in the last decade, even with the rise of trading apps. Read more.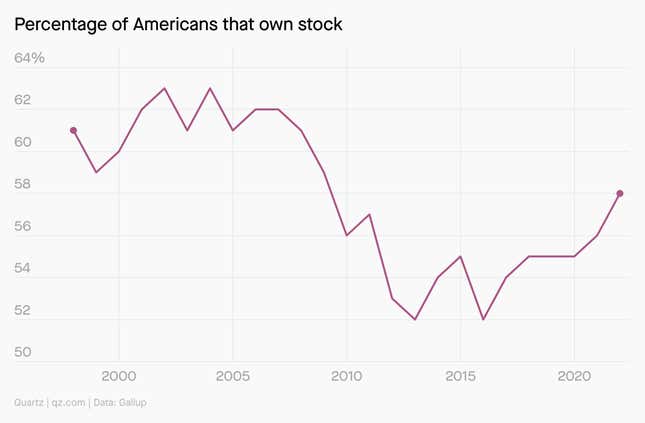 ---
Quartz most popular
☕ One of the first Starbucks locations to organize has filed a petition to dissolve its union
💔 How one programmer broke the internet by deleting a tiny piece of code
🇿🇼 Zimbabwe is launching a local digital currency alternative to the US dollar
🌿 Eco-friendly ideas add bling to India's jewelry market
🤥 The Murdoch media empire has been lying in Australia as well
👑 When will King Charles III's face appear on the UK's money?
---
Surprising discoveries
Something else hasn't been good for the stock market: Good weather. Sunshine makes bidders overly confident and less risk-averse.

There's a right way to catcall a cat. The use of both visual and vocal cues gets their attention most effectively.

A new butterfly genus got the Lord of the Rings treatment. Its wings are marked with what looks like fiery eyes, earning it the name Saurona.
ChatGPT is already part of some coding courses. Instructors don't want students to shy away from the technology that threatens to replace them.
Up to 82% of homes in China may be outfitted with smart devices. But is any of the tech designed purely to make the consumer's life easier? Host Scott Nover and Quartz reporter Julia Malleck explain smart home gadgetry's other purpose in the second episode of the Quartz Obsession podcast, season five.

✅ Or find it wherever you get your podcasts: Apple Podcasts | Spotify | Google | Stitcher | YouTube

---
Our best wishes for a productive day. Send any news, comments, French cats, and LOTR nicknames to talk@qz.com. Reader support makes Quartz available to all—become a member. Today's Daily Brief was brought to you by Morgan Haefner.

Correction: In yesterday's Daily Brief, we were incorrect in saying that one of the first Starbucks locations to organize has voted to dissolve its union. Rather, they filed a petition to vote about dissolving the union.