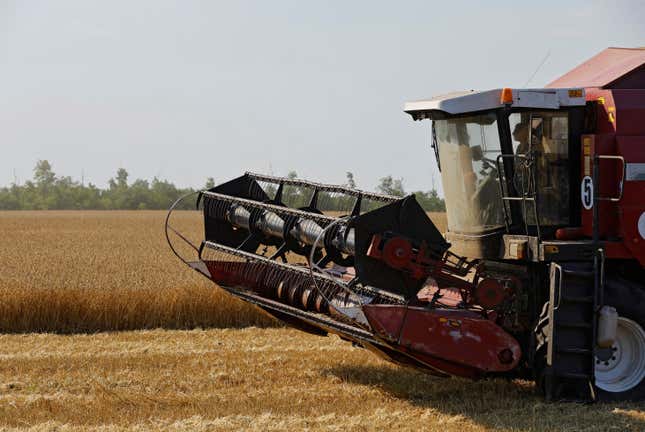 Good morning, Quartz readers!
---
Here's what you need to know
Grain prices are already rising. They had been down 35% under a now-void deal to keep supply moving amid Russia's war in Ukraine.

It's too early to see how the strike in Hollywood might affect Netflix's earnings. It's pretty well insulated with a deep catalog, and today's numbers should show good news on subscriptions.
What inspired Elon Musk's design for Tesla's Cybertruck?
Tesla directors settled claims that they paid themselves too much. The group, which includes Elon Musk's brother Kimbal and Oracle founder Larry Ellison, will pay back $735 million.
AT&T shares hit a three-decade low. Analysts downgraded the US telecommunications giant after a Wall Street Journal investigation into its use of toxic lead cables.
---
Where is Qin Gang?
Rumors are swirling about Chinese foreign minister and "wolf warrior" Qin Gang—appointed last December—who has not made a public appearance since June 25. Since that date, Qin has been conspicuously absent from a series of high-level diplomatic meetings.
Some of the sit-downs with foreign officials that went on without the Chinese foreign minister:
📅 July 4: Josep Borrell, the EU's top diplomat—canceled
📅 July 6-9: Janet Yellen, US finance chief—absent
📅 July 11: ASEAN summit in Jakarta—absent "for health reasons"
📅 July 17: Rodrigo Duterte, former Philippines president—absent
Questions about his disappearance have been widely censored on Chinese social media and elsewhere, and if he's really sick, critics ask, why all the censorship?

---
Don't expect AI to be free forever
After unveiling the new AI-beefed up Bing search engine and making a slew of announcements about integrating OpenAI's tech into its Office products, Microsoft now plans to start charging businesses to use its AI tools.
Pricing plans for AI bots were always on the horizon; free lunches, after all, famously don't exist. But let's put it this way: Microsoft has invested $10 billion into OpenAI, and it's going to want to recoup that money. And, as Quartz's Michelle Cheng explains, it won't be the only company to do so.
---
Quotable: Threads now has rate limits too
Lmaooo copy 🐈 — Elon Musk via Twitter
Meta-owned Threads is limiting the number of posts you can view a day to combat bots on the platform. The decision comes just weeks after its rival Twitter imposed similar rate limits. The problem, Instagram CEO Adam Mosseri says, is spammers, who are overloading the system.
Twitter's solution was to limit views for all users, with paid tier Twitter Blue subscribers able to view more tweets daily (caps for free and paid tiers were raised after pushback). Meta's approach is a little less rigid, a blanket cap to handle the bots, with a promise to help the humans who get caught in the snare. But to Musk, it's another example of Threads following Twitter's lead too closely.
---
Quartz's most popular
🚒 Canada's massive wildfire problem is worsening
🚨 Even Oppenheimer wants to warn the world about AI
😬 Elon Musk said Twitter's ad revenue has halved
❌ Biden's automatic student debt cancellation is set to benefit 800,000 borrowers
🥤 Soda companies have nothing to fear from the WHO's warnings about aspartame
📛 The psychological effects of growing up with an extremely common name
---
Surprising discoveries
The Toronto Zoo asked people to stop showing gorillas videos because they were getting distracted and not doing gorilla things. Monkey see, monkey… don't.

A Palestinian has never refereed a World Cup match before. Heba Saadieh will be the first.
Benjamins have always had a counterfeit issue. Back when Franklin himself was in charge of printing money, he used a reflective material to spot fakes.

The ChatGPT for hackers is here. It's called WormGPT, and it responds to malicious prompts.
The world's largest office is now a diamond trading hub in Surat, India. For the past 80 years, the Pentagon in the US has held that title.
---
Our best wishes for a productive day. Send any news, comments, gorilla videos, and Franklins to talk@qz.com. Reader support makes Quartz available to all—become a member. Today's Daily Brief was brought to you by Susan Howson and Morgan Haefner.