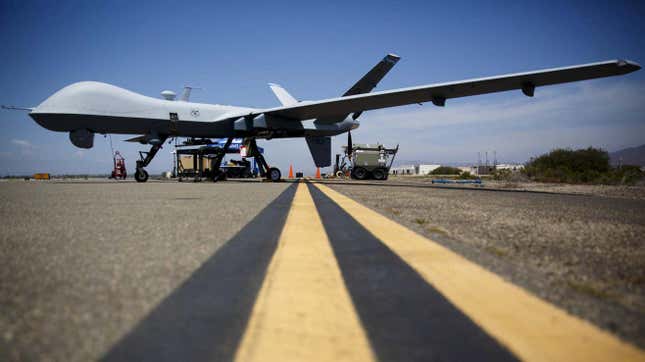 Good morning, Quartz readers!

---
Here's what you need to know
India is removing all Chinese parts from its military drones. The country is joining plenty of others who are trying to distance themselves from China's military, but it won't be easy.
What's the future of crypto regulation? | Ben McKenzie
SoftBank lost a surprising $3 billion last quarter. Amid all the AI hype, analysts expected the tech investor to book $525 million in profit instead of losing money on Alibaba, Deutsche Telekom, and T-Mobile.

Marvel's visual effects engineers voted to unionize. VFX workers—who are often subjected to long, grueling hours—are demanding the same rights and protections as their colleagues already represented by a union in the film industry.
Brazil is hosting the Amazon nations in a bid to save the world's largest rainforest. The two-day summit in Belém is president Luiz Inácio Lula da Silva's first big step in undoing the environmental damage of his predecessor, Jair Bolsonaro.
---
PayPal's stablecoin is a gimmick
PayPal's new stablecoin, PayPal USD (or PYUSD) is more about branding than the blockchain.
1️⃣ PayPal's partnership with cryptocurrency company Paxos Trust didn't actually commit to making PYUSD a valid means of settling a transaction with a merchant—instead planning to convert stablecoin transactions to actual dollars.
2️⃣ There isn't much that makes stablecoins superior to PayPal USD account balances—except that they give money transmitters like PayPal a way to profit off the crypto hype.
But wait, if you act now, you can get Quartz reporter Nate DiCamillo's thoughts for the low, low price of free!
---
Unmute yourself, the AI can't hear you
When Zoom's pandemic bubble burst, it burst hard. By May 2022, its stock had fallen 83% from its October 2020 high. Layoffs and executive pay cuts eliminated some overhead, but Zoom is still trying to make itself profitable again. Will the following two initiatives put it back on the map?

👂 Training its AI on data from user calls. A quiet update to its terms is raising eyebrows over what the company can and can't do with user data. New users' consent is not automatic, but the rest of us should check our settings.
🏢 Mandating in-office work. The company's name embodied remote work during the pandemic, so much so that even companies with similar names benefited by proxy. Even acknowledging that an office is "not necessarily [a place] to get work done," Zoom believes in-person connections warrant a commute two days a week. Quartz's Gabriela Riccardi explores the truths, myths, and motivations surrounding the role of the office.
---
Quotable: How do you like your MrBeast burger?
In a lawsuit against his ghost kitchen, Jimmy Donaldson, the world's biggest YouTuber, quotes eaters who say his brand's burgers are "disgusting," "inedible," and "nasty."
Donaldson, a.k.a. MrBeast, hired Virtual Dining Concepts to run a burger delivery service in his name. Now, he's suing VDC for causing irreparable harm to his brand because, well, the food's gross and people loudly complained. VDC has countersued, saying, essentially, this is not how contracts work.
"This case is about a social media celebrity who believes his fame means that his word does not matter, that the facts do not matter, and that he can renege and breach his contractual obligations without consequence," said VDC, who had its own choice adjectives to share.
---
Quartz's most popular
🪦 The dream of the first hydrogen rail network has died a quick death
🎬 The top 7 highest-grossing films directed by women
🎭 Elon Musk's cage fight bravado: A weekend tragedy in three acts
🌆 Striking city workers are "shutting down" Los Angeles
📚 Fiction analytics site Prosecraft folded after AI backlash
---
Surprising discoveries
BookTube is the new BookTok. File that away under "sentences that would have made no sense just a few years ago."
A Danish man visited every country without using air travel. It was very difficult, it took 10 years, and involved cerebral malaria.
The next big cocktail trend is miniaturization. If your party guests tend to pass out on your couch, consider serving your batch cocktails sparingly in whimsically tiny glasses.
A new book shows the darker but arguably more human side of AI. The poetry of code-davinci-002—trained similarly to ChatGPT but not told to be cheerful, is raising questions about what sentience even is.
And a new AI product shows you you're only human. It uses imagery to, once and for all, answer the question, "Am I balding?"
---
Our best wishes for a productive day. Send any news, comments, train tickets, and angry hangover-blaming party host texts to talk@qz.com. Reader support makes Quartz available to all—become a member. Today's Daily Brief was brought to you by Susan Howson.