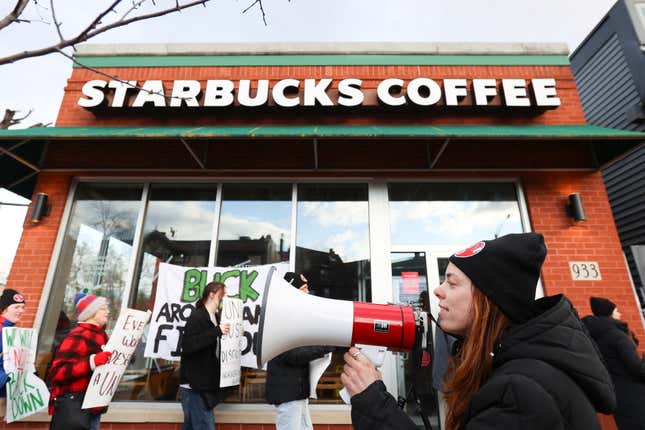 On Friday (June 23), Starbucks workers from more than 150 stores across the US announced they're striking over Pride decor. Union employees allege that dozens of locations were restricted in putting up decorations for Pride month, a claim the company denies. Now more than 3,000 workers will walk out in protest.

The strike arrives amid a wave of controversy among US corporate Pride promotions, with companies like Bud Light and Target recently succumbing to pressure to pull back on LGBTQ-led campaigns. US conservatives have routinely called for boycotts of products that seek out LGBTQ+ consumers—and it's forcing a reckoning for companies courting the spending capital of the community.
The news from Starbucks lands just as new research confirms how important LGBTQ+ inclusion is for a company's most important stakeholder: its employees.
According to a report released Thursday (June 22) by consulting firm Deloitte, queer workers feel that their companies are falling short in supporting them—and one-third of LGBTQ+ employees are looking to change jobs to a more inclusive employer.
If employers don't double down on inclusion, LGBTQ+ employees will walk
The report (pdf) surveyed more than 5,000 LGBTQ+ employees from 13 countries about their feelings on inclusivity at work. And responses indicate that they aren't finding enough support on the job.
Just 35% of respondents affirm that their employer demonstrates commitment to LGBTQ+ inclusion in both its internal actions and public positions. In effect, one in three respondents are actively looking to change jobs to an organization that's more LGBTQ-inclusive. These figures become more pronounced for workers from ethnic minority groups, with more than half (52%) saying they're looking for a more inclusive employer.
While LGBTQ+ workers want to be out at work, the study finds, they don't feel comfortable or supported doing so. Survey respondents say that it's important to be able to freely express their gender identity (75%) and sexual orientation (60%) in the workplace—but less than half feel comfortable doing so with everyone at their job.
"In the first place I went to there was a community of people who were very homophobic, very transphobic, and bullied me basically," wrote one respondent from the UK, who identified as lesbian and non-binary. "And I had a manager that just said '[Y]ou know what, just avoid them ... don't go near them.' Which very much felt like it placed the responsibility on me."
"What if coming out would hinder my progression at work? You never know people's agendas," wrote a trans respondent from South Africa.
The report comes on the heels of a survey released by job site Glassdoor earlier this month that found 45% of American LGBTQ+ employees believe being "out" at work would hurt their opportunities for advancement. And 55% of respondents also said they had overheard—or were the subject of—homophobic remarks in the office.
"This survey data shines a light on the LGBTQ+ employee experience and is a reminder that many companies still have progress to make," Tyler Murphy, a Glassdoor career trends expert, told Quartz at the time.
Starbucks is grappling with a 3,000-worker walkout over Pride decor
At Starbucks, meanwhile, LGBTQ+ inclusion issues are the most recent grievance from union employees. Starbucks Workers United alleges that workers were barred from putting up Pride flags and other decorations promoting LGBTQ+ rights at dozens of regional locations this month; the company has countered those claims by saying there has been no change to any of its policies on decorations.
Workers United also alleges that the Pride decor is just the latest in a series of apparent union-busting tactics from the company, with others including blocking unionized stories from new worker benefits and firing a prominent union organizer this spring. "Starbucks is scared of the power that their queer partners hold, and they should be," shift supervisor Moe Mills said in a statement on the strike.
Starbucks spokeswoman Rachel Wall accuses the union of spreading false information, saying that the strike was a "tactic used to seemingly divide our partners" in a statement to The Washington Post. The company adds that it supports LGBTQ+ workers with policies like gender transition guidelines, benefits for gender reassignment surgery in corporate health policies, and recognition of a variety of heritage months.
The coffee behemoth has clashed with its union base since workers' first union filings in August 2021. Starbucks has been accused of trying to suppress union efforts, been grilled by the US Senate about alleged unfair labor practices, and faced a spate of legal challenges for violating labor laws. Starbucks owns about 9,300 locations in the US. While more than 300 corporate-owned stores have unionized, Starbucks and Workers United have yet to agree to a contract. With inclusion on the table, too, workers may find there are plenty of reasons to walk.