Good morning, Quartz readers!

---
Here's what you need to know
Jack Dorsey's Block got Hindenburged. The short-seller behind the Adani report accused the fintech company of widespread fraud in its performance metrics, an allegation Block condemned.

China's demographic crisis has reached its capital city. For the first time since 2003, Beijing reported a decline in population.

IKEA UK signed a legally binding deal addressing sexual harassment. The agreement comes after a former employee accused the company of inappropriately handling a complaint in 2022.

India's covid cases hit a five-month high. A new variant is fueling the increase just as the country is grappling with H3N2 influenza cases.
This one trick to cut global emissions by 10%
What would happen if fossil fuel subsidies were sacked? A tenth of the world's greenhouse gas emissions would be gone by 2030, that's what.

But that won't be easy—the controversial subsidies are just getting bigger.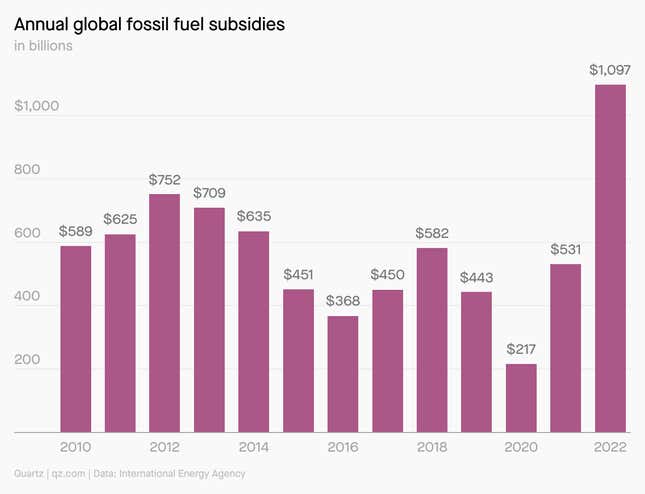 ---
Humans have problems
Getting rid of fossil fuel subsidies sure would help, but what about...

💡 Implementing a limitless power source?
📋 Or centralizing our medical data for the health of entire communities?
🤔 Or even rethinking the way we've been taught to view capitalism?

The Quartz Obsession podcast is about to wrap its fourth season. Catch up with host Annalisa Merelli as she talks to Quartz reporters and editors about key innovations that could solve some of humankind's problems—unless, of course, they just end up making matters worse.

Our next episode, dropping today at 7am EDT, takes a look (but unfortunately not a sniff) at a leather alternative that's eco-friendly and gives animal-based leather some quality competition. And it's all thanks to fungi. 🍄

Get up to speed with the Quartz Obsession: Apple Podcasts | Spotify | Google | Stitcher

---
Unilever is slashing production in Nigeria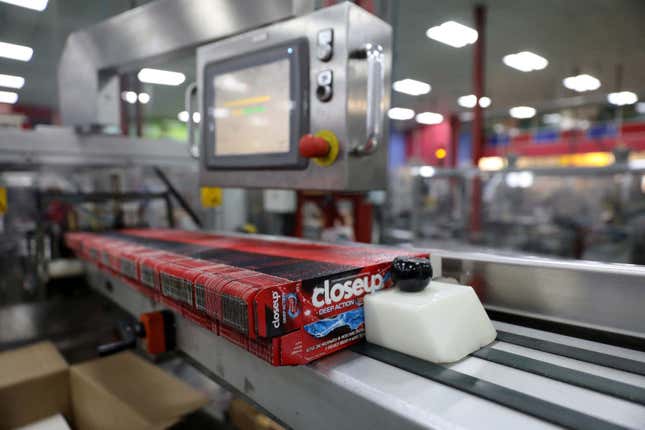 Unilever Nigeria has experienced significant growth through 2021, when gross profit rose 84%. But it's all been downhill since then, and the fast-moving consumer goods company is now winding down production of goods that were bringing in more than half of its revenue. Quartz's Faustine Ngila explains the impact on Africa's biggest economy.

✦ Love keeping up with what's happening in the global economy? Help keep our content free and accessible to all by becoming a member. Daily Brief readers get 50% off.
---
Quartz's most popular
💊 What are pharmacy benefit managers?
💐 A fresh idea for gathering remote and hybrid employees
🥬 Switzerland is giving weed a try…
🏦 …as Credit Suisse's demise strengthens the country's place in global finance
👀 US regulators have set their eyes on Coinbase
Surprising discoveries
The filling of an Oreo is going to stick to one side of the cookie 80% of time. Upping the wafer twisting speed to 100 times its normal rate only worsens cream parity (but we're still obsessed with the cookies).

New Zealand is spending $4 million to help teens deal with breakups. Adults could use a Love Better campaign too.
Just 9% of California remains in a severe drought. Before a historic winter of rain, nearly half of the state was at that level. Thanks, rain!

A new species of giant spider was found in Australia. No.

The famous phrase "invisible hand" is only mentioned three times in Adam Smith's works. And each time the metaphor appears, it has a different meaning. Demystify what the 18th century economist really meant in the latest episode of the Quartz Obsession podcast.
🎧 Listen on: Apple Podcasts | Spotify | Google | Stitcher

👀 Or, read the transcript!
---
Our best wishes for a productive day. Send any news, comments, dunking milk, and breakup songs to hi@qz.com. Reader support makes Quartz available to all—become a member. Today's Daily Brief was brought to you by Morgan Haefner and Susan Howson.