Good morning, Quartz readers!

---
Here's what you need to know
Dominion settled with Fox for $787.5 million. The settlement is less than what the voting system company sought, but the network's dirty laundry exposed in the process is priceless.
Jamie Dimon will be deposed in lawsuits tying JPMorgan to Jeffrey Epstein. The veteran CEO will have to explain how much the bank knew about his former client's crimes.
Twitter has become a more hostile place for trans people. Elon Musk, Twitter's CEO, removed a policy against deadnaming and misgendering. Meanwhile, another major news outlet left the platform.
Netflix set an expiration date for its DVD rental service. The last iconic red envelope will be mailed out at the end of September, driving one more nail into the DVD's coffin.
An AI-generated fake song by Drake and The Weeknd went viral. It was then swiftly removed from Spotify and Apple Music. 
What to watch for
Ron DeSantis has made his next move in his tit-for-tat with Disney.

After the Florida governor's efforts to control Disney's special district didn't go as planned, DeSantis has floated the idea of building a state park, a rival amusement park, or even a new state prison next to the company's central Florida theme parks. "The possibilities are endless," he said.

Need to catch up with the Disney-DeSantis drama? Quartz's Ananya Bhattacharya has a timeline for you.
---
Move here if you want to retire early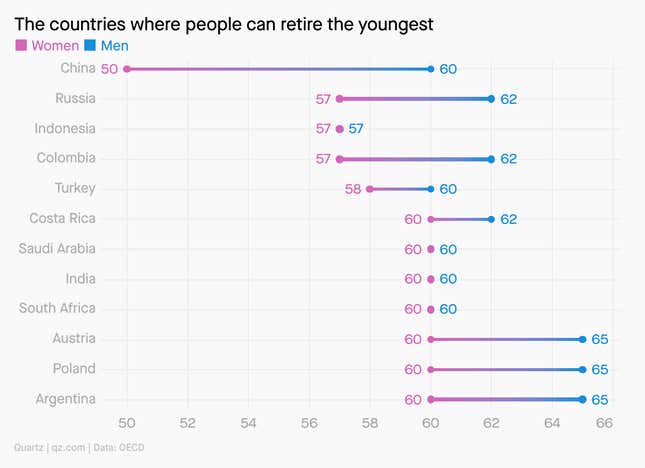 While the good times may roll for younger retirees, their early exit from the workforce is raising questions about how society at large can function with a big chunk of its population out of commission.

---
🏠 vs. 🏢
Predictions that economies would be completely transformed by an office exodus haven't really come to fruition. What's happening now is somewhere in the murky middle: Some of the world's most prominent companies are pushing for their employees to return in-person, while others are holding fast to a new normal.
How is your company handling this phase of remote work? If you're impressed, chances are your employer should be included in Quartz's Best Companies for Remote Workers list. The deadline to apply is April 21—don't miss it!
---
Quartz's most popular
🧠 A Google AI model developed a skill it wasn't expected to have
🎭 The paradox of "productivity paranoia"
😜 Elon Musk's SpaceX and Tesla get far more government money than NPR
🌳 India has lost the second largest forest area among all countries in five years
👀 Texas's anti-ESG stance is costing municipalities millions in extra interest payments
✊ A unionization effort challenges Ben & Jerry's progressive stance
Surprising discoveries
Shaquille O'Neal was finally found. It took months to serve the ex-NBA star in a lawsuit involving defunct crypto exchange FTX.
Even the guy who popularized hashtags has given up on Twitter. #Goodbye.
Lines for bakery popups in New York City look a lot like streetwear drops. It's not just the huge queues—prices are following the hype.
An individual bought a Tyrannosaurus rex skeleton for $6.2 million. But not all of the specimen is real bone.
New diabetes cases can be linked to covid. Up to one in 20 diagnoses may be tied back to infection.
---
Our best wishes for a productive day. Send any news, comments, trendy baked goods, and real dinosaur bones to talk@qz.com. Reader support makes Quartz available to all—become a member. Today's Daily Brief was brought to you by Sofia Lotto Persio and Morgan Haefner.