Good morning, Quartz readers!

---
Here's what you need to know
The US Federal Reserve raised rates again. Regulators left some room for doubt on whether the 25 basis-point hike is its last, but also didn't rule anything out. So, who knows? Just don't make a Balaji Srinivasan-sized bet on either outcome.

India's unemployment rate hit a four-month high in April. Last month the estimated number of those eligible to join the country's workforce went up, but job creation couldn't match it.

Eli Lilly said its new Alzheimer's drug can stop the disease's progression. Donanemab slowed the rate of cognitive decline by 35% compared to a placebo in a recent trial, but not without safety concerns.

Tinder's parent company Match Group is finally exiting Russia. The company mentioned its commitment to "protecting human rights" in deciding to leave more than a year after the invasion of Ukraine.
May the $4 billion Star Wars bet be with you
On May the 4th, the day that brings us the internet's most tired joke, there's one fuzzball that's definitely laughing it up: Disney.
The $4 billion purchase of Lucasfilm in 2012 represented the entertainment giant's fourth-largest acquisition. It's a lot of fours, and force, for one company.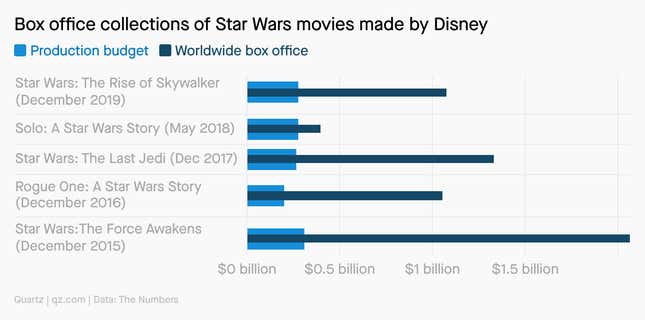 ---
American kids are flunking their own history
13%: Share of eighth graders in the US that are at a proficient level for US history, according to the National Center for Education Statistics (NCES)—commonly known as "The Nation's Report Card"
Scores are a bit better when it comes to civics, but as misinformation surrounding the US political process worsens, a record low understanding of the country and its systems isn't what you want to see.

---
Eleventh time's the charm?
Since February 2022, the EU has blanketed Russia with sanctions, and each iteration has failed to bring the country to its knees, much less make it reconsider its war in Ukraine.
Workarounds to Western sanctions have undermined their impact, and so this time, the bloc is trying to patch up one of those loopholes, specifically one that involves the nefarious "dark" ships.
---
Quartz most popular
👀 Private satellites spotted a new Chinese military blimp
🤯 Once valued at $5.7 billion, Vice may now be headed for bankruptcy
🐭 The Florida board handpicked by DeSantis called its predecessor a "puppet government"
🍿 These are Netflix's most streamed shows of all time
😓 The problem with valuing resilience as a skill in the workplace
🏦 Everything you need to know about Jamie Dimon 
Surprising discoveries
Three McDonald's franchisees were fined for employing 10-year-olds. Investigators found that 305 children worked hours exceeding or outside of US limits.
"Who owns the Moon?" isn't such a rhetorical question anymore. The Wild West of space exploration is just getting started.
Vintage guidelines on how to use and manipulate DNA might teach AI mavens a thing or two. Geneticists were at a similar crossroads back in 1975.

The Bridgerton prequel launches on Netflix today. Even for UK viewers, British aristocratic hierarchies can be confusing, so we've broken down exactly why Daphne becoming a duchess was that big a deal.

The mobile phone debuted at the World's Fair in Japan in 1970. It would be another 30 years before it became ubiquitous. Join host Scott Nover and senior reporter Cassie Werber as they discuss the lasting effects of the World's Fair on the Quartz Obsession podcast.
⬇️ Subscribe today, wherever you get your podcasts: Apple Podcasts | Spotify | Google | Stitcher | YouTube 

👀 Or, if you're in a reading mood, view the transcript, learn more about the topic, or peruse 5 tech innovations that debuted—for better or worse—at World's Fairs
---
Our best wishes for a productive day. Send any news, comments, bad bets, and 1970s mobile phones to talk@qz.com. Reader support makes Quartz available to all—become a member. Today's Daily Brief was brought to you by Morgan Haefner and Susan Howson.