Good morning, Quartz readers!

---
Here's what you need to know
Cake-throwing protesters called for an audit of Volkswagen's Xinjiang plant. Activists supporting the Uyghur minority group interrupted the German carmaker's shareholder meeting yesterday, and VW's chairman narrowly evaded the baked goods.
Annual inflation in the US fell for the 10th month in a row. April's consumer price index rose to 4.9%, slightly below what economists were expecting, and maybe enough to pause interest rate hikes. Regardless, US inflation is about used car prices again.

The US claimed a cyber victory against a Russian malware network. "Operation Medusa" disrupted a global peer-to-peer network of computers compromised by sophisticated malware.
The Biden administration is preparing for the end of Title 42. The Trump-era immigration policy expires today, and the current US president conceded that "It's going to be chaotic for a while," at least as new rules are implemented.
Who isn't talking about generative AI?
300+: Mentions of "generative AI" during company conference calls worldwide this year, compared to next to none before 2023

Are you talking about AI? If you need some pointers, we put together a reading list on how some entities are choosing to mingle with the bots. (You also may want to keep an ear out for our next podcast episode.)

🤖 Coding instructors are adding AI to their lessons—before AI replaces them
🍔 Yelp is using AI to help users write reviews
🇮🇹 Italy has banned ChatGPT, but will its clampdown work?
🎨 Why Canva isn't describing its new AI tools as AI
🤔 The Microsoft Office-ization of AI makes sense
---
Guyana's regulators are defending Exxon
Guyana's environmental protection agency (EPA) has come to the aid of an unlikely player: oil giant ExxonMobil.

The South American country's regulators have appealed a court ruling that found Exxon failed to provide sufficient insurance coverage for an offshore oil project—and accused the EPA of helping it do so. Read more about the litigation and Guyana's explosive, oil-fueled growth.
---
Chinese investments in Europe are charged up in at least one area
With Chinese investment in the EU's 27 member states at a decade low, it's easy to feel like China has taken its eyes off Europe and started looking elsewhere.

But that's not entirely true, especially when it comes to greenfield investments in one particular area: batteries. Electric vehicle battery plants are driving Chinese investment in Europe and becoming its mainstay. But for Europe, the investments are a double-edged sword.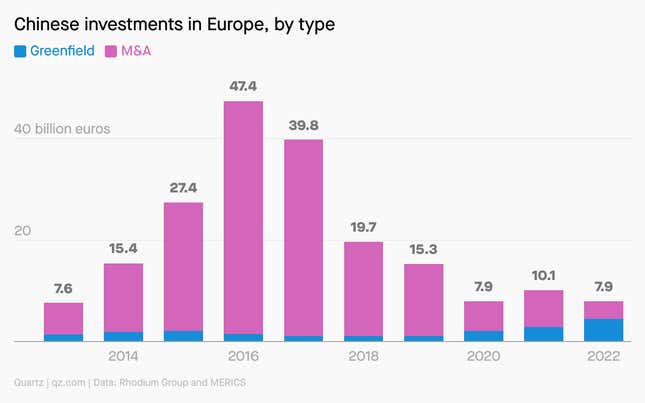 ---
Quartz most popular
🦹 The Economist has named the countries plagued the most by crony capitalism
🏠 Foreigners settle in India more easily than Indians do abroad
🧩 How one programmer broke the internet by deleting a tiny piece of code
💰 The countries with the largest and smallest cash and gold reserves
🧠 What working as a military psychologist taught me about coaching people
👚 The US is investigating Shein over alleged ties to forced labor in China
Surprising discoveries
A liver drug pushed Italy's exports to China to a record €3 billion ($3.3 billion) in February. Chinese people are stocking up on ursodeoxycholic acid after one study says it could protect against covid.

Forever chemicals make up many contact lenses in the US. It's hard to say how eye exposure to the compounds might affect health, though.
One Chinese company wants 100,000 Sri Lankan macaques. The monkeys are a pest for farmers, but animal rights activists are concerned what their fate will be.

For the first time in the UK, a baby was born using DNA from three people. Scientists hope it'll curb instances of mitochondrial diseases.

Apple's 2009 App Store rollout set the tone for mobile phone use, but just in the West. It also made it unlikely that Apple could ever have a superapp like WeChat. Hear what host Scott Nover and Quartz reporter Ananya Bhattacharya have to say about that in the latest episode of the Quartz Obsession podcast.
✅ Or find it wherever you get your podcasts: Apple Podcasts | Spotify | Google | Stitcher | YouTube  

---
Our best wishes for a productive day. Send any news, comments, a new pair of glasses, and a new pair of eyes to talk@qz.com. Reader support makes Quartz available to all—become a member. Today's Daily Brief was brought to you by Morgan Haefner.