Good morning, Quartz readers!

---
Here's what you need to know
Apple's developer conference starts today. WWDC 2023 is where the new virtual reality headset rumors will face their reality test.
For Saudi Arabia, the price of oil is falling too low. The kingdom cut its oil output by a million barrels per day, trying to push the price up to its magic break-even figure: $80.90 per barrel.

Movie studios promised not to replace directors with AI. But striking writers with the same demand continue to receive no such reassurances.

It's going to be a summer of air travelers behaving badly. In 2022, airline passengers grew more and more unruly, and incidents of physical abuse have nearly tripled since 2020.

Fitch might cut the US's credit rating even with the debt ceiling deal. A downgrade of US debt would make borrowing more expensive for businesses and put jobs at risk.
---
A semiconductor job could be yours in 10 days
With multibillion-dollar chip factories planned in the US, the need for workers with specialized skills to fill roles at the new facilities is real. That's what one 10-day, $270 program in Arizona is trying to deliver. Read more about how the US is trying to skill up an entire workforce—fast.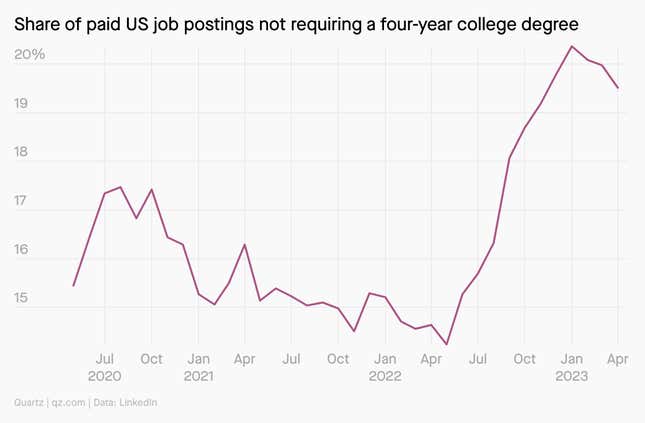 ---
Boeing's Starliner spacecraft has new design flaws
$585 million: How much US aircraft maker Boeing has lost on its Starliner program because of delays and mechanical snafus
Two new safety risks, found just weeks before a crewed test flight, will once again delay liftoff for the NASA-funded astronaut capsule. Quartz's Tim Fernholz explains the latest nightmare for engineers and what's next for Starliner. Read the full story.
---
Which countries have the highest and lowest birth rates?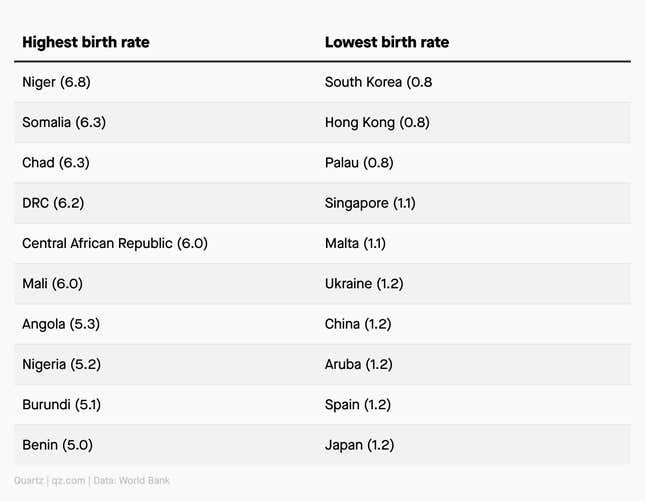 Japan in particular just posted its lowest-ever birth rate, and the nation's government is hoping a new 3.5 trillion yen ($25 billion) per year investment in childcare and healthcare will reverse the trend.
---
Quartz most popular
1️⃣ Elon Musk's Twitter isn't flat or hierarchical—it's unilateral
😤 Elizabeth Holmes deserves neither your pity nor your attention
🤖 Before lawmakers regulate AI, they must define it—and that isn't easy
💉 Insurance coverage for Ozempic shows the complexity of obesity treatment
🤗 The GitHub of AI is named after an emoji—and Microsoft has its fingers in it already
🤮 2023 is the year of getting sick on a cruise
---
Surprising discoveries
People have a bullshit blindspot. Those who think they're really good at detecting it fall for it the most.
There aren't as many viral hits on TikTok anymore. In fact, in the past year, the number of videos with at least 10 million views has been cut in half.

Don't forget shredded parm on your next espresso martini. It's a whole thing.

No one seems to know who illustrated A Wrinkle in Time's 1976 cover. We do know who definitely did not create the iconic, if creepy, artwork.

China is drilling one of the deepest holes in the world. It'll take 457 days.

---
Our best wishes for a productive day. Send any news, comments, bullshit detection software, and your favorite book covers to talk@qz.com. Reader support makes Quartz available to all—become a member. Today's Daily Brief was brought to you by Morgan Haefner and Samanth Subramanian.