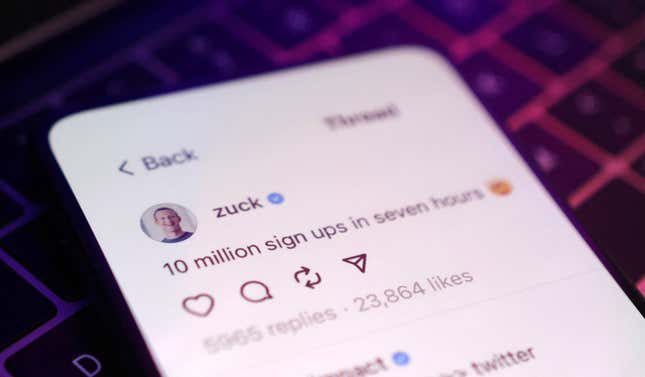 Good morning, Quartz readers!

---
Here's what you need to know
Elon Musk's X Corp threatened to sue Mark Zuckerberg's Meta. The immediate popularity of Threads' popularity is clearly getting on Twitter's nerves. 
JetBlue is breaking up with American Airlines. The company will end its alliance with the US's largest carrier to try and save its merger with Spirit Airlines. 

Deforestation in the Amazon forest fell by a third in the first six months of 2023. The next six months will be even more crucial in testing the Brazilian government's environmental policies.
Food delivery companies are suing New York City. The likes of DoorDash, Grubhub, and Uber Eats can't stomach the city's pioneering minimum wage mandate for gig workers.
The company behind the Titan submersible has suspended operations. OceanGate's future looks increasingly uncertain.
---
Let the AI copyright wars begin
Likely one of the first—and far from last—copyright lawsuits has been filed against OpenAI.
Novelists Paul Tremblay and Mona Awad claim that OpenAI's large language model, ChatGPT, spit out pretty accurate summaries of their literary works when prompted, something they argue would be impossible unless the AI had been trained on their books without their consent.
There's no doubt that, increasingly, regulators and courts will be tasked with mulling over the rules of copyright with regards to AI. It'll open up a whole new murky legal area in the copyright debate… maybe even murkier than the legal rights of a selfie-taking crested macaque.
---
Nearly all of Mexico's avocado exports are going to the US
Just about half of all the world's avocado exports come from Mexico, and one country is gobbling up 86% of it: the US. But the northern neighbor's $3 billion appetite for guac isn't sustainable, and is contributing to a host of environmental issues.


---
Take Toyota's battery claim with a grain of salt
1,400+ km: Distance Toyota says its new technology can take electric vehicles on a 10-minute charge
To be fair, any advances that boost battery performance, improve the driving range, and cut costs of future EVs are exciting. But Toyota's previous problems with its cars could make it tricky to convince the public that its latest product is reliable.
---
Quartz's most popular
🚩 All the red flags in the Threads privacy policy
🌬️ Biden approved the largest offshore wind project in the US to date
🤖 ChatGPT monthly traffic has dropped for the first time
🛡️ Vodafone is preparing for quantum attacks on smartphones
🛏️ Overstock is changing its name to Bed Bath & Beyond
🪙 A precious metals scam ripped off silver buyers to the tune of $113 million
---
Surprising discoveries
A Japanese airline would rather have you rent clothes than deal with your bag. A new service will provide travelers with a wardrobe for the duration of their stay.
The Taliban's poppy production ban is putting America's "war on drugs" to shame. Experts are calling it "the most successful counter-narcotics effort in human history."
Renovation of a Scottish castle is being postponed because of great crested newts. The protected species has made a home of the site's pond.

The earliest supermassive black hole was found. Its mass is 9 million times the Sun's.

Birds divorce for similar reasons as humans do. Infidelity and long periods of time apart sure can ruffle some feathers.

---
Our best wishes for a productive day. Send any news, comments, bag-free travel perks, and the power of a newt to talk@qz.com. Reader support makes Quartz available to all—become a member. Today's Daily Brief was brought to you by Sofia Lotto Persio and Morgan Haefner.