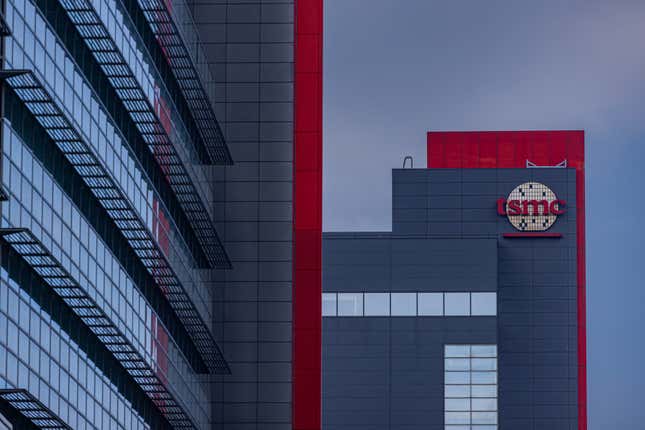 Good morning, Quartz readers!

---
Here's what you need to know
TSMC blamed a lack of skilled US workers for delays in opening a plant in Arizona. The chips manufacturer triggered a controversy by seeking to import workers from Taiwan to train the new employees.
What inspired Elon Musk's design for Tesla's Cybertruck?
Donald Trump's media company cleared a final hurdle to go public. Its partner in the SPAC deal has settled charges of securities fraud.
Apple opposed a UK government effort to bypass privacy features. The tech giant threatened to remove iOS features like iMessage in the country should the proposal become law.
Ron DeSantis is going after Bud Light's parent company AB InBev. The Florida governor ordered the state investment board to probe the brewer over its share price decline in the aftermath of the Dylan Mulvaney ad.
Broadway shows must go on—for now. A union representing theater workers struck a preliminary deal to improve wages and labor conditions, avoiding a strike.
---
No one needed Barbenheimer more than AMC
If you think Barbenheimer is just an internet meme juxtaposing the release of two films released today in the US—Barbie and Oppenheimer—you're not giving marketers enough credit. AMC said more than 20,000 moviegoers have already booked double features for the two films.

The once-meme-stock-darling theater chain hasn't seen its revenue return to pre-pandemic levels. A projected $200 million opening weekend for Barbenheimer might just be the extra large popcorn with butter that AMC ordered.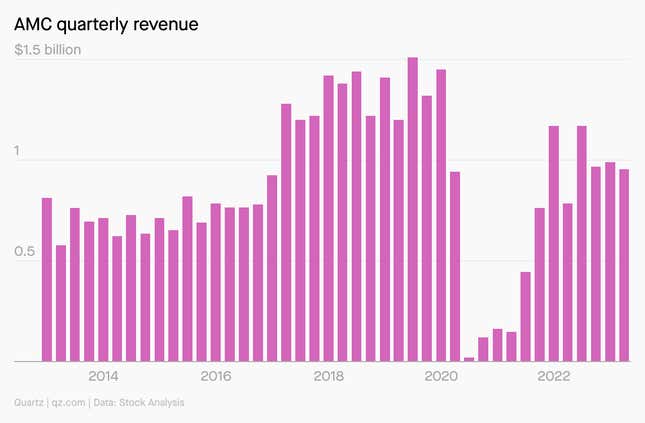 ---
Italy's heat waves are hellish—in nature and in name
As record-breaking heat waves sweep across Italy and the rest of Europe, their dangers are proving fatal. But also capturing headlines are the heat waves' evocative appellations, all straight out of classical mythology.

🐕🐕🐕 Cerberus: Hell's three-headed hound

🔱 Charon: The ferryman of the underworld
🐍 Minos: The serpent-tailed judge
Not all scientists agree on naming heat waves. Some see it as a distraction, while others argue it makes people more aware of the danger of climate change. Quartz's Gabriela Riccardi spoke to the meteorology engineer who's coming up with the names and is clearly a fan of Dante Alighieri's Divine Comedy.
---
The world's largest office building, by the digits
65,000: Employees
4,700: Office spaces
131: Elevators
7: Maximum minutes it takes to reach any office from any of the building's entry gates, apparently
The building is in India's gem capital and just stole the title of world's biggest office from the Pentagon.

---
Quartz's most popular
🛻 Elon Musk revealed new details about Tesla's highly anticipated Cybertruck
🍔 In-N-Out Burger is once again a flashpoint in the covid mask debate
☀️ Europe's latest energy security tactic: hoarding Chinese solar panels
🎬 Netflix must climb the ad revenue mountain for new subscribers to matter
👩‍💻 Why does Tesla want to build its own $1 billion supercomputer?
🧐 Has Chinese foreign minister Qin Gang gone missing?
---
Surprising discoveries
Postmenopausal orcas guard their adult sons from fights. They don't do the same for their female kids.
"Croft's tortoise" has been improved upon. A mathematical coloring conundrum that we could barely understand, much less solve, was, luckily, left to the professionals.

A teen allegedly swatted a Ford plant so his friend could get a night off work. Now he could face seven years in prison.

Domino's is offering an inflation pizza in India. The 7-inch (17.8-cm) cheese pizza with a hint of basil on it costs 49 rupees ($0.60).

An ancient volcano off Canada's Pacific coast is still active. It's also covered in a million giant eggs.
---
Our best wishes for a productive day. Send any news, comments, croft tortoise designs, and inflation pizza to talk@qz.com. Reader support makes Quartz available to all—become a member. Today's Daily Brief was brought to you by Sofia Lotto Persio and Morgan Haefner.