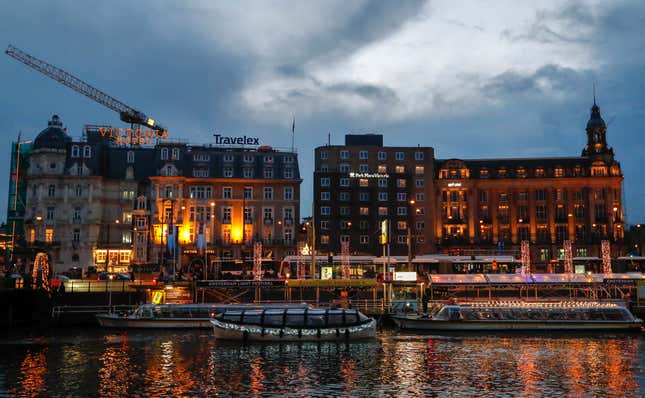 Good morning, Quartz readers!

---
Here's what you need to know
Amsterdam is cracking down on cruise ships. The Dutch city is trying to limit tourism and pollution, one boat at a time.
US lawmakers are investigating Ford's new EV battery deal with China. They're concerned that a new manufacturing plant in Michigan could avoid restrictions on Chinese-made electric vehicle components.

North Korean hackers targeted a US software company to steal crypto data. A sub-group of DPRK cybercrime group Lazarus was identified as the attacker behind the JumpCloud breach.
TSMC blamed a lack of skilled US workers for delays in opening a plant in Arizona. The chips manufacturer triggered a controversy by seeking to import workers from Taiwan to train the new employees.
---
What's in the White House-brokered AI pledge?
Seven leading AI companies—Amazon, Anthropic, Google, Inflection, Meta, Microsoft, and OpenAI—pledged to adopt voluntary safeguards on the development of artificial intelligence systems.

The companies' pledge (pdf) touches on various aspects of the technology's development, including:

🧪 Internal and external testing of their AI systems when it comes to areas of misuse, societal risks, and national security concerns, before release

🫱‍🫲 Committing to sharing information across the industry and with governments, the public, and academics on managing AI risks
❗ Developing robust mechanisms to ensure that users know when content is AI generated such as via a watermark
Read more about the safeguards in Michelle Cheng's report.
---
Charted: Where are the world's largest lithium reserves?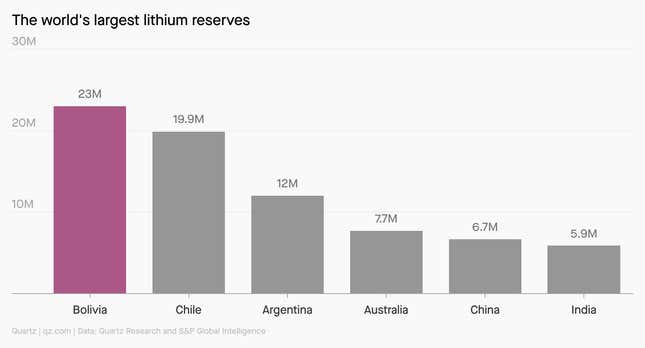 Bolivia's reserves of the valuable metal just shot up from 2 million tons to 23 million tons. Quartz's Diego Lasarte explains what the discovery means for the landlocked Andean country.
---
Quotable: United's promotions aren't what pilots want
"It's the first time that I've ever known it to happen in the airline industry." — United Airlines CEO Scott Kirby, during the company's earnings call last week. About half of the company's captain openings posted have gone unfilled in the past year. Read more about why United's pilots, like a lot of workers these days, don't want to be promoted.
---
Quartz's most popular
❤️‍🔥 Every successful relationship is successful for the same exact reasons
💎 The world's largest office building is filled with diamonds
🛻 Elon Musk revealed new details about Tesla's highly anticipated Cybertruck
💀 Giving up on life can lead to actual death in less than a month
🏙️ These are the world's most expensive cities in 2023
😶 Sam Bankman-Fried cannot shut up
---
Surprising discoveries
Sam Bankman-Fried wanted to buy the nation of Nauru to wait out the world's end. The plan was to move himself and his colleagues in the effective altruism movement into a bunker there, to wait out the apocalypse.
Someone used AI to make Johnny Cash sing the song "Barbie Girl"...  Just, no.

…and there are pink dolphins! They're not related to Barbie.
Major flooding is actually helping the Taj Mahal. Extra moisture will likely increase the lifespan of its wooden foundation.

Cars are getting too smart. At least, drivers think so.

---
Our best wishes for a productive day. Send any news, comments, Johnny Cash remixes, and a bunker to talk@qz.com. Reader support makes Quartz available to all—become a member. Today's Daily Brief was brought to you by Morgan Haefner.