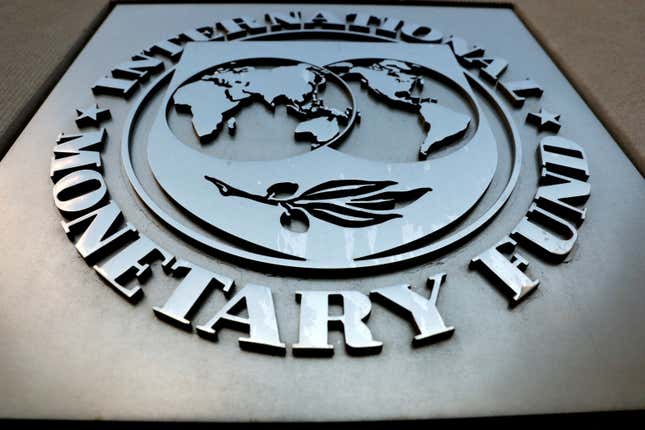 Good morning, Quartz readers!

---
Here's what you need to know
The International Monetary Fund is feeling better about the state of the global economy. It raised its growth forecast up 0.2 percentage points to 3%, but inflation worries persist.

Why a tightening of credit conditions could lead to a weak economy
Qin Gang has been sacked from the Chinese government. The now-former foreign minister's whereabouts are still a mystery as his predecessor Wang Yi returns to the role.
The US broke 2,000 high temperature records in the past 30 days. International scientists said yesterday that the intense heat waves hitting the Northern Hemisphere would be "virtually impossible" without human-caused climate change.

General Motors met its electric vehicle production goal for the first half of the year. But the market's response to the American car company's earnings were mixed as it deals with battery delays.
---
Asia and Europe can't shake their hunger for luxury goods
LVMH has two regions to thank for the bulk of the French luxury giant's latest revenue growth: Asia and Europe. But the US? Not so much.
Just take a look at sales growth rates in the three markets for LVMH's second quarter:
23%: Increase in revenue in Asia (excluding Japan), compared to a year ago
22%: Increase in sales in Europe, compared to a year ago
3%: Year-over-year revenue increase in the US 😬
---
Pop quiz: The cost of ad-free tunes is going up
Which country isn't subject to Spotify's first premium subscription price hike in 12 years?
A. Brazil
B. India
C. UK
D. Singapore
Hint: It's one of the fastest growing markets for the Swedish music streaming service, with an estimated 55 million users. Quartz's Julia Malleck has the answer for you.
---
One big number: $190 million
Amount the US Virgin Islands wants JPMorgan to pay in penalties and disgorgement for entertaining Jeffrey Epstein as a client.
America's largest bank and the US Virgin Islands have been locking horns over who did the most to facilitate Epstein's crimes. Quartz's Ananya Bhattacharya details what's in the latest accusations.
---
Quartz's most popular
❌ Twitter's rebranding is a meaningless publicity stunt
✈️ United Airlines pilots don't want to be promoted
🤑 These are the world's most expensive cities in 2023
🚢 Amsterdam is cracking down on cruise ships
💅 Barbie made almost twice as much as Oppenheimer during opening weekend
💘 Every successful relationship is successful for the same exact reasons
---
Surprising discoveries
Antarctica hasn't rebuilt its sea ice this winter. At least one scientist is calling it a "five-sigma event"—that is, a thing that should only happen once every 7.5 million years.
Japan is training dogs to sniff out fire ants. How the nation fares against the dangerous, invasive species will come down to a little beagle.

Jamaican rums have become top shelf. Old brands are finding that their out-of-date processes are cool again.

You can hire a consultant to help your kid become the perfect sorority girl. What to wear, how to act, what to post… fitting in is a thriving business.

A particular meteorite may have come from Earth. If it's true, the only plausible explanation—besides some superhero discus event—is that another meteorite's impact launched the rock into space.

---
Our best wishes for a productive day. Send any news, comments, beagle heroes, and meteorite passports to talk@qz.com. Reader support makes Quartz available to all—become a member. Today's Daily Brief was brought to you by Susan Howson and Morgan Haefner.