Good morning, Quartz readers!
---
Here's what you need to know
US lawmakers are investigating BlackRock and MSCI investments in blacklisted Chinese companies. The probe will look into dealings with companies that have been flagged for human rights violations or working with the Chinese military.
Why a tightening of credit conditions could lead to a weak economy
Uber actually made an operating profit. Continued demand for ride-hailing and delivery helped, but trimming the fat has been key.
A real-time measure for US GDP hit nearly 4% growth for the third quarter. The Federal Reserve Bank of Atlanta moved up its estimate in response to strong construction and manufacturing data.
The US banned the sale of most incandescent lightbulbs. The goal is to conserve energy and reduce the price of household bills, but the law has come way late in the lighting game.
---
Quotable: Warner Bros. on making light of atomic bombs
"Warner Brothers regrets its recent insensitive social media engagement. The studio offers a sincere apology." — Warner Bros. Studios in a statement to Variety
The studio behind Barbie leaned into the made-up rivalry between its pink hit and Universal's Oppenheimer, a biopic about the maker of the atomic bomb. The Warner Bros. Barbie-linked social media account cheerfully engaged with mushroom cloud and burning city memes—jokes that fell pretty flat in the only country to have ever been hit by an atomic bomb.
Japan's Warner Bros. arm demanded an apology from the US parent company. The statement above was published in Variety, but thus far, the studio juggernaut has remained mum on its own social accounts, nor has it responded to any of its Japanese counterparts' posts. It's not clear when—or even if—Oppenheimer will release in Japan.
---
The savior of VanMoof may need saving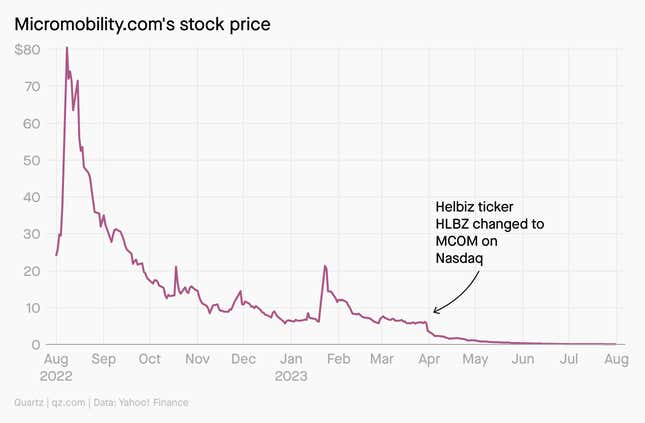 Micromobility.com, an e-scooter company quoted in Nasdaq, has put in a bid to buy VanMoof, a Dutch e-bike start-up that declared bankruptcy last month and was once dubbed "the Tesla of e-bikes." But micromobility.com—a new iteration of Helbiz, which was delisted from Nasdaq—was in serious financial straits at the end of 2022.
How does a company on such shaky ground have the money to buy VanMoof, not to mention open a chain of physical stores? Quartz's Julia Malleck looks into it.
---
One big number: $185 million
⚾ Amount Major League Baseball will pay to minor league baseball players across the US after a lawsuit accused the former of violating minimum wage laws
Quartz reporter Diego Lasarte outlines the flurry of legal activity by minor league baseball players after unionizing in 2022.
---
Quartz's most popular
🤨 Taiwan and China are united on one thing: their suspicion of Elon Musk
♦️ A YouTuber is accused of buying the world's largest black diamond with the proceeds of a $1 billion crypto fraud
🚚 Yellow is shutting down after teetering on the brink of bankruptcy for years
😱 Why some Japanese tourists get extreme culture shock in Paris
💱 The world's most expensive cities in 2023
😵 Why you're struggling to ditch Twitter for Threads
---
Surprising discoveries
Unesco says the Italian government needs to get its act together to save Venice's problems. The sinking city could be preserved with a little cohesive action.
The UK is trying out drone mail delivery. Look to the skies, people of Orkney.
Europe broke its hailstone size record twice in one week. Fear the skies, people of Italy.
Seoul wants to do your colors. TikTok has convinced tourists that personal color analysis—finding the shades that make you look your best—is best done in South Korea.
Most Americans believe in angels. Self-identified atheists and agnostics made up a mystifying share of that group.
---
Our best wishes for a productive day. Send any news, comments, Venice plans, and angel sightings to talk@qz.com. Reader support makes Quartz available to all—become a member. Today's Daily Brief was brought to you by Susan Howson.