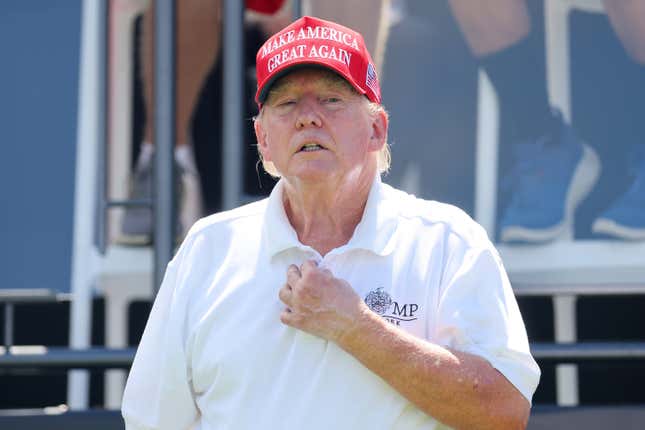 Good morning, Quartz readers!

---
Here's what you need to know
A Georgia grand jury indicted Donald Trump. It took only one day of testimony to indict the former US president and some of his allies on racketeering and conspiracy charges related to the 2020 election result.
Why a tightening of credit conditions could lead to a weak economy
Tesla slashed prices for its Model Y electric vehicles in China. The cuts come despite the company vowing to stop its year-long discount war in the country.

Sam Bankman-Fried is headed to a notorious New York City prison. The founder of the bankrupt cryptocurrency exchange FTX will have to leave house arrest after his $250 million bail was rescinded.
Joe Biden called China's economy a "ticking time bomb." The US president was talking about the country's shift into deflation last week, but a slowdown in China is more likely to deal a direct blow to its Asian trading partners than the US.
---
Charted: How the Maui wildfire compares to others in US history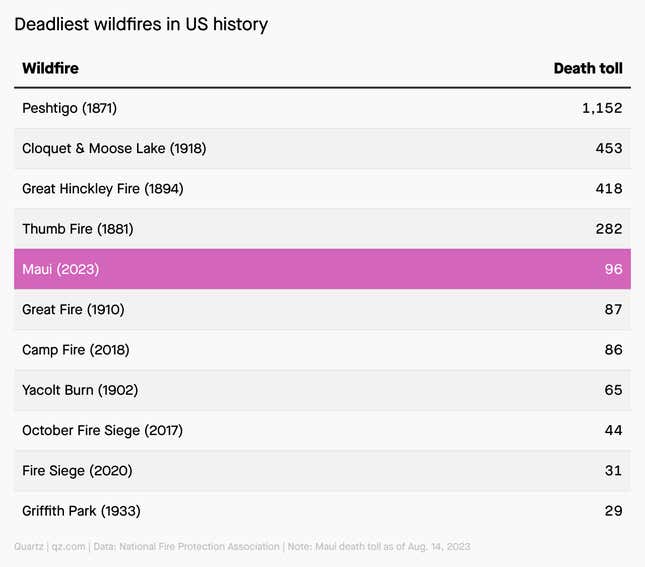 ---
Now hiring: Workers that are at least 70 years old
Globally, companies are seeing older employees make up a greater share of their workforce. But in no place is this as acute as in Japan, where over 40% of the workforce is aged 55 and older.
The country's labor crunch is getting so severe that now firms are actively hiring 70-year-olds.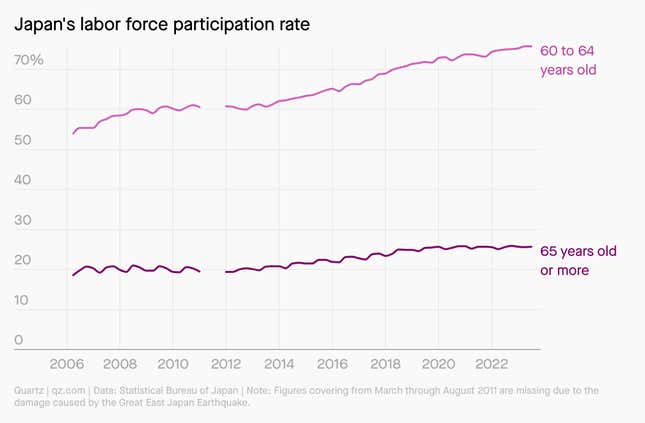 ---
Are you a human?
You've been proving to websites that you're human for years, most likely using a system called CAPTCHA, which is so interesting we wrote an Obsession email about it and talked about it for an entire podcast episode.
With rapid improvements in AI technology happening seemingly every time you open your Quartz Daily Brief, it was only a matter of time before we informed you that the robots have gotten better at CAPTCHA than the humans.

Let's prove you're human by quizzing you on what CAPTCHA even stands for…
A. Can AI Play The CHArt of stoplights game
B. Catching Artificial People Through Computer Hijinx Activities
C. Completely Automated Public Turing test to tell Computers and Humans Apart
Find out the answer—and read about the implications of bots breaking down the gates of the internet—in Faustine Ngila's latest.
---
Quartz's most popular
🙄 The World Bank is spurning Uganda—but not other countries that have outlawed homosexuality
🙄🙄 America's wholesome square dancing tradition is a tool of white supremacy
🔥 Every successful relationship is successful for the same exact reasons
🔥🔥 Hyundai and Kia are recalling close to 92,000 cars in the US over fire risk
🤑 The top 7 highest-grossing films directed by women
🤑🤑 A Chinese crime thriller was the best performing movie in the world this past weekend
---
Surprising discoveries
Moon snails are cannibals. To attack their prey—which also includes clams and mussels—they bury themselves under sand and attack from below.

Some Michigan State University students will get to experience an archaeological dig on campus. The foundation of a 140-year-old building was unearthed while construction workers were installing hammock poles outside of a residence hall.

Young plaintiffs scored a win in a climate lawsuit in Montana. A judge ruled that they have a right to a clean environment, but legal challenges to the decision are expected.

A planet-like object exists that's hotter than the sun. The brown dwarf's temperature is 7,727°C (13,940°F), whereas the surface of the sun comes in at 5,505°C (9,941°F).
---
Our best wishes for a productive day. Send any news, comments, hammock poles, and hot planets to talk@qz.com. Reader support makes Quartz available to all—become a member. Today's Daily Brief was brought to you by Morgan Haefner, Sofia Lotto Persio, and Susan Howson.