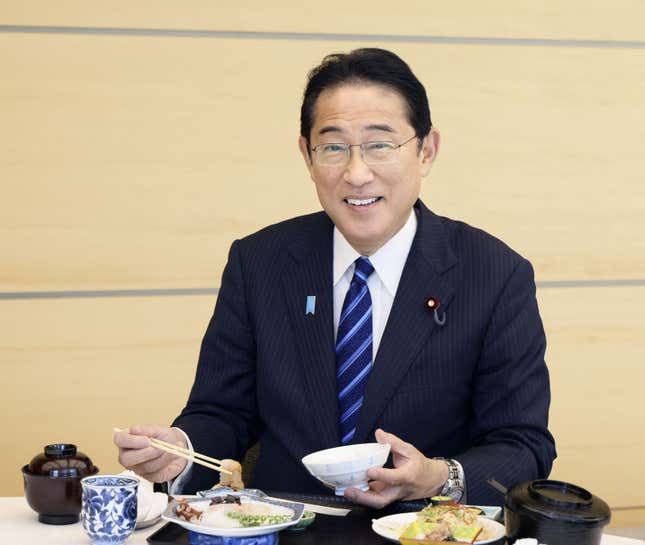 Good morning, Quartz readers!
---
Here's what you need to know
Japanese ministers ate Fukushima fish. Despite strong opposition, treated radioactive wastewater began being released into the ocean last week, and PM Fumio Kishida and three cabinet ministers ate a lunch of sashimi and produce from the area yesterday in a show of support.
Should you buy McDonald's and Caterpillar stock right now?
CNN named a new CEO. Formerly of the New York Times and the BBC, Mark Thompson will take the reins of the US-based media company, whose top ranks have had a tumultuous time.
Saudi money has entered the MMA ring. SRJ Sports Investments—​​a new company established by Saudi Arabia's Public Investment Fund—made a $100 million investment in the Professional Fighters League, and plans to create a regional league in the Middle East and North Africa in 2024.
---
Russia's digital ruble hopes
The West has been chipping away at Russia's already weak economy through tough sanctions, aimed to hit its war machine in the pockets. But president Vladimir Putin is hoping a central bank digital currency (CBDC) will become its financial defense.
Pros: Increased financial surveillance, an alternative to the dollar under the guise of financial innovation, exchangeability with other foreign CBDCs (like China's digital yuan)
Cons: Still subject to exchange rates, still backed by an unstable government
But Russia is taking its chances, and the currency is being piloted as we speak. The digital ruble is reported to be available somewhat broadly in 2025, according to Russia's central bank.

---
Follow the dotted line of actual control
China's latest standard national map isn't making it any friends in India.
🗺️ The land in question: Arunachal Pradesh—a northeastern state of India—and the Aksai Chin plateau
🗺️ China claims: The former is part of Tibet, and the latter has always been Chinese territory (a claim disputed since the 1962 Indo-Sino War)
🗺️ How to resolve: The line of actual control (LAC) is a 2,100-mile border along the Himalayas that has never been clearly demarcated. Different countries use different drawing methods, and boundaries are often pushed to make power plays. To make matters even more weighty, Chinese leader Xi Jinping is headed to India in a month for the G20 summit.
Ananya Bhattacharya gets into the history of China's interest in Arunachal Pradesh, India-China border violence, and the nine-dot line map.
---
Google's AI search feature is ripping off news sites
Can you spot the difference between these two sentences?
"Everything Everywhere All At Once is an example of the rarest of all: a film where you don't know what will happen from one shot to the next."
"This movie is a rare example of a film where you don't know what will happen from one shot to the next."
The first is a writeup from the film review site RogerEbert.com, and the second is Google's response to a search query of the "best movies 2022"—which doesn't cite RogerEbert.com.

The similarities are uncanny. But while Google hopes its AI feature will help users get answers faster without leaving its results page, critics say the summaries amount to theft.
---
Quartz's most popular
💪 The US is finally flexing its buying power to negotiate the prices of 10 Medicare drugs
🐌 These are the US states where homes sell the slowest
😶 Hong Kong's new public enemy: the Cantonese language
🍔 A judge ruled Burger King can be sued for exaggerating the size of its Whoppers
🔥 Farmers Insurance is now cutting jobs after pulling products from California
👂 3M is paying $5.5 billion to resolve 300,000 lawsuits over defective combat earplugs
---
Surprising discoveries
AI beat humans at racing drones. But at least it didn't beat them every time.
The UK has a 2D restaurant. The concept—already popular in Asia—does serve real, 3D food. Don't worry.
The time spent finding something to watch now exceeds 10 minutes. That awful dinner-cooling interval is due to an excessive amount of choice.
Nothing says lifelong commitment like a guest appearance from your college sports mascot. This classy wedding cameo can cost $300 an hour, but the memories will live on.
A giraffe at a Tennessee zoo was born without spots. It's a rarity—the last time one was at a zoo was in the 1970s in Japan, but truth be told, the whole animal is quite unusual.

---
Our best wishes for a productive day. Send any news, comments, 4D drinks, and mascot marriages to talk@qz.com. Reader support makes Quartz available to all—become a member. Today's Daily Brief was brought to you by Susan Howson and Morgan Haefner.