Good morning, Quartz readers!

---
Here's what you need to know
US lawmakers traveled to Taiwan. The trip, part of the bipartisan delegation's east Asia tour, is likely to further inflame escalating tensions between China and the US.
The ruble hit a new low for the year. The Russian currency has been squeezed by sanctions and a rush of foreign firms leaving the country after its invasion of Ukraine.
Apple is opening its first brick-and-mortar store in India. Years in the making, the opening marks a milestone for Apple's expansion in the country.

Tanzania mismanaged $1.6 billion in covid relief funds. An audit uncovered that the money, intended for socioeconomic recovery, was bilked from the government's coffers.
---
Chipotle put the heat on Sweetgreen stock
Chipotle is mad at Sweetgreen for using its name—which Chipotle in turn took from a certain preparation of jalapeño—to brand a new meal at the salad chain.
The "Chipotle Chicken Burrito Bowl"—a mix of blackened chicken, wild rice, black beans, tomatoes, cabbage and a roasted chipotle salsa—sounds awfully like its food, Chipotle's lawsuit argues.

Sweetgreen's stock isn't keen on the bowl brawl, but the lawsuit's ultimate success will hinge on trademark law.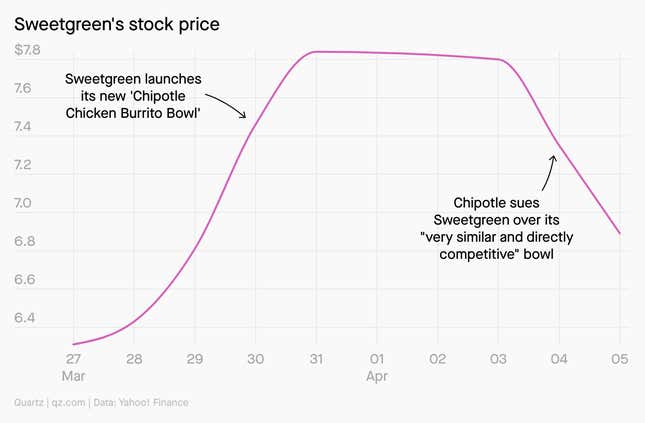 ---
The world's top milk producer is importing a lot of it
1,024%: Year-over-year increase in India's milk and cream imports as of January

India is the world's largest producer of milk, but its stock is drying up, and there's more than one thing to blame.

---
Silicon Valley's famous office perks look less perky
Beyond mass layoffs, the tech squeeze is making Google, Meta, and the like rethink their luxury workplaces. Snacks, full-time massage therapists, and laundry services are just a few of the perks that have landed on the chopping block in recent weeks amid a spending crackdown.
✦ Love stories like this? Help keep our content snackable and free to all by becoming a member. Daily Brief readers get 50% off.
---
Quartz's most popular
🤖 Why Canva isn't describing its new AI tools as AI
🗳️ A fourth member of the Kennedy family is running for US president
💰 What it will cost big banks if the FDIC insures all US deposits
🎙️ Twitter labeled NPR a "state-affiliated media"
🇲🇽 The Mexican government continues nationalizing key industries
✈️ What were the world's busiest airports in 2022?
---
Surprising discoveries
Everyone is eating turbot. Farm fishing is lowering the price of the huge, flat fish, and restaurants are taking advantage of it.

Fifteen antiques are returning to Greece and Turkey. The Metropolitan Museum of Art is repatriating the looted items that are linked to art smuggler Subhash Kapoor.
Italy added "BookTok" to the Treccani vocabulary. We're not sure how the English TikTok hashtag will hold up against a potential foreign word ban.

A Philippine toy maker is memorializing pets as life-like plushies. Skip the taxidermy.
Roku is where HBO Max shows go to die. Canceled TV series are showing up on the platform thanks to a deal inked earlier this year.

---
Our best wishes for a productive day. Send any news, comments, plated turbot, and BookToks to talk@qz.com. Reader support makes Quartz available to all—become a member. Today's Daily Brief was brought to you by Morgan Haefner.