Good morning, Quartz readers!

---
Here's what you need to know
Bed Bath & Beyond filed for bankruptcy. The home goods seller and once meme-stock darling couldn't raise enough money to stay afloat.
Billionaire Mike Bloomberg will give his company to his charity. The donation could end up becoming the largest private philanthropic contribution ever.
Chile is nationalizing its lithium production. President Gabriel Boric's new policy will mandate public-private partnerships, managed by the state, for any new lithium projects.
Elon Musk paid the Twitter Blue fee for celebrities. LeBron James and Stephen King, who got the complimentary ticks, had publicly said they would not be paying to keep their blue checks.
Mughal rulers are being omitted from Indian school textbooks. Supporters argue that the Mughals are overrepresented in Indian history, but having reigned from 1526 to 1761, the Muslim dynasty was one of India's longest-lasting empires.
---
Can moviegoing tell us when a recession is coming?
Box office sales in the US have finally recovered to 2019 levels, meaning that moviegoing has officially shaken off its pandemic slump.

That might appear to be good news. But moviegoing is one of the cheapest forms of entertainment away from home, and in the past, theaters have been where Americans went for entertainment when the economy shrank; in fact, during the last eight recessions, box office sales increased.

Is there a recession warning lurking behind the big screen?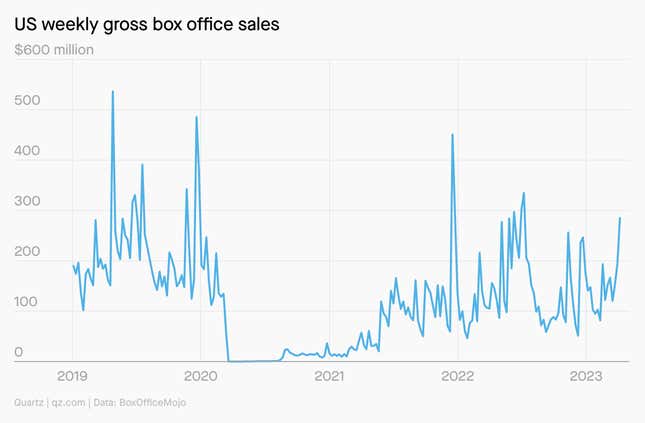 ---
Moviegoing is getting more animated, too
$87 million: Second weekend sales for The Super Mario Bros. Movie in the US, a new record for an animated film

The movie, which had the most profitable global opening weekend of any animated film in history, is one of the biggest drivers behind the US box office resurgence
---
McDonald's owners aren't lovin' its new take on franchises
"We want our independence. If McDonald's does not want to be considered a Joint Employer, they need to stop acting like one." 

—The National Owners Association, a group representing over 1,000 McDonald's operators across the US, pushing back against the fast food giant's efforts to extend more control over its franchisees while refusing certain "joint employer" obligations.
---
Quartz's most popular
🤫 Why the pharmaceutical industry has been so quiet on mifepristone
🐦 The problem with Twitter's blue checkmark is not the $8-a-month cost
💼 The countries where people retire the youngest
🪤 DeSantis's Florida board just discovered another 11th-hour agreement
🧠 There's a kind of stress our brains don't notice—and it's burning us out
🛞 Tesla's Autopilot mode is on trial in California
---
Surprising discoveries
For 40 years a Dutch businessman secretly tucked away 230 rare cars. Now they're all going up for auction.

Amazon wants France to like it more. It hopes that project "Ratatouille" will evoke some amore toward its online empire.
A US court ruled it's not misleading to say a serving of I Can't Believe It's Not Butter Spray has no calories. But the entire bottle has 771 calories and 82 grams of fat.
Ever wonder what an 86-year-old beer tastes like? You can crack one open with your King Charles III coronation quiche (or coronation chicken if you miss the Queen).
Radiation can sterilize mosquitoes by altering their DNA. Argentina is using the method to combat a raging dengue fever outbreak.
---
Our best wishes for a productive day. Send any news, comments, I Can Believe It's Butter, and King Edward VIII's beer to talk@qz.com. Reader support makes Quartz available to all—become a member. Today's Daily Brief was brought to you by Morgan Haefner.