Good morning, Quartz readers!

---
Here's what you need to know
GM is pulling the plug on the Chevy Bolt. Sales of the Bolt, GM's first EV and one of the cheapest on the market, are still robust, but its batteries are growing outdated, the company said.

Thanks to AI, Microsoft is drinking Google's search milkshake. Alphabet's first-quarter earnings showed a 2% rise in search revenues, far below the corresponding quarters from the last two years. Meanwhile, installations of the Bing app have quadrupled after it was augmented by AI.

Two British cigarette companies helped fund North Korea's nuclear program. British American Tobacco and a subsidary agreed to pay $629 million for violating sanctions on North Korea, the highest such penalty ever levied in the history of the US Justice Department.

Japanese company ispace lost its lunar lander. What was slated to be the first landing of a commercially made spacecraft on the Moon didn't happen.
Yelp has no patience for writer's block
Crowdsourced reviews of businesses just got easier to write.

Yelp is using AI to help people review restaurants. When writing a review, users now see topics—like "Food," "Service," and "Ambiance"—above the draft post that help them keep track of what they've covered and remind them what they may want to address. Once a topic is addressed in the review, it gets a checkmark.
Yelp said AI written reviews are against its policies. But as AI assistance grows in popularity, it raises the question of what the world will look like if every digital service runs on large language models. Restaurants already game online reviews, but what if all that negative feedback starts to sound the same?
---
LVMH is doubling down in China
>$500 billion: Market cap of LVMH, making it Europe's first half-trillion-dollar company

Even before reaching its new sky-high valuation, the French luxury house, founded and run by Bernard Arnault, became the first European firm to slide into the list of the top 10 companies in the world by stock valuation. LVMH has affluent shoppers in China to thank for its ascent to the top.
---
Another one at the top: BTS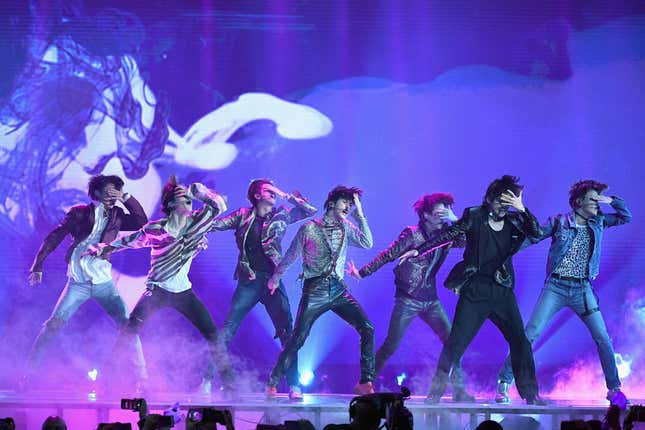 Whether you're still reeling from D-Day or have no idea what we're talking about, you've probably heard of K-Pop band BTS (short for "Bangtan Sonyeondan"), one of the world's top-selling musical acts. It took a lot of blood, sweat, and tears (no pun intended) for the impeccably coiffed septet to reach meteoric levels of fame.
Starting from when the band debuted in 2013 to its hiatus announcement in 2022, we take a look at how BTS has evolved over the years.
---
Quartz's most popular
🚀 The FAA let SpaceX launch Starship without the usual pad protections
🐮 Why is the world's top milk producer looking to import more dairy products?
😖 There's a kind of stress our brains don't notice—and it's burning us out
🏖️ The countries where people retire the youngest
🛏️ How Bed Bath & Beyond lost the fight to stave off bankruptcy
🤑 Mike Bloomberg is planning to leave his company to Bloomberg Philanthropies
Surprising discoveries
The American Library Association saw a record number of censorship reports in 2022. More than 2,500 titles were targeted, a 38% increase over 2021.

A 230-year-old statue was likely defaced by children armed with blue crayons. They didn't quite stay within the lines.
Elon Musk has an alternative Twitter account. More than 24,700 followers pay $4 a month to access his subscriber-only Muskiness.

Don't take a metal detector to Cleethorpes Beach in England. You may be fined £100 ($124).

The ocean is heating rapidly and scientists don't exactly know why. They do know it's not good.
---
Our best wishes for a productive day. Send any news, comments, banned books, and confiscated metal detectors to talk@qz.com. Reader support makes Quartz available to all—become a member. Today's Daily Brief was brought to you by Morgan Haefner and Samanth Subramanian.