Good morning, Quartz readers!

---
Here's what you need to know
Nearly half of US banks are tightening their lending standards. If companies struggle to access loans, they might cut back on investment, slowing economic growth.

LinkedIn announced layoffs. The job site's Chinese app InCareer got axed along with 716 positions.
Goldman Sachs agreed to settle a gender discrimination lawsuit for $215 million. The decade-long case was set to go to trial next month.
The White House wants airlines to pay for flight cancellations and delays. New rules would force airlines to go the extra mile in compensating passengers.
The US is investigating Shein over alleged ties to forced labor in China. The fast-fashion powerhouse is also being scrutinized for copyright infringement.
---
A match made in steelmaking heaven

A burgeoning Sino-Saudi relationship is expanding to encompass another major undertaking: decarbonizing steel production.
Last week, China's Baosteel—the world's largest steelmaker—signed a deal with state-owned oil giant Saudi Aramco and Riyadh's sovereign wealth fund to jointly set up a steelmaking manufacturing base in Saudi Arabia. Read more about why the partnership feeds right into Baosteel's internationalization plans, and may even give Saudi Arabia a leg up in sustainable steel manufacturing.
---
There's just one app for that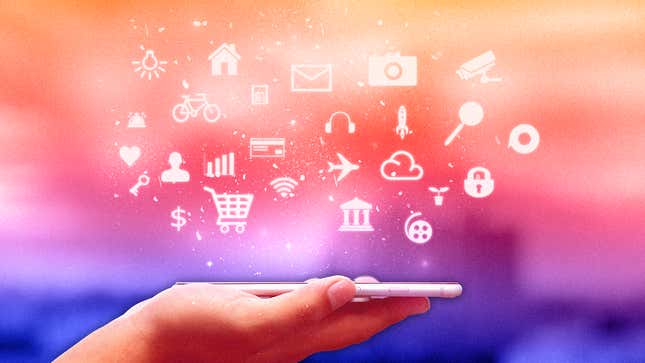 Apple's early App Store ads famously proclaimed, "There's an app for that"—anything you wanted to do on your phone, the company insisted, you could do through an app.

But when smartphones came to China, there was just one app that really mattered—WeChat, the self-styled "superapp."

In the latest episode of the Quartz Obsession podcast, host Scott Nover asks reporter Ananya Bhattacharya why Western tech companies are so fixated on building a superapp—or an "everything app," as Elon Musk likes to say. And will they ever make it happen?

✅ Or find it wherever you get your podcasts: Apple Podcasts | Spotify | Google | Stitcher | YouTube 
📖 If reading's more your thing, try the transcript, or learn more about why Elon Musk won't be able to make a superapp.
---
The Great Recession did a number on stock ownership
In the wake of the turn-of-the-millennium dot-com bust, stock ownership in the US was more common from 2001 until 2008, when an average of 62% of US adults reported owning stocks. But getting past that 60% threshold has proven difficult in the last decade, even with the rise of trading apps. Read more.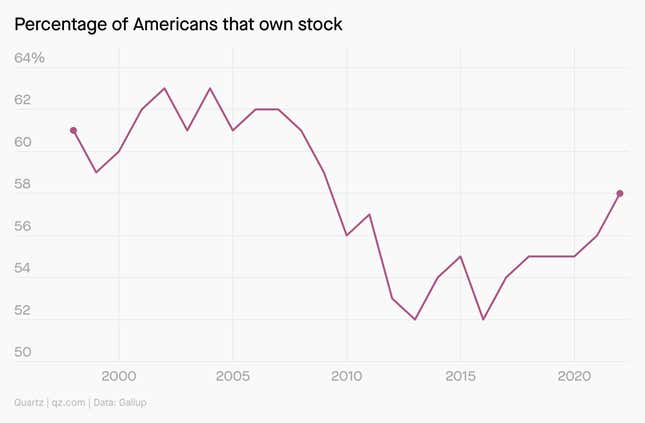 ---
Quartz most popular
☕ One of the first Starbucks locations to organize has filed a petition to dissolve its union
💔 How one programmer broke the internet by deleting a tiny piece of code
🇿🇼 Zimbabwe is launching a local digital currency alternative to the US dollar
🌿 Eco-friendly ideas add bling to India's jewelry market
🛬 The founder of Alder Fuels was charged with embezzlement
👑 When will King Charles III's face appear on the UK's money?
---
Surprising discoveries
Something else hasn't been good for the stock market: Good weather. Sunshine makes bidders overly confident and less risk-averse.

There's a right way to catcall a cat. The use of both visual and vocal cues gets their attention most effectively.

A new butterfly genus got the Lord of the Rings treatment. Its wings are marked with what looks like fiery eyes, earning it the name Saurona.
ChatGPT is already part of some coding courses. Instructors don't want students to shy away from the technology that threatens to replace them.
Up to 82% of homes in China may be outfitted with smart devices. Host Scott Nover and Quartz reporter Julia Malleck explain smart home gadgetry's other purpose in the second episode of the Quartz Obsession podcast, season five.🎧 Listen right now or 📖 Read the full transcript
---
Our best wishes for a productive day. Send any news, comments, French cats, and LOTR nicknames to talk@qz.com. Reader support makes Quartz available to all—become a member. Today's Daily Brief was brought to you by Sofia Lotto Persio and Morgan Haefner.

Correction: In yesterday's Daily Brief, we were incorrect in saying that one of the first Starbucks locations to organize has voted to dissolve its union. Rather, they filed a petition to vote about dissolving the union.