Good morning, Quartz readers!

---
Here's what you need to know
Twitter, or X, is getting a new CEO in six weeks. The lucky winner to replace Elon Musk is a woman—but that's about all we know (more on that below).

Thailand's youth is taking on the military and monarchy in the general election. Results from the May 14 vote will be a test for democratic viability in a region that has seen a slide towards autocracy during the pandemic.
SoftBank's flagship Vision Fund posted a record loss for the year. Overall, the Japanese investing giant didn't bleed nearly as much as the year prior, but only because it sold a chunk of its Alibaba stake. Meanwhile, Foxconn's quarterly profits proved that people are buying fewer smartphones.
Turkey's upcoming election will have broad implications for the North Atlantic Treaty Organization (NATO) and the Ukraine war. And polls aren't looking great for incumbent presidential candidate Recep Tayyip Erdoğan.
Google shared a demo of its upcoming AI-powered search engine. The tech giant is looking to catch up with Microsoft's GPT-powered Bing.

---
Who will replace Elon Musk?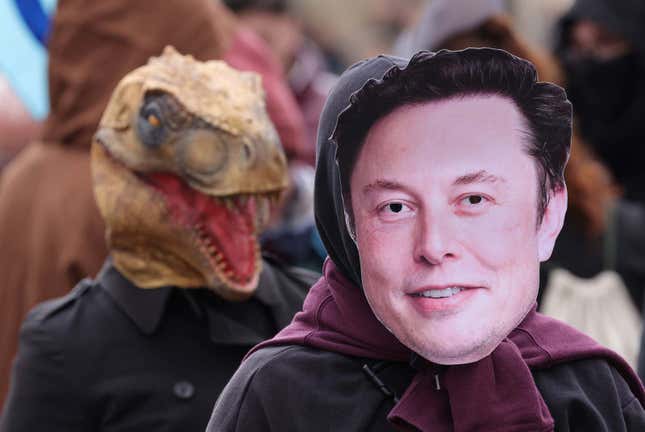 Yesterday, Elon Musk tweeted:

"Excited to announce that I've hired a new CEO for X/Twitter. She will be starting in ~6 weeks! My role will transition to being exec chair & CTO, overseeing product, software & sysops."
Back in December, Quartz crowdsourced an extensive list of potential Twitter CEOs and, admittedly, very few candidates were female. Here are some of the women who made our list:
Former Meta COO Sheryl Sandberg
Former Wikimedia CEO Katherine Maher
Wikimedia chief Maryana Iskander
TikTok COO Vanessa Pappas
Journalist Bari Weiss
Former Twitter sales chief Sarah Personette
Former Twitter chief people officer Leslie Berland
Who will be Twitter's next CEO? Email us your best guesses, and we'll share some of the highlights in Monday's newsletter.
---
Other people of interest: The first female leaders of Man Group
Man Group, the world's largest listed hedge fund, is getting its first female CEO in 240 years, and will also appoint a female board chair later this year.

Robyn Grew will lead the UK-based asset manager as CEO, and Anne Wade will take over as board chair. The two appointments mean that Man Group, which manages $144.7 billion in assets, mostly for institutional investors, will soon be run by two women—in an industry that remains one of the most male-dominated.

---
Russia doesn't want India's rupees—it wants yuan
Pop quiz: How much in rupee reserves would Moscow get each year if it agreed to use the currency to trade with India?

A. $10 billion
B. $20 billion
C. $40 billion
D. $80 billion
Find the answer—and the reason why negotiations to use the currency couldn't compete with the influence of the Chinese yuan—in this piece from Quartz reporter Mimansa Verma.
---
Quartz most popular
🇮🇳 Foreigners settle in India more easily than Indians do abroad
👍 It's not just conversation—Gen Z is missing some essential nonverbal skills, too
🎬 These are the TV shows and films affected by the Hollywood writers' strike so far
🥷 The Economist has named the countries plagued the most by crony capitalism
🫒 The global price of olive oil hit a 26-year high
👯 A study of 1 million employees shows what happens when colleagues leave
---
Surprising discoveries
Investors were conned out of 78,000 cows. The six-year business scheme milked one agriculture lender out of $100 million.

The cost of insuring against US default is higher than some emerging markets. Contracts on the bonds of frequent defaulters like Greece, Mexico, and Brazil aren't even as pricy.
Humans are still better at taking fast food orders than AI. A McDonald's pilot found that 80% of AI orders were made correctly, whereas humans were about 95% right.

The super-rich are gobbling up prime London properties at a rate not seen since Brexit. They're using the abodes, which probably have pristine hedges of their own, as hedges against inflation.

One day we'll be able to buy a Blue Origin ticket on Amazon. Well, maybe if Amazon turns into a superapp that allows you to buy your cowboy boots and book your trip in one place. For now, the world's biggest superapp is WeChat. Listen to the evolution of superapps in the latest episode of the Quartz Obsession podcast.

✅ Or find it wherever you get your podcasts: Apple Podcasts | Spotify | Google | Stitcher | YouTube 
📖 If reading's more your thing, try the transcript, or learn more about why Elon Musk won't be able to make a superapp.
---
Our best wishes for a productive day. Send any news, comments, cows, and cow print everything to talk@qz.com. Reader support makes Quartz available to all—become a member. Today's Daily Brief was brought to you by Morgan Haefner.