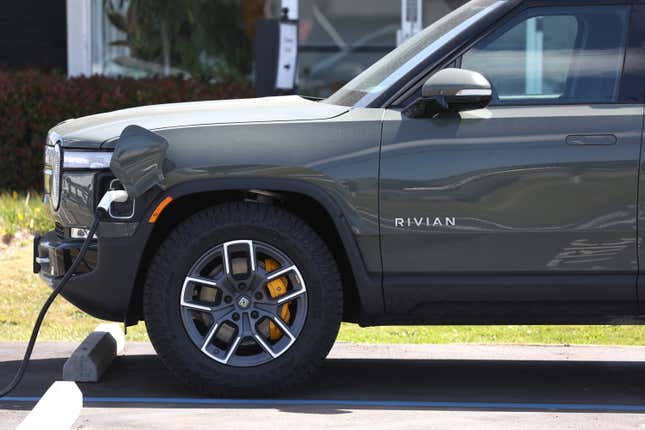 Good morning, Quartz readers!

---
Here's what you need to know
Nasdaq is dropping Rivian from its index. The struggling electric carmaker will be replaced by chip manufacturer ON Semiconductor.
The Biden administration scored a $66 million profit in its first oil trade. The US sold 3 million barrels of oil for $95 and repurchased them at $73.
US inflation hit its lowest level since March 2021. The latest data comes as the price of food staples like eggs is finally falling—but in Europe, it's a very different story.
A woman won a lawsuit that claimed Starbucks fired her because she's white. The coffee chain must now pay her $25.6 million in damages. 

Illinois has banned book bans. Adopting the Library Bill of Rights, which prevents materials from being removed "because of partisan or doctrinal disapproval," is a condition for public libraries to access state funds.
What Twitter CEO's first email to staff really says
Linda Yaccarino's inaugural staff memo represents the dual mission of her job: to appease both advertisers and Elon Musk.

Her letter starts like this:

"People keep asking me: Why Twitter? So, I'll tell you."
Our reading goes more like this:

"Typically when someone becomes the CEO of a multibillion-dollar media company, people don't ask why they took the job. The real question people are likely asking Yaccarino is, "Why would you work with Musk?"
We've annotated Yaccarino's full memo to put her words into context. Read our interpretations.
---
Pop quiz: The fall of the Instant Pot
As demand for the Instant Pot rapidly depressurized, its maker tried to develop which household appliance?

A. A mini oven
B. An air purifier
C. A wine opener
D. A portable sink

Find the answer in our report on why the now bankrupt maker of the pandemic darling stopped cooking up interest.

---
One big number: 1.5 million
The number of electric vehicles Toyota plans to sell each year by 2026

The Japanese automaker has an ambitious new plan to update its EV technology to make cars run longer, all while automating factory assembly tasks to curb its production costs. But will it be enough to help Toyota reach its climate goals?
---
Quartz most popular
🤖 Paul McCartney got a little help from AI to create one last Beatles song
🚬 Smokers toss away 4 trillion plastic cigarette filters a year
🏆 The new owners of Golden Globes have been running the show for years
🗺️ Strava's heatmap could lead stalkers to users' homes
🚮 This is what actually happens to the most common things you throw away
✋ A US judge temporarily blocked Microsoft's Activision Blizzard acquisition
Surprising discoveries
Samsung ended IBM's patent supremacy. The US tech giant has received more patents in the past 30 years than any other company, until last year.
A crawlspace in a Los Angeles home was housing 1 million pennies. The problem is that no banks want them.

Homegrown solar and wind components in the US are now cheaper than imports. It's the first time this has happened in the country's history.
An incredibly rare Roman tomb was found in London. The mausoleum is likely the most intact of its kind that has been unearthed in Britain.
A 14-year-old is about to graduate from college in California. He already has a job at SpaceX.
---
Our best wishes for a productive day. Send any news, comments, piles of pennies, and solar panels to talk@qz.com. Reader support makes Quartz available to all—become a member. Today's Daily Brief was brought to you by Sofia Lotto Persio and Morgan Haefner.