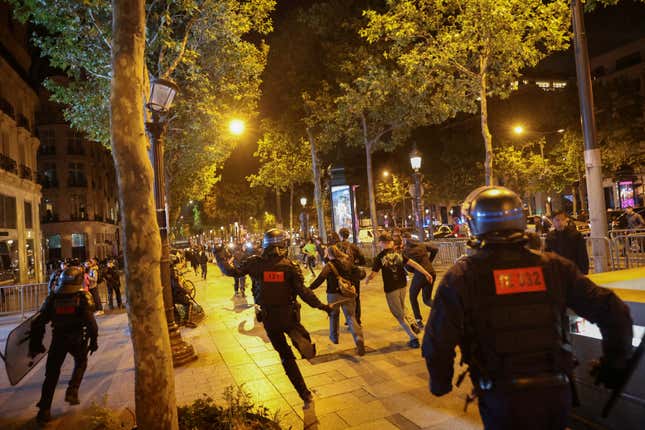 Good morning, Quartz readers!

---
Here's what you need to know
France deployed 45,000 police officers to address widespread rioting. Protestors have demanded reforms after authorities killed a teenager last week during a traffic stop.
Why you should keep your own scoreboard at work
There's a new mega bank, and it's in India. A finalized merger between HDFC Bank and mortgage lender HDFC has made an institution bigger than HSBC and Citigroup.
Apple got the first taste of the coveted $3 trillion valuation. The tech giant hit the milestone on Friday as its stock price has been lifted by a broader bounce back in the tech sector.
Japan is filling its electric vehicle talent gap with teen workers. Tens of thousands of battery engineers, designers, and technicians are needed, and the country is counting on its youth.
Tax credits and lower prices gave Tesla a boost. Elon Musk's EV company said second-quarter sales are up 83% compared to the same period last year, as its cars become cheaper than gas-powered ones.
---
Why America's EV industry is bigger in the south
The Midwest region of the US may be home to automobile trail blazers like Ford and General Motors, but the next generation of EVs will likely come from the country's south.

The geographical shift in manufacturing has been years in the making, as foreign transplants like Toyota and Volkswagen have poured investments into southern states. But one big employment trend can't be ignored, and that's unionization—or lack thereof—that's making labor cheaper.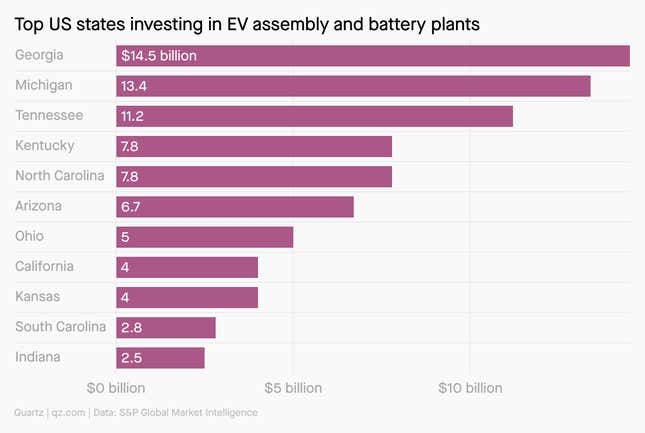 ---
Doing business in China just got even riskier
Beijing has a newly amended counterespionage law that's poised to present new uncertainties and legal risks for international firms.

The law, which took effect July 1, vastly expands the definition of espionage. Criminal cases of espionage already risk life imprisonment. For foreigners, the new law threatens exit and entry bans, as well as deportation. Quartz reporter Mary Hui explains why the catch-all phrasing can encompass even the most mundane business activities.

---
Three recent SCOTUS rulings, by the numbers
The end of last week brought with it a barrage of high-profile rulings from the US Supreme Court that have wide-ranging implications for Americans.
$430 billion: Amount of student loan debt that the court ruled the Biden administration can't cancel
6-3: Majority ruling in 303 Creative v Elenis, which states that a wedding web designer can refuse to work on same-sex weddings
45: Years of precedent the court's decision to end affirmative action wiped out
---
Quartz's most popular
🛏️ Overstock is changing its name to Bed Bath & Beyond
🤖 Forget machine learning. Google now wants to crack machine unlearning
🐌 Florida is now in the midst of three different quarantines... over snails
🌱 Everything you need to know about potash, the age-old trick for healthy soil
🔑 The password game is playing on the nightmarish hellhole of internet security
📣 Reddit is running out of patience with protesting moderators
---
Surprising discoveries
The road to Florida is paved with radioactive waste. The US state is allowing uranium runoff to be used in the construction of new roads.
A common blood condition can lower the risk of Alzheimer's disease. But clonal hematopoiesis of indeterminate potential is tied to blood cancer and heart disease.

No one wanted Princess Leia's iconic white gown from 1977. Auctioneers were hoping to get $2 million for it.

We're about to learn more about dark energy. The European Space Agency's Euclid spacecraft is off to discover why the universe is expanding at an accelerated pace.
Not all frog croaks signal mating. In fact, some of the guttural noises are trying to stop it.
---
Our best wishes for a productive day. Send any news, comments, Princess Leia's gown, and dark energy to talk@qz.com. Reader support makes Quartz available to all—become a member. Today's Daily Brief was brought to you by Morgan Haefner.