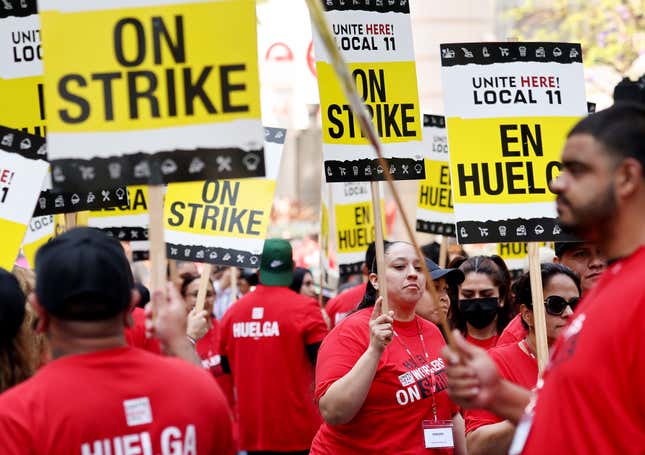 Good morning, Quartz readers!

---
Here's what you need to know
The biggest hospitality strike in US history kicked off in California. About 15,000 hotel workers walked off their jobs ahead of the nation's Independence Day holiday.

Why a tightening of credit conditions could lead to a weak economy
Saudi Arabia and Russia have announced cuts to the global oil supply. The two producers are trying to prop up falling oil prices.
Meta's Twitter rival landed in the app stores. Threads is due to launch July 6, but it's already gathering critiques. Meanwhile, Twitter now wants you to pay to use TweetDeck.
A car that can ride on the road and also lift off won test flight approval. The US Federal Aviation Administration (FAA) has issued a Special Airworthiness Certificate for Alef's "Model A" electric car.
---
Americans are crazy about fireworks
Cities in the US may be opting for drone shows amid heightened wildfire risk (and, you know, all the smoke that's already above North America), but Americans just can't stop buying their own fireworks.

Consumer fireworks revenue has more than tripled since 2012, and the fireworks industry projects that sales will top $3.3 billion by 2028. The recent explosion in fireworks sales had a lot to do with needing some entertainment during the pandemic, but interest has yet to fizzle.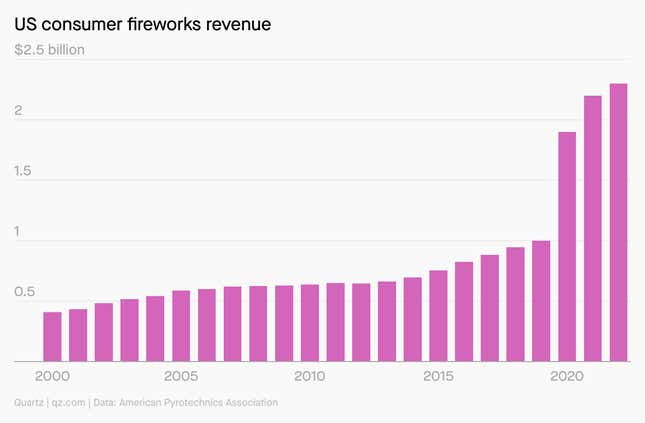 ---
Barbie couldn't cross the nine-dash line
Greta Gerwig's Barbie opens globally July 21, but not in Vietnam, because of disagreements over a line.

The nine-dash line, which on a map depicts China's claims to disputed waters in the South China sea, will keep Vietnam's screens decidedly silver instead of pink this summer. But Barbie is far from the only film to be banned over the nine-dash line (shown below, and often on maps pictured in movies). Read more about its cinematic history.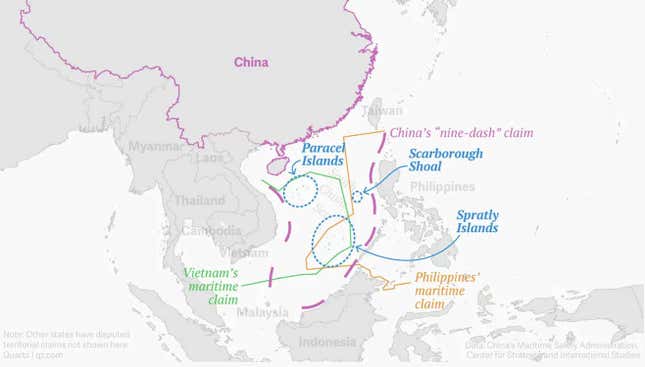 ---
One big number: 50%
Share of key ingredients that Nestlé plans to source from regenerative agriculture by 2030

The world's largest food maker recently decided to abandon carbon offsets, redirecting its sustainability initiatives at cutting greenhouse gas emissions within its own operations and supply chains. It's just the latest company to turn away from the controversial offsetting practice.
---
Quartz's most popular
💀 The Reddit AMA as we know it is dead
🔥 Ten blue states are planning to sue the EPA over wood-burning stoves
😰 Elon Musk has made Twitter CEO Linda Yaccarino's job even harder
☢️ Florida will allow radioactive waste in road construction
🛏️ Overstock is changing its name to Bed Bath & Beyond
🏦 A newly merged Indian bank is set to become bigger than HSBC and Citigroup
---
Surprising discoveries
A group of 70 small islands wants to leave the UK. Orkney's inhabitants would rather be part of Norway.
It only took five hours for an AI model to design a functional computer processor. That's 1,000 times faster than the speed of humans.

The San Francisco Art Institute is bankrupt, but it does have a $50 million Diego Rivera mural up its sleeve. The work was designed to be removed from the property, and can be sold separately or as part of the college.
Beige-fluencers are romanticizing mundanity. Boring is the new black.

Sea urchins are mysteriously dying in the coral reefs of the Red Sea. A waterborne parasite may be to blame.

---
Our best wishes for a productive day. Send any news, comments, human-speed things, and dull routines to talk@qz.com. Reader support makes Quartz available to all—become a member. Today's Daily Brief was brought to you by Sofia Lotto Persio and Morgan Haefner.