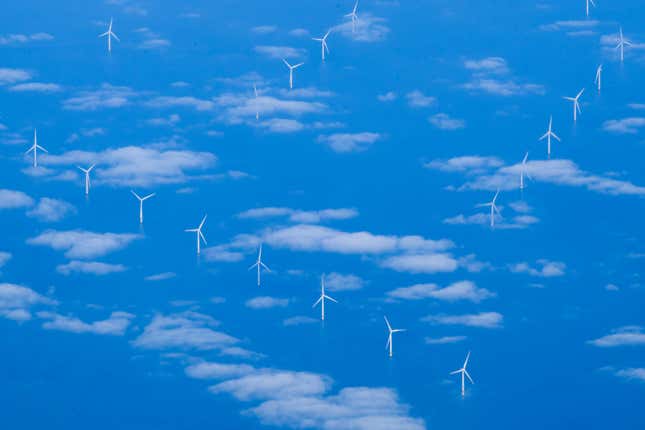 Good morning, Quartz readers!

---
Here's what you need to know
The US greenlit its largest wind power project to date. New Jersey's Ocean Wind 1 will generate enough energy to power 380,000 homes.
What inspired Elon Musk's design for Tesla's Cybertruck?
Moderna will develop and manufacture mRNA drugs for use in China. The deal represents a big bet for the US biotech firm at a time of tensions between Beijing and Washington.
China's BYD took over an old Ford plant in Brazil. The electric vehicle maker picked the Latin American country to set up its first manufacturing hub outside Asia.
Meta's Threads got a warm welcome. Mark Zuckerberg's answer to Twitter notched up 5 million users within hours of its launch, a better start than most other blue bird rivals (see more below).
---
Pros and cons of the Twitter wannabees
Meta is the latest company to take on Elon Musk's shrinking Twitter, and there's reason to believe its new microblogging app Threads could pack a punch.

Pros: Instagram users will be able to log in with their existing credentials and can immediately begin posting, reposting, sharing, and liking content.

Cons: There has yet to be a fully successful Twitter rival, but Mark Zuckerberg, Meta's CEO, seems confident he can pull this off.

Meta isn't the only company looking to strike while the number of active Twitter users drops. Read more about what the likes of Mastodon, Spill, and Truth Social can and can't offer.
---
Charted: VC funding's long winter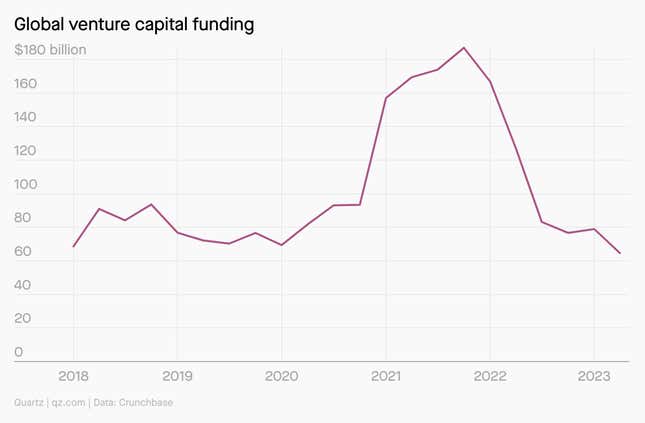 Late-stage venture capital funding hit its lowest level since 2018, and companies that raised funds in the hot VC market of 2021 are cutting jobs as they find it more difficult to move from seed funding to Series A, or from Series A to Series B rounds. But as Quartz reporter Nate DiCamillo explains, there is one bright spot in the downturn.
---
Rivian's stock went for a joyride
After months of decline, the stock price of electric vehicle maker Rivian finally got a jolt. The US automaker delivered its first shipment outside of its home country—a fleet of 300 electric Amazon delivery vans to Germany—and investors eased their brake-happy feet.

But even with recent gains, the EV maker's stock price is a far cry from its blockbuster debut in November 2021, when it surpassed General Motors and Ford in market cap. A series of supply chain and production snags sent shares into a tailspin, enough to unseat Rivian from the Nasdaq 100 in June. For now, the road ahead is at least turning in a better direction.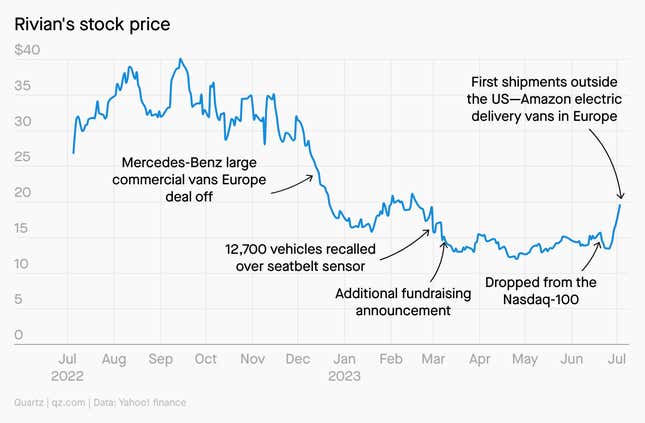 ---
Quartz's most popular
🛞 A flying car that can also drive on the road was approved for testing
👀 Donald Trump's media company has a shot at a $300 million SPAC merger after all
🤖 The UK's top universities reached an agreement on how to deal with generative AI
🦹 A precious metals scam ripped off silver buyers to the tune of $113 million
🚗 Fiat's tiny new electric car can be driven by 14 year olds
🚧 An Iowa law rolling back child labor protections has come into effect
---
Surprising discoveries
There's only one major economy in the world where inflation is still growing. It's an accolade we're sure the UK doesn't want.

Another unwelcome truth for the UK: More women than men will be diagnosed with lung cancer this year. It's the first time the discrepancy will be documented in the country.

India has its own Spider-Man. Pavitr Prabhakar is likely the first Indian superhero in an American blockbuster, but he's not new to Indian comic book enthusiasts.

Wait times for US visas in Bogota can now stretch 801 days. It's a tedious tale of covid and bureaucracy.

The Grammy's AI rules have a Beatle problem. Whether or not the group's "last" song, made with AI, can scuttle protocol is something tomorrow might never know.

---
Our best wishes for a productive day. Send any news, comments, welcome truths, and Lennon lyrics to talk@qz.com. Reader support makes Quartz available to all—become a member. Today's Daily Brief was brought to you by Sofia Lotto Persio and Morgan Haefner.