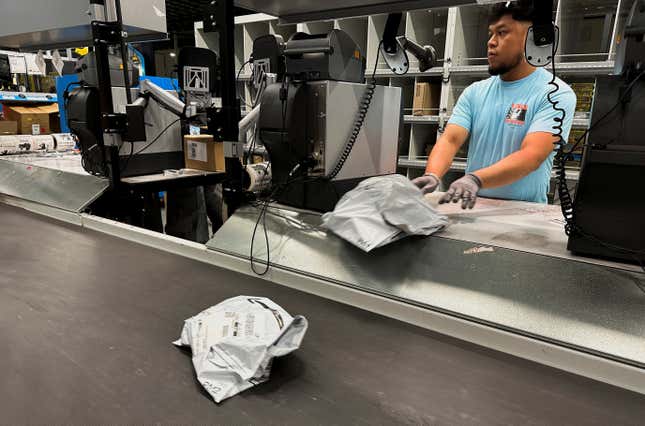 Good morning, Quartz readers!

---
Here's what you need to know
Prime Day is in full swing for Amazon shoppers in much of the world. The two-day sale might distract subscribers from the fact that the US Federal Trade Commission is suing Amazon for subscription tricks.
What inspired Elon Musk's design for Tesla's Cybertruck?
Microsoft's bid for Activision Blizzard jumped an antitrust hurdle in the US. But the $69 billion deal still faces one major regulatory obstacle.
Farmers Insurance lost its appetite for risk in extreme weather hotspots. The insurer is dropping offerings in Florida and California.

Another strike is looming in Hollywood. Studios and the SAG-AFTRA union, which represents actors and TV and radio presenters, have until tonight to agree on new contracts and avoid a strike.
---
A brief history of Bank of America's illegal activity
The second largest bank in the US will have to pay $250 million—with some going directly to consumers—for charging junk fees, withholding credit card awards, and opening accounts without customer consent. The last decade has been a rocky one for the relationship between the bank and its consumers:
April 2014: BoA was fined $727 million for illegally charging 1.9 million customers for credit card services they never actually received.
May 2022: BoA was fined $10 million for unlawfully freezing customers' accounts and charging garnishment fees in violation of state laws.
July 2022: BoA was fined $225 million for "botching" the distribution of state unemployment benefits during the pandemic.
---
Threads is beating Twitter in user engagement
Engagement—when users interact with a post—is famously important to brands: If you have 1 million followers, but only 20 users care about your posts enough to hit the like button, comment, or share, that's a problem.
Brands may not have nearly as many followers on Threads as they do on Twitter, but engagement levels show that Threaders (is that what we're calling them?) are paying more attention. It's still early days, Faustine Ngila cautions, but in their ongoing cage match, Mark Zuckerberg's strategy currently has Elon Musk on the ropes.
---
Pop quiz: What's BNP Paribas voting against?
BNP Paribas Asset Management handles nearly $580 billion and has voted in more than 1,600 annual general meetings so far in 2023. At 55% of these votes, it rejected shareholder resolutions on:
Bonuses for executives that were not clearly linked to actual results
Director appointments for males when there were too many men on the board already
Reelection of directors when the company wasn't meeting ESG requirements
Free ice cream on Fridays!
Nate DiCamillo reveals all.
---
Quartz's most popular
🤖 5 ways AI could automate management tasks
🍲 Everything on Janet Yellen's "God of Money" restaurant menu in Beijing
📚 "Shadow libraries" are at the heart of the mounting copyright lawsuits against OpenAI
🏫 Native Americans are struggling to put a dollar value on how much "land-grab" universities owe them
🤷🏽‍♂️ To protect your mental health and career, try the "care less" approach
📱 Vodafone is preparing for quantum attacks on smartphones
---
Surprising discoveries
Snatched jawline fervor indicates a depressing shift back to bony fashion norms. They also indicate: rich plastic surgeons.
Birds love anti-bird spikes. Savvy nest-builders use the spokes meant to keep ledges bird-free to keep their homes… other-bird-free.
Netflix has improved the green screen. The update to the century-old technology required the addition of one more color.
 Angolan giraffes are back in Angola. But they're under a lot of pressure to jumpstart ecosystems stalled by decades of conflict.
There's more than one way to look at the Earth's shape. You can make an argument for either "blue marble" or "potato," depending on, well, your worldview.
---
Our best wishes for a productive day. Send any news, comments, fortress nests, and carrot planets to talk@qz.com. Reader support makes Quartz available to all—become a member. Today's Daily Brief was brought to you by Sofia Lotto Persio and Susan Howson.