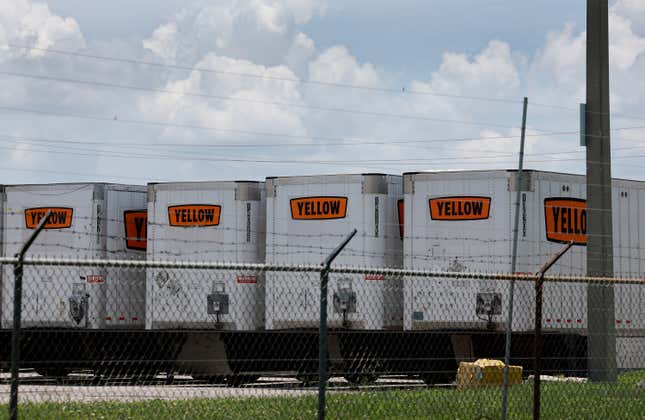 Good morning, Quartz readers! Thanks for writing in to report receiving multiple issues of the same email, and for bearing with us while we fix it.

Should you keep investing in Big Tech?
---
Here's what you need to know
Yellow's 99-year history has come to an end. The trucking company informed staff that it's shutting down and filing for bankruptcy.  
Major banks are plotting to skirt their climate responsibilities. A proposed agreement on carbon accounting would exclude most stock and bond underwriting activity from banks' calculations of their carbon emissions.
Intel is getting much more bullish on AI. Worried about falling behind in the global AI chip market race, Intel wants to take on industry giant Nvidia.
Adidas has another Yeezy drop coming. The second release of the leftover stock linked to the now-defunct partnership with rapper Ye will make a louder statement against anti-semitism.
---
July was probably the hottest July ever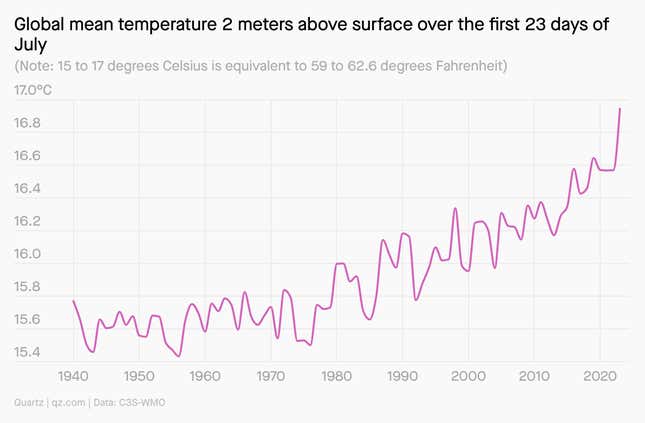 This month is not only on track to be the hottest July on record—it's on track to be the hottest month ever, period. Quartz's Ananya Bhattacharya explains why.

---
Quotable: Not many people are threading
"If you have more than 100 million people sign up, ideally it would be awesome if all of them or even half of them stuck around. We're not there yet."—Meta CEO Mark Zuckerberg, in a call with employees, as reported by Reuters on July 28
Just weeks after attracting more than 100 million signups for the new rival to X, the social media app formerly known as Twitter, Threads hasn't been able to keep half of its users logged in. Zuckerberg says new features will be the key to engagement… but maybe it's much, much deeper than that.
---
One big number: $10 million
Fine paid by casino king Steve Wynn, the founder of Wynn Resorts, to settle a 2019 sexual misconduct case
In addition to the fine, Wynn was banned from Nevada's gambling industry—which he played a big role in developing—amid claims he made unwanted sexual advances toward several women under his employment. But settlements related to Wynn's alleged sexual misconduct go far beyond $10 million.
---
Quartz's most popular
👽 The context you need for the latest alien whistleblower
🤔 Binance doesn't think the US has jurisdiction over its crypto exchange
😏 Meme stock investors want a bite of the Tupperware stock
🫠 China's reputation as a leading economic power is fast eroding
😐 Paris Syndrome: Troubles in tourism
🤑 These are the world's most expensive cities in 2023
😎 Who needs the Mattel Cinematic Universe? Mattel does
---
Surprising discoveries
America's Appalachian Trail keeps getting longer. Originally 2,050 miles (3,300 km), it now is stretching farther and farther.
Ivermectin may help reduce tick populations. Feeding the controversial antiparasitic drug to deer could kill the little critters that bite them.

Worms nestled in the Siberian permafrost have been revived. They'd been hanging out there for 46,000 years.

Virgin births are possible in fruit flies. But it's unlikely the method would ever work in humans.

Our solar system doesn't really make sense without a ninth planet. That's why scientists keep looking for one.
---
Our best wishes for a productive day. Send any news, comments, Appalachian Trail maps, and Planet Nine names to talk@qz.com. Reader support makes Quartz available to all—become a member. Today's Daily Brief was brought to you by Sofia Lotto Persio and Morgan Haefner.