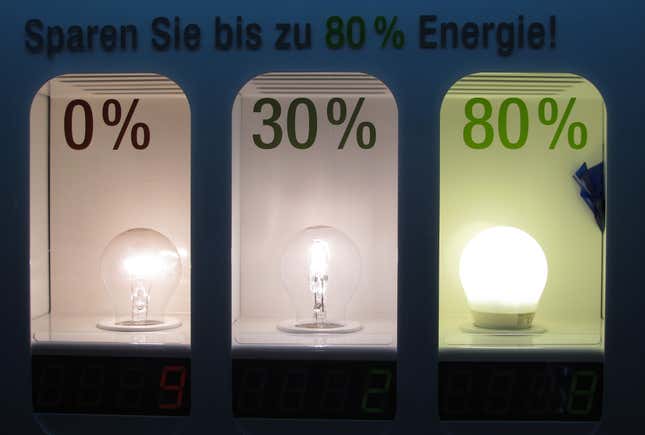 Good morning, Quartz readers!

---
Here's what you need to know
New rules on lighting efficiency entered into effect in the US today. Most incandescent and halogen lightbulbs are now banned, leaving LEDs to lead the way.
Why a tightening of credit conditions could lead to a weak economy
Cryptocurrency influencer Richard Heart was charged with securities fraud. Regulators accused the YouTuber of buying the world's largest black diamond with the proceeds of a $1 billion crypto fraud.
Journalists see a threat to the First Amendment in Ron DeSantis's legal battle against Disney. The Reporters Committee for Freedom of the Press urged a court to unequivocally side with the company or risk giving politicians carte blanche to attack freedom of speech.
Elon Musk's "X" sign is under investigation. The sign briefly towered over San Francisco, burning into the retinas of all those in the vicinity.
---
Meta stock is creeping toward an all-time high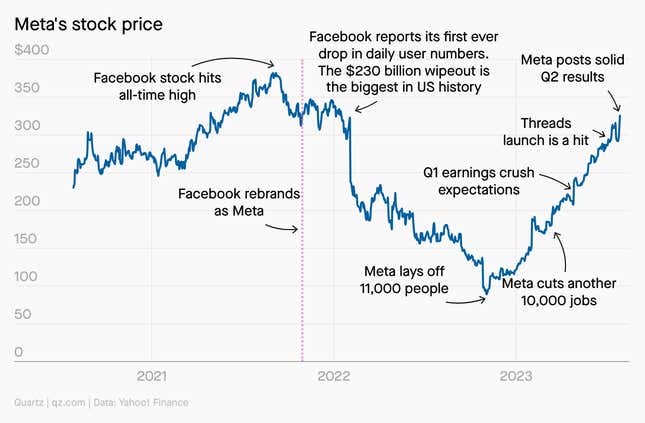 Mark Zuckerberg's "year of efficiency" is paying off. Meta's stock is back with a vengeance, nearly tripling in value since the start of 2023. Quartz's Ananya Bhattacharya explains why investors are back.
---
One big number: 35
Cities where Orb (an eye scanner) is collecting biometrics, in exchange for Worldcoin (a biometric cryptocurrency)

In Nairobi—one of the 35 cities where Orb is making iris codes—Quartz reporter Faustine Ngila collected firsthand accounts of fraud and privacy concerns related to Worldcoin. Read about why there's reason to believe the digital ID will unleash worse problems than those it tries to solve.

---
Quotable: Italy has joiner's remorse
"Improvised and heinous act"—Rome's defense minister Guido Crosetto, during an interview on July 30, describing the Italian government's decision to join China's transcontinental development project, the Belt and Road Initiative (BRI).
The BRI was launched in 2013 by Chinese leader Xi Jinping, with Italy signing on in 2019. It aims to spearhead China-led development projects around the world, but in Crosetto's opinion, has only been a double negative for Italy.
---
Quartz's most popular
😵 Why you're struggling to ditch Twitter for Threads
👽 The context you need for the latest alien whistleblower
😋 Meme stock investors want a bite of the Tupperware stock
🛰️ Taiwan and China are united on one thing: their suspicion of Elon Musk
🥺 There's a biological reason you feel down after having the time of your life
🛢️ The UK doubled down on oil drilling and claimed it's part of its net-zero plan
---
Surprising discoveries
Nero's poetry and music rehearsal spot was unearthed. Archeologists found ruins of the Roman emperor's private theater mere meters from the Vatican.  

British aristocrats in the 18th century hired hermits to live in their gardens... Dream jobs do exist.
… and a zoo in China is insisting it didn't hire humans to wear Malaysian sun bear costumes. For one, an outdoor temperature of 104°F (40°C) would make that too hot, a spokesperson said.

A 2-degree change in the orientation of Voyager 2's antenna has left it unable to communicate with Earth. NASA thinks the spacecraft's silence is a temporary problem.

There's a new avocado variety. It's called the Luna, and it could make harvesting easier.
---
Our best wishes for a productive day. Send any news, comments, hermit houses, and bear costumes to talk@qz.com. Reader support makes Quartz available to all—become a member. Today's Daily Brief was brought to you by Sofia Lotto Persio and Morgan Haefner.