These days, everybody wants a piece of Africa. In 2018 alone, France's Emmanuel Macron made a historic visit to East Africa, becoming the first French leader to visit Kenya. Former British prime minister Theresa May busted out some awkward dance moves in South Africa, while Germany's Angela Merkel toured Senegal and Ghana just days afterward. Russia announced plans to develop bilateral trade and set up a base along Eritrea's coast. Even US first lady Melania Trump—decked in a pith helmet, jodhpurs, and riding boots—visited Egypt, Malawi, and other nations to highlight US humanitarian and development work.
As global superpowers rush to build a presence and profile across Africa, they are nonetheless playing catch-up to the continent's biggest and strongest ally in recent years: China. For two decades now, Beijing has prioritized relations with African states, looking at them as a place for trade and not trouble. As the US focused on Africa through a security lens and Europeans increasingly fixated on immigration, China invested in mega infrastructural projects ranging from ports to passenger rails.
Hundreds of Chinese companies and tens of thousands of Chinese nationals have also made the continent their home—working in everything from manufacturing and technology to healthcare and Confucius Institutes. To flex its military muscle and secure its strategic interests abroad, Beijing also chose Djibouti as the site for its first-ever overseas military base. African leaders have reciprocated this blossoming engagement, with twice as many presidents attending China's Africa summit in 2018 than attended the United Nations general assembly in New York.
With a fast-growing population, rapid urbanization, abundant resources, and some of the world's fastest-growing economies, many observers have remarked that this will be the African century. If that's to be achieved, China will play a major role in making that a reality. But Beijing will do so not just out of altruism but knowing full well that the road to its global dominance runs through Africa.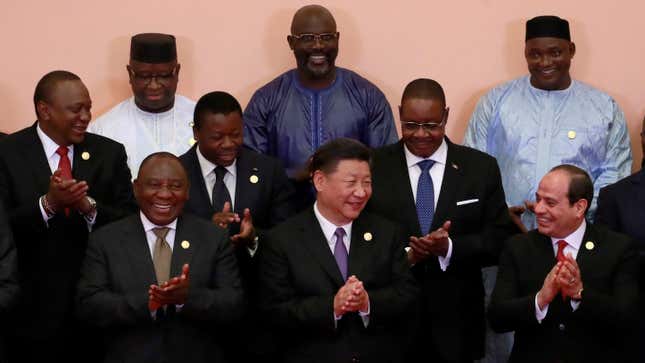 Table of contents
• The myths of Africa's Chinese debt • Photos: Kenya's struggles with its new Chinese-built railway • How to keep up with China's engagement in Africa • Videos: Can China convince Africa to like it? • What happens when China builds your country's internet • How Shenzhen fuels Ethiopia's startup scene
Coming to Africa
The story of China's engagement in Africa in the 21st century lies at the nexus of ambition, pragmatism, and most importantly, convenience.
In just over two decades, China has grown to become the biggest foreign player on the continent. It is now Africa's largest trade partner, its largest infrastructure funder, and its fastest-growing source of foreign direct investment, pledging $60 billion in 2018 versus just $5 billion in 2006. Top officials from China regularly tour the continent, with premiers and foreign ministers making 79 visits to 43 different states between 2007 and 2017, according to consultancy Development Reimagined.
At home, China has pulled off the seemingly impossible: since initiating market reforms in 1978, it has lifted more than 850 million people out of poverty and grown its gross domestic product by nearly 10% annually—a pace the World Bank describes as "the fastest sustained expansion by a major economy in history." In the process, China built lots of roads, ports, power plants, and factories to boost its global competitiveness.
To further maintain economic growth and political stability, China in 1999 introduced the "Go Out" policy—also referred to as "Go Global"—with the aim of pushing its companies to seek resources and invest overseas. Rather than adapt to a changing world, China sought to shape it by further opening up its economy, exporting its business practices and promoting its image abroad. Chinese state-owned enterprises were immediately drawn to Africa as a supplier of raw materials, a lucrative export market for their goods, and an outlet for their surplus capital.
"The barriers of entry to Africa were very low," says Eric Olander, the managing editor of the China Africa Project. As China sought to expand its commercial reach, Africa provided pliable conditions that weren't readily available in European, American, or Southeast Asian markets. Beyond the economic metrics, the continent also offered an avenue for China to showcase its place as a rising, responsible global power, such as by deploying peacekeeping forces in Sudan or anti-piracy patrols on the Indian Ocean, or by fighting Ebola in West Africa.
"They couldn't do that anywhere else in the world without attracting huge amounts of controversy and attention," Olander says. "So they looked around the world and they said, 'You know what? This is the easiest place to go.'"
In Africa, the consensus was—and still is—that to unleash true economic growth, the continent needed massive infrastructural investments in the form of highways, ports, and railways. And with limited or declining financing options, the region's leaders gradually pivoted toward Beijing to bridge their own funding needs. For African governments, China's engagement represented a sea change after decades of garbled development paths and a wave of agonizing austerity measures and liberalization programs imposed by international financial institutions.
Since then, African countries have grown to be reliant on China (too reliant, warn some critics) for loans, grants, and infrastructure expertise for development. For China, Africa remains where its companies can source essential supplies, make money, and solidify their global ambitions.
But over time, the continent has also come to represent something far greater to Beijing. Africa offers a place where China's state-owned enterprises and workers can become world-class entities and fulfill the grand ambitions of president Xi Jinping's Belt and Road Initiative: a showcase of the millennia-old concept of tian xia that aims to bring everything "under the heaven" within the realm of Chinese influence.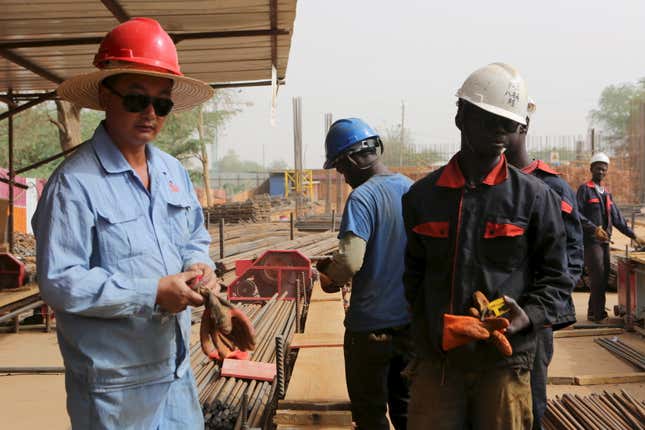 A new world order
The Chinese say, "To end poverty, build a road."
As China gradually emerged as a global superpower, it started looking to the past to inform and shape its future. In 2013, Xi announced the Belt and Road Initiative (BRI), a transcontinental development project looking to connect Asia, Europe, and Africa. Described as a 21st century Silk Road, the scheme is made up of a "belt" of overland corridors and a maritime "road" of shipping lanes that ultimately seek to boost trade and connectivity.
Yet Xi's ambitions have been described as being far bigger than just creating a development program. Observers say the trillion-dollar project is an articulation of China's vision for this young century and its push to replace the US-led international system.
By design, BRI is "a project meant to encompass the whole world and the totality of human life," writes Bruno Maçães in his book Belt and Road: A Chinese World Order. "It is an idea, a concept, a process, better captured through a metaphor, not an exact description."
When you scope the entirety of the project, "Africa is still a small part of the BRI," says David Shinn, author of China and Africa: A Century of Engagement. But the Belt and Road, he says, acts as an umbrella, formalizing Chinese projects that have been underway in Africa since the early 2000s. As such, at least 40 out of Africa's 54 states have signed on to the project, hoping the new wave of roads, rails, and port investments will make them better connected internally and with the outside world. For African governments, improving connectivity is crucial for improving logistics and export capacity, lowering shipping costs and increasing sales rates.
In Africa, BRI also gives Beijing the chance to fill "a very much-needed niche" with infrastructure that traditional Western powers and aid donors had retreated from up until recently, says Yunnan Chen, a researcher at the China Africa Research Initiative at John Hopkins University. Given the bilateral relations between Beijing and African states, project approvals, she says, are "efficient" and "incredibly fast"—ensuring African governments quickly attain the massive schemes on their wishlists and essentially validating China's internationalist ambitions around the BRI.
China, attracted by Africa's growing consumer markets, has used the BRI to penetrate many sectors at a scale and depth far beyond domestic and other foreign investors. In 2018, the global consulting firm Deloitte noted China had risen as the "most visible single-country funder and builder of infrastructure projects" in Africa. The report noted that through the China Export Import Bank and the China Development Bank, China helped to add or upgrade about 30,000 kilometers (18,641 miles) of highways, 2,000 kilometers of railway, 85 million tons of port capacity, and about 20,000 megawatts of power generation volume.
Of the billions of dollars Beijing has pumped into infrastructure, almost 53% has gone to ports, shipping, and logistics projects. Recent research from the Center for Strategic and International Studies documented at least 46 existing or planned port projects in sub-Saharan Africa funded, built, and operated by Chinese entities.
In East Africa, China has constructed railway lines in Kenya, Djibouti, and Ethiopia linking the hinterland to coastal ports with the aim of easing logistical bottlenecks and accelerating the export and import of goods. Chinese state-owned enterprises are expanding the Lamu port in Kenya too, operating ports in Sudan, and constructing a new terminal basin along Egypt's Suez Canal. China Merchants Port Holdings (CMP), the Hong Kong-based subsidiary of the state-owned conglomerate China Merchants Group, has also invested in harbors in Togo and Nigeria.
A case study
More than anywhere else in Africa, the Eastern Africa coastal region has emerged as a lynchpin of China's BRI plan. Take the tiny and barren state of Djibouti. Located at the southern entrance to the Red Sea, Djibouti has used its geo-strategic location and its relative stability in a volatile region to boost its place in a fast-changing world. It has positioned itself as a key cog in the Maritime Silk Route, inviting China to finance the construction of a transnational commercial railway, invest in its ports, and build Africa's largest free trade zone. In 2017, Beijing also opened its first overseas military base in the Djiboutian capital.
While each node in the BRI network in Africa is important, "Djibouti is extremely important," says Olander, especially as Beijing realigns its priorities in Africa "from one that's purely based on economics to a political-military relationship."
China's involvement in Djibouti has raised Western suspicions about its motives in Africa. American generals have also worried that China's "encroachment" in the region could impede US operations at Camp Lemonnier, its lone permanent base in Africa.
China's involvement in Djibouti's ports has also spurred legal battles spanning courtrooms across the world. Currently, the Dubai-based global port operator DP World is suing CMP in Hong Kong for bypassing its concession agreement with Djibouti and acquiring an indirect shareholding in the Doraleh terminal. While the case posits the first legal challenge to BRI expansion in Africa, "it won't be the only case," says Shaun Wu, a lawyer with the Kobre & Kim firm in Shanghai.
Some observers have started questioning if China can afford the large investment required for heavy infrastructure expansion and truly replicate its domestic developmental story.
"Make no doubt, Africa needs infrastructure. But this does not mean that any railway, road, or hydropower dam, at any size and any cost, will do," says Luke Patey, a senior researcher at the Danish Institute for International Studies. "China has been keen to expand the reach of its state-owned enterprises and exports in the global economy, and tied finance in Africa to this activity in order to offshore domestic overcapacity in heavy industries."
Chinese financiers also hold 77% of Djibouti's debt, raising concerns about whether new and future projects can generate sufficient revenue to meet debt service requirements. Western leaders have lamented these partnerships, saying Beijing encourages dependency and undermines sovereignty. The criticisms intensified when Sri Lanka signed over a 70% stake and a 99-year lease of its Hambantota port to China in 2017 after racking up more than $8 billion worth of debt to Beijing-backed banks.
During his visit to East Africa in March 2019, French president Emmanuel Macron joined the chorus of leaders criticizing China's deepening reach in Africa. "What can look good in the short term," he said in Djibouti, "can often end up being bad over the medium to long term."
Ironically, Macron's meeting with Djibouti's president took place at the new Chinese-built presidential palace.
A virtual road
In a new building located inside a 200-hectare technology park on the eastern side of Bole International Airport in Addis Ababa, hundreds of employees sit on low plastic stools in neat assembly lines carefully handling various phone accessories. This is the new factory of Transsion Holdings, the Shenzhen-headquartered firm that has in a decade become Africa's largest phone maker.
Since its founding in 2006, the company has bet on African consumers long underserved by tech giants like Apple, offering phones with multiple SIM slots, long battery life, and cameras calibrated to darker skins. Transsion's success coincided with a rising appetite for smartphones in Africa, encouraged by cheaper internet costs and mobile-based innovation. With research and development centers in Nigeria and Kenya, the bright blue of Transsion's flagship brand, Tecno, has become ubiquitous across African cities from Nairobi to Addis Ababa and Lagos.
In many ways, Transsion is illustrative of the success of China's "Go Out" policy that encouraged Chinese firms and investors to seek resources and investment opportunities overseas. It is also emblematic of how Chinese firms sought to tap into the information and communication technology sector in the continent by addressing the distinct challenges facing diverse nations instead of following one-off templates.
Chinese firms, for instance, have been leading Africa's transition from analog to digital reception, providing an avenue for companies like StarTimes, a pay-TV service, to exponentially grow their businesses. China's tech giants also found an easy terrain to grow and experiment in Africa in contrast to the resistance corporations like Huawei and ZTE have faced in competitive markets in the West.
Some of these tech-related ambitions have been brought together under the "Digital Silk Road" umbrella, which Chinese officials have said will create "a community of common destiny in cyberspace." The plan is to bring advanced IT infrastructure to BRI nations by investing in broadband networks, smart cities, artificial intelligence, e-commerce hubs, and cloud computing.
For African states, "these deals are part of broader infrastructure packages that Beijing frames as a "win-win" partnership," says Jeffrey Ding, the lead China researcher at the Center for the Governance of Artificial Intelligence at Oxford University. "African countries gain much-needed infrastructure investment while Chinese firms get access to new markets."
Digital dystopia
Observers, however, worry about China's ability to export elements of its own political regime and oversee a technological "iron curtain" of ubiquitous cameras, facial-recognition software, and mass surveillance.
Zimbabwe, for instance, was criticized for welcoming a deal with the Guangzhou-based startup CloudWalk Technology for an artificial intelligence program that would record and store the faces of millions of citizens so as to improve facial recognition algorithms in identifying darker faces. ZTE has been accused of selling technology and providing training to Ethiopia to monitor mobile and internet activity. In Kenya, concerns have been raised about Huawei's collaboration with the government to create "safe cities" with extensive built-in surveillance technology.
Last year, the US-based think tank Freedom House said Beijing had hosted a seminar for African officials from Belt and Road nations on "cyberspace management." And while it wasn't clear what transpired during such encounters, the meetings were usually followed by the introduction of cybersecurity laws in nations like Uganda and Tanzania that closely resemble China's own repressive regulations.
The criticisms of China's tech involvement in Africa—and across the world—have been amplified as Trump accused Huawei of stealing trade secrets and barred American firms from dealing with it.
Despite the US administration's tussle with Huawei, the African Union in May signed a three-year memorandum of understanding with the company. Huawei had previously installed much of the communications infrastructure at the China-built AU headquarters in Addis Ababa. Allegations surfaced last year that the continental body's confidential data was being copied and sent to servers in Shanghai through a backdoor. Huawei denied having any links to those allegations and said it didn't provide the equipment used for the AU's intranet or extranet.
The trade ban on Huawei, some observers have argued, could accelerate the internet's bifurcation into what former Google CEO Eric Schmidt called a China-led and US-led internets. This could put African nations in a bind, forcing them to choose between European and American telecommunications providers and Chinese tech giants. Yet, given how much Beijing has subsidized connectivity in the continent, it is unlikely that African states will switch their loyalty from China says Iginio Gagliardone, author of China, Africa, and the Future of the Internet.
So far, he adds, there's "great hybridity" when it comes to African public and private companies working with firms in China, Europe, and the US. "If sanctions and trade wars and limitations harden over time, it will become more likely that some of the operators will have to choose," Gagliardone says. But for now, "China by default is going to be the one wiring the continent."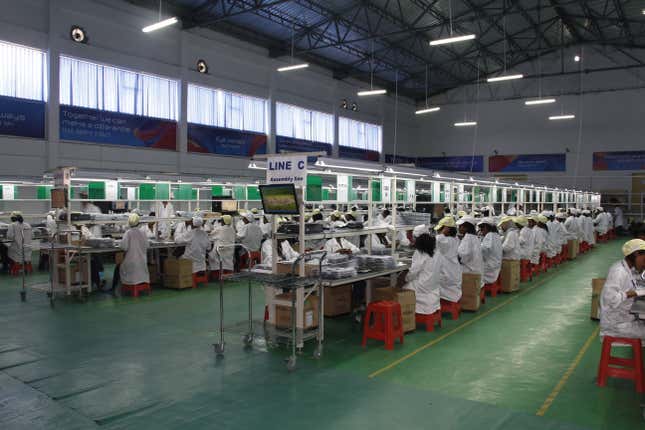 The world's next factory
When thinking about creating broad-based prosperity for Africans in the future, factories are key and China will be the answer, says Irene Yuan Sun, author of The Next Factory of the World: How Chinese Investment Is Reshaping Africa. Manufacturing is "pretty magical" in terms of economic development, she says, because it "formalizes" and creates jobs for low-skilled or uneducated workers, thus generating huge productivity gains and knock-on benefits for the rest of the economy.
"It is important for developing economies to attract investment," Sun says. "It is extra important for developing economies to attract manufacturing investment in particular."
African countries including Ethiopia are striving to become the next apparel sourcing and manufacturing destination. The Horn of Africa nation has especially invested in industrial parks, built by Chinese state-owned enterprises, in a bid to attract manufacturers, create employment opportunities, improve competitiveness, and enhance economic growth. Yet some observers have doubted if countries like Ethiopia, South Africa, or Rwanda can break into global manufacturing in a substantial way.
One key concern has been automation, and how the increasing use of advanced technologies will disrupt manufacturing businesses globally. While the 'flying geese' theory might postulate that African workers will replace Chinese workers who are demanding higher wages, there's the growing realization robots and 3D printers will soon become cheaper than the costs of training and employing people to perform the same tasks.
This means Chinese entrepreneurs and businesses will have to weigh the cost of refitting their Chinese factories at home or in nearby Asian countries like Vietnam versus the logistical and infrastructure challenges of relocating factories to Africa. Many China-Africa watchers now believe African countries will lose out in such a scenario even when the local labor costs are cheaper than in China.
And yet, scholars like Sun remain bullish about the impact of technology, writing that "no clear break exists between our so-called robotics age and what came before: as long as manufacturing has existed, factories have continually introduced new labor-saving technologies." Research from the London-based Overseas Development Institute also concluded that African countries will have a longer time to prepare for technological disruption in manufacturing businesses. For instance, in the furniture business, while robots in the US will become cheaper than US labor in the year 2023, robots in Kenya will become cheaper than Kenyan labor in 2034.
Another challenge facing African manufacturing is that capital costs per worker remain high, with nations like Bangladesh still offering cheaper options. And while Ethiopia's labor costs have been dubbed reasonable compared to other African states, its workers—who make clothes for global brands like H&M, Tommy Hilfiger, and Calvin Klein—were recently listed as the lowest paid in the world. The workforce in many African states is also perceived to be lacking in skills and efficiency, increasing training costs for investors and lowering productivity rates.
But as China's economy slows, industrial labor costs skyrocket, and the US-China trade war intensifies, many factories are still expected to relocate and serve the African, if not the global, market. "China has been a great place to put money into for the last generation," Sun argues. "And as that slows, the incentives to stay in China slow as well."
A long way from home
In seeking greener pastures, behemoth state-owned enterprises and large private companies are not the only Chinese actors relocating to Africa. Across the continent, signs in Mandarin greet passersby at construction sites in Addis Ababa, factories in Kigali, noodle shops in Nairobi, or home goods stores in Johannesburg. This is indicative of the growing number of Chinese workers and traders who have moved to the continent in the past two decades, working in everything from retail and factories to small farms and large construction companies.
By the end of 2017, data from the China Africa Research Initiative at John Hopkins University put the number of official Chinese workers sent to work at both Chinese and non-Chinese companies at over 202,000. At least 30% of these workers were in Algeria—where Beijing has completed the construction of Africa's largest mosque—followed by Angola, Nigeria, Ethiopia, and Zambia.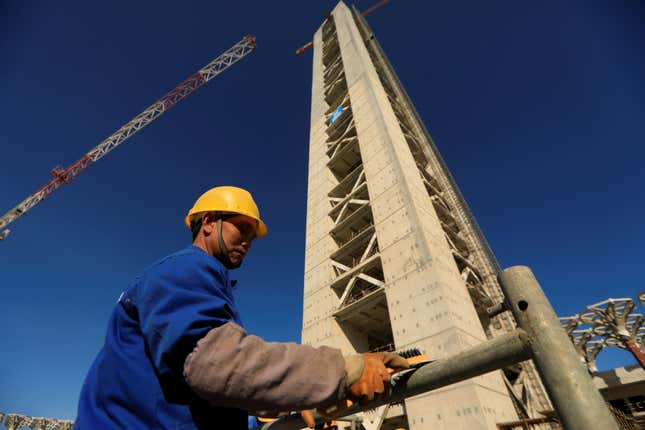 But beyond the official count, many more Chinese come at their own volition or stay on after their contract work is done. In his 2014 book China's Second Continent, journalist Howard French put the number of Chinese citizens who have moved to Africa at around 1 million. These migrants hope to replicate the same structures that sparked China's transformation and build a base for further expansion of China's global hegemony.
Zhibin Zhou is a mechanic who has been working in the central African state of Gabon for almost eight years. Originally from Yancheng city in Jiangsu Province, he followed his friend to Gabon to work repairing construction machinery, heavy trucks, and boats. "Life forced me to come to Africa to make money," he says. "I am only here for money."
In about two years, he hopes to leave so that he can take care of his aging parents and raise his young son. And while most of the locals he's met are "nice, warm-hearted people," he says "I wouldn't miss anything here."
Pan Le from Nanchang city in Jiangxi province shares the same sentiments. He's currently working at the Rusumo hydroelectric power station, which aims to increase power supply of electricity to the national grids of Burundi, Rwanda, and Tanzania. Noting the cultural differences, he says he's struggled with perceptions among locals that the Chinese have a lot of money and has often been susceptible to blackmail. After the project is over, he hopes to return and stay in China.
As lower commodity prices hit many of Africa's economies in recent years, Chinese entrepreneurs and employees of state-owned companies have begun leaving in large numbers. Between 2016 and 2017, CARI data shows that the total number of Chinese workers in Africa declined by 24,718 workers.
As Pan and Zhibin seek to return home, many of their countrymen are looking to Africa as a destination of choice. Tens of thousands of Chinese tourists are now coming to Africa, attracted by relaxed visa rules, increased interest in cultural and historical sites, and in response to both public and private initiatives aimed at making their stay easier and more affordable. In just under a decade, air traffic between China and Africa grew by 630%, with most of the expansion driven by Africa's biggest carrier, Ethiopian Airlines.
As the movement and engagement between the sides grow, vlogger Huiling Rose Zhao says it's time to create a "richer and multidimensional picture" of Africa for her fellow Chinese at home. Western stereotypes about Africa as a place of war and famine are commonplace in China, with movies like Wolf Warrior 2 trafficking these old clichés. In 2018, the CCTV Spring Gala, the popular television show that reaches an estimated 800 million people, drew widespread condemnation after showing a skit with actresses dressed in blackface.
Born in Shanghai, Huiling's family moved to Ghana when she was 11 years old. But after returning to China at age 18, she was dismayed at how people traded in stereotypes about Africa. In 2019, she decided to start a YouTube program aimed at showing the "fun, creative [and] sophisticated" story of Africa that's often overlooked. So far, she's traveled to Kenya, Rwanda, and Uganda, to meet entrepreneurs, artists, and social enterprises and highlight issues including wildlife conservation, plastic recycling, and food.
While vast trading opportunities exist, without the "Chinese public elevating their perception and education of Africa and what it has to offer," she believes Sino-African relations might not mature to their full potential.
"A lot of us Africans know more about China than China knows about us," says Hodan Osman, a lecturer at the Institute of African Studies at Zhejiang Normal University. Hodan, a Somali national, moved to China in 2005, part of a growing number of African students who are pursuing tertiary degrees in China on scholarship programs funded by Beijing. (As of 2017, more Anglophone African students were studying in China than the United States or the United Kingdom, their traditional destinations of choice.)
While attending the first day of her language course at Yangzhou University, Hodan remembers the "very curious stares" that people gave her and her fellow African classmates. "We became the scene. People were staring at us with excitement in their eyes." Years later, even as she continued to pursue her graduate and doctoral degree, she came to see how Chinese media didn't "show the diversity" of Africa: "It's the killings and civil strife or the natural beauty. There's nothing in the middle."
That has changed over the past few years, Hodan says, partly because of Africa's rise in Chinese media and cultural sphere and the growing engagement between the two sides. Hodan herself co-directed the documentary Africans in Yiwu, humanizing the stories of Africans living and working in the eastern Chinese city known for its vibrant commodity and trade market.
"In order for a healthy Sino-African relation to grow, there's a need for mutual understanding of each other," Hodan says. Trade cooperation, financial investments, and tourism are all good, but China also needs to invest "in education and the curriculum and paying attention to what they are teaching young people" about Africa.
A "win-win" future?
Since 2000, Africa has emerged at the center of China's economic and geopolitical agenda. Initially defined by fear, scant information, and lately allegations of neo-colonialism, Sino-African relations have so far remained a two-way affair in which both sides adapt to popular perceptions and policy propositions coming from the other side.
Beijing has defended the relationship as one of "true friendship" and denounced Western forces who have sought to vilify its deepening reach in Africa. African leaders have reciprocated the engagement, attending the Forum on China-Africa Cooperation in droves and praising their alliance with Beijing.
The relationship is, however, far from perfect. Beijing has repeatedly been accused of creating debt traps for its own selfish geopolitical gains. Trade imbalances persist too: African countries import enormous quantities of consumer and light-manufactured goods, machinery and electronics, while China purchases minerals and metals.
Yet to truly understand where Sino-African relations are headed, it's important to pay close attention to the events of the past year. Last December, the Trump administration unveiled its Africa policy that was all about countering China's influence. While there's been a long-standing competition for influence between superpowers in the region, Shinn says the implication of the new US policy is "that African governments need to choose between the US and China. This is a mistake and will not sit well with African governments."
And sit well it hasn't.
This June, African leaders overwhelmingly voted for the Chinese candidate Qu Dongyu to lead the international Food and Agriculture Organization. When Western allies rebuked China over the repression of Muslims in its restive northwestern Xinjiang region in July, 16 African states, including Muslim-majority countries like Egypt and Sudan, defended its measures in a letter to the United Nations Human Rights Council. Both Kenya and South Africa have also voiced their support for Huawei, with South African president Cyril Ramaphosa even saying the US was "jealous" of the telecom giant's 5G technology.
Observers believe those public sentiments and support are what China wants from African governments. "They want African support at the UN. They want African support at the World Bank, at the FAO. They want African support at the smallest, tiniest, most insignificant international organizations," Olander says. "But slowly you wake up one day, and the Chinese run 35 international organizations. That's the long game."
Patey says African decision-makers should exploit this global interest in their continent "to achieve their own development goals by further integrating regional markets to win better terms from outside trading and investment partners."
As fear grows that the flood of funds from China will start to ebb, African leaders faced with huge demographic challenges will increasingly take the risk of borrowing from and bowing to China.
"I think people are worried and scared and nervous about the Chinese engagement," Olander says. "They are worried and scared about the levels of debt. But a lot of this is cold, rational, strategic, national security decisions that African leaders and policy-makers are making and saying, 'If not the Chinese, then who?'"
Additional reporting by Youyou Zhou.